Neil Kelly Company Announces the Top Ten
Interior Design and Home Remodeling Trends for 2016
December 17, 2015, Portland, Oregon — Neil Kelly Company, a certified benefit company (B Corporation) and award-winning design-build  remodeling firm, announces its Top 10 interior design and remodeling trends for 2016. Neil Kelly's experienced team of professional design consultants selected the following trends to play out in the remodeling industry in 2016.

Trend #1: Choreographed Simplicity     
Emphasizing clean lines and harmony, choreographed simplicity involves complex design challenges to achieve a simplistic look. "Homeowners want to feel inspired by their surroundings when they are at home, but also want to feel relaxed. The focus on simplicity and a clean integrated space creates a style which inspires homeowners toward natural sense of harmony and a sense of nature." – Kristine Levernois, Lake Oswego, Oregon

Trend #2: Playing with Texture vs Color
"Our daily lives are filled with so much visual stimuli — emails, texts, technology; all needing a quick response — that we are turning to our homes for a calm, soothing atmosphere. We are calming the noise, creating an environment with soothing colors, simplicity and refined elegance. Instead of vibrant or contrasting colors, we are seeing more subdued colors. We are enjoying and playing with texture, repetition, and pattern." –Janel Campbell, Lake Oswego, Oregon
"I love this trend. There are some great products out there from natural stone tiles to metals that are interesting and fun to use alone or layer and blend. This trend of playing with texture and color will last because homeowners are asking us for higher quality remodeling projects. This means instead of remodeling every 5-15 years, we are designing for 15-50 years. Homeowners are selecting more timeless designs." –Therese Dubravac, Portland, Oregon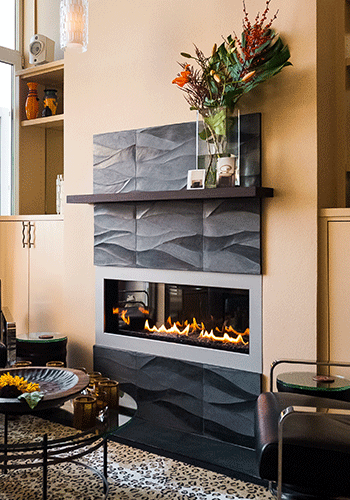 Trend #3: Gold is Back
"After years of simplicity and restraint, this trend reflects a move toward luxury. Gold is rich and beautiful, especially the newer brushed and patina gold finishes. Now, this doesn't mean every dated brass accent is back in style, but it does mean you can be strategic in what you change and maybe what you leave in place. For example adding a beautiful brushed gold light fixture could make your brass door hardware blend into the background if it is a classic shape." –Barbara Miller, Portland, Oregon
"There was a need for something new that wasn't just chrome, brushed nickel, or oil rubbed bronze. The variety of gold finishes offered (brushed bronze, antique/aged brass, French gold ) allows designers to use gold in both contemporary and rustic, traditional designs. Gold brings a "richness" that was lacking before. Don't go overboard with gold, but use it in small doses like plumbing fixtures, lighting, and accessories to bring the most impact to your space." -Elicia Pyle, Bend, Oregon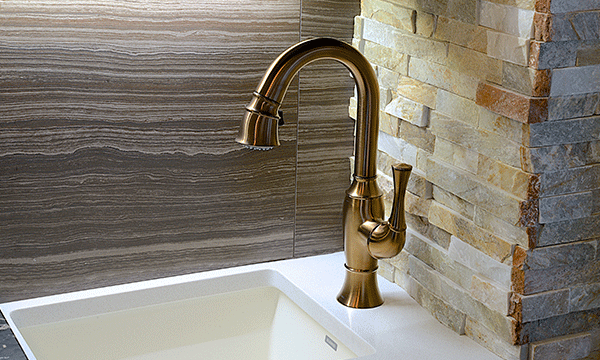 Trend #4: Beer Taps in Kitchens
"Craft brewing is the fastest growing beer segment in the U.S. Pouring a cold, frothy brew from your own beer tap is like opening your best wine from the cellar. This trend is here to stay." –Paul Haigh, Bend, Oregon
"Homeowners who like to entertain often ask us to design a beverage center or wet bar so everything is organized and easy to access. This beer tap trend has been building for a while. Since shows like "Mad Men" where a bar in the office or home is a regular everyday affair, this trend is becoming fashionable again. Bonus idea: many beverage centers can act as a multi-use space for an office or computer area." – Kristine Levernois, Lake Oswego, Oregon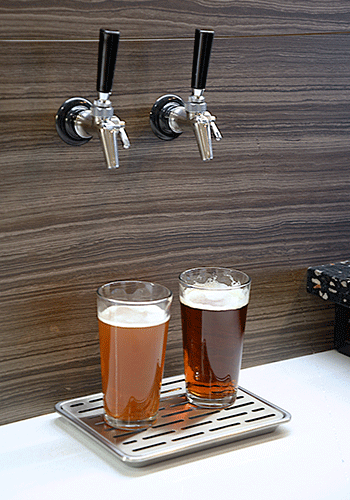 Trend #5: Geometric Designs in Tile
"The timeless beauty of natural stones is showing up in new and innovative patterns lending a completely fresh take on age old materials. The technology to accomplish exquisite cuts and finely fitted stones into gorgeous patterns will not likely be gone soon. Age old patterns such as arabesque, herringbone and chevron patterns are experiencing a resurgence." –Karen Richmond, Portland, Oregon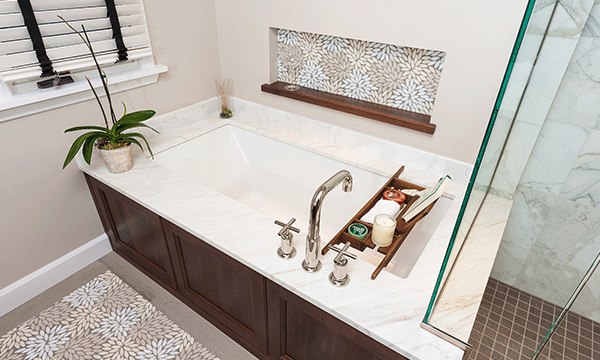 Trend #6: Bringing the Outdoors In
"A desire for new beginnings and a more peaceful mindset led to this trend. How we incorporate nature in our homes will change over time but wood and stone are staples. If we introduce these elements in a well-considered way, they can become part of timeless designs." –Barbara Miller, Portland, Oregon
"Homeowners want a clean, contemporary feel and the connection with natural elements. Integrating living plants, more sunlight, and natural rock and wood materials provides a wabi sabi style. This trend also supports biophilic design, which is based on the theory of 'biophilia' which contends that people's health and well-being has a biologically based need to affiliate with nature. Many biophilic strategies reduce energy use, so more natural light means less power needed for artificial light." –Kristine Levernois, Lake Oswego, Oregon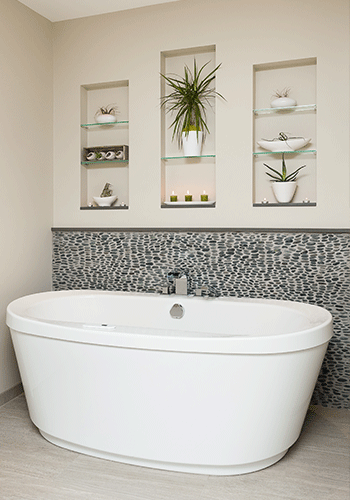 Trend #7: Softened Geometry and Soothing Interiors
"Being mindful of how our physical space affects us can have a positive and deep effect on our lives. Our instinctual wiring is drawn to softened geometry and spaces with curves and soft edges. On the other hand, sharp angles and straight lines, while they have their value, can often create a subconscious discomfort or disconnect with a space. Feeling that instinctual connection with the spaces in which we spend our lives helps foster our ability to connect – with our loved ones, our natural world, ourselves."    — Suzie Atkin, Lake Oswego, Oregon
"An architectural and design shift is taking place from severe simplicity to soft and soothing. Balancing and building geometry into lasting objects like furniture and cabinetry will offer curving lines that will open up so many great design options." –Barbara Miller, Portland, Oregon
"In the photo representing this trend, you'll see the contrasting circular charcoal grey quartz countertop creates the illusion of a separate bistro table while connected to the white quartz buffet countertop. A beautiful, unexpected, and ergonomically functional space saving solution." –Diane Foreman, Seattle, Washington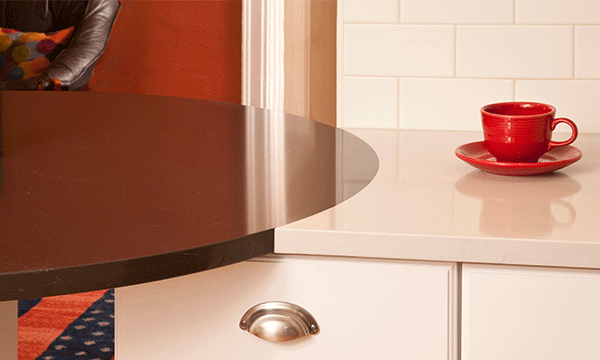 Trend #8: Tech Top Surface Charging Station
The technology trend is here to stay. But the cluttered cables and cords are out. You actually don't even need to plug in your phone anymore. Neil Kelly designers love the Tech Top embedded surface technology for wireless charging by LG Hausys. Simply set your phone on the charging surface and enjoy the benefits of wireless charging. Now that's smart technology!

Trend #9: Quality vs Quantity
"Less is more, especially if it's custom-made by a local artisan. Homeowners want to personalize their space with that one "bespoke" feature to reflect their unique personalities and tastes. Whether it is a custom tile accent, an artisan created accessory, or a one-of-a-kind light fixture, it's the one thing they can look at every day and be reminded of their personal stamp on the room." –Kathleen Donohue, Bend, Oregon

Trend #10: Creative Uses for LED Lighting
"Baths are taking on a new sense of relaxation. Showers are being designed with a flair for luxury versus utilitarian use and LED lights are popular and environmentally friendly adding ambiance to the showering experience." –Randi Reed, Portland, Oregon
Neil Kelly Company, the largest residential design-build remodeling firm in the Northwest, helps homeowners care for all aspects of their homes. Services include custom homes, award-winning design-build remodeling, energy upgrades and home repairs big and small.
Neil Kelly is proud to be a certified benefit company (B Corporation) and seeks to be a caring corporate citizen in everything that it does. With five Pacific Northwest locations in Portland, Lake Oswego, Eugene, Bend and Seattle, Neil Kelly is renowned for its innovative design and remodeling services, quality craftsmanship and sustainable building practices. Homeowners are invited to visit Neil Kelly design centers or attend free educational workshops. Visit http://www.neilkelly.com.