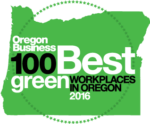 Neil Kelly is a second-generation family owned company celebrating 70 years in business in the Pacific Northwest. We have been recognized as one of the 100 Best Companies in Oregon to work for, and a certified B-corporation. What's that mean to you? Well, it means that—as a company—we put forward the values of people, planet, and profit—in that order! And it's not just lip service; the commitment to community and the environment is written into the company's charter.
We currently have close to 200 employees in a variety of positions in Portland, Lake Oswego, Bend, Eugene and Seattle. We are currently ranked as the 4th largest remodeling company in the U.S., and Neil Kelly has received numerous awards for business ethics and practices, sustainability, and remodeling design expertise.
If you're interested in being the best and working for the best, join our team! We offer competitive compensation and great benefit packages. Neil Kelly is an Equal Opportunity Employer.