Tell Your Story, and Make Yourself Comfortable
Every home seems to have that one uncomfortable room. The Hot Spot. The Chamber of Chills. The Den of Discomfort. It may be the bedroom in the converted attic, with no heat ducts. The sunroom off of the kitchen, with the big wall of windows. Or the TV room in the finished basement.
Whatever its form or function, it's the one room in your home that's always too chilly in winter and too hot in summer. You've tried everything, but still find yourself adding more blankets in winter and more ice cubes in summer, right?
Tell us about it. We've been there, too.  And we can help.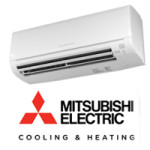 A high-efficiency Mitsubishi ductless heat pump – or mini-split – is a perfect solution for that uncomfortable room in your house. It's designed to improve temperature control, air quality and comfort in individual rooms, and is a highly effective (and cost effective) replacement for inefficient window air conditioners and electric baseboard or portable heaters. Mitsubishi mini-splits are quiet, energy-efficient, and far less expensive to install than ducted heating and cooling systems.
Here's the best part; right now, you have an opportunity to win a Mitsubishi mini-split for that problem room in your home, including installation by the Home Performance professionals Neil Kelly, absolutely free!
Enter to Win
To enter, tell us the story of the comfort-challenged room in your home, the trouble it's caused, and the drastic measures to which it has driven you. (Dramatic embellishment and poetic license are highly encouraged here.)
Submit your story though our website before October 31, 2015, and you'll be entered to win. We'll be reviewing and sharing (anonymously) stories throughout the contest, and the winner will be announced on Wednesday, November 4.
Everyone who submits an entry will receive a coupon for $200 off the total cost of an installed Mitsubishi ductless heat pump from Neil Kelly Home Performance. Additional incentives of up to $800 from the Energy Trust of Oregon and up to $1,300 from the State of Oregon are available for qualified installations.
***