With a broad range of experience, our team of professionals look forward to helping you with all of your upcoming projects. From whole house remodels to well designed kitchens, we would be happy to help you find creative solutions to your remodeling or building projects. Contact me to today to set up your free in-home design consultation, and let's get started.
The photos featured on this site are of projects that Kenneth Wachter completed prior to starting with Neil Kelly. Stay tuned to this website to see new Neil Kelly project photos to be updated soon.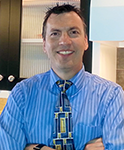 With more than 25 years experience in the construction industry, Kenneth Wachter has worked for two large cabinet manufacturers in the Northwest.  He has designed and managed a wide range of remodeling construction projects from, as small as, a powder room remodel to entire home renovations. Kenneth believes in working with his clients very closely to understand their needs and wants. This allows him to create their ideal space that will accommodate their needs and budget. He believes that every design must meet function first, then the individual's taste.
Client Testimonials
"I chose Neil Kelly because the company has a reputation for doing high quality work. My Neil Kelly designer was a pleasure to work with, as was the project manager and all of the other folks on the Neil Kelly team."
D. Panasewich