From a small bathroom to a complex addition, kitchens to custom homes, we can do it all. Call me today and set up your free consultation. Let's make your dream project a reality.
Kristine LeVernois, CKD, CKB, CAPS
Kristine is a Certified Kitchen and Bath Designer, and a CAPS Specialist in universal access design. As a Neil Kelly Design Consultant for more than 15 years, Kristine's award-winning work has been published regionally and nationally and has twice won the HBA's First Place REX award for her bath remodel projects. Kristine's creative approach to remodeling and attention to detail earn her many repeat and referral clients.
Kristine was born in Redding, California and she received her Degree in Interior Design from the Art Institute of Portland. In her spare time she loves spending time with her three dachschunds, quilting, traveling and cooking.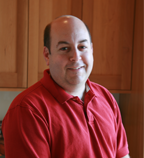 Ted Johnson, Project Manager
Ted Johnson is the third generation of his family to work in residential construction. As a Project Manager with Neil Kelly Company since 1993, Ted has helped over three hundred customers with their remodeling aspirations. Originally earning a degree in housing design, Ted now uses his construction and design skills to manage remodeling projects for Kristine LeVernois. Ted has managed all types of projects from kitchen and bath remodels, to new homes and commercial work. Contemporary style and high-rise condominium jobs are some of Ted's favorite types of projects.
Ted and his wife Brooke live on a small farm in Boring, Oregon with their daughter Sara. The family enjoys gardening, traveling and Ted's cooking!
Client Testimonials
"We chose Neil Kelly because of their reputation for quality of design, workmanship, and ability to meet deadlines. The project communication, scheduling and production were excellent. The design work by Neil Kelly compliments our overall house design, our personal taste, and style. Would we be a reference for Neil Kelly? Absolutely!"
P. and J. Miller
"I chose Neil Kelly because the company has a reputation for doing high quality work. My Neil Kelly designer was a pleasure to work with, as was the project manager and all of the other folks on the Neil Kelly team."
D. Panasewich