With a broad range of experience, our team of professionals look forward to helping you with all of your upcoming projects. From whole house remodels to well designed kitchens, we would be happy to help you find creative solutions to your remodeling or building projects. Contact me to today to set up your free in-home design consultation, and let's get started.
Photos featured on this page are samples of Neil Kelly Design/Build projects from a range of design consultants.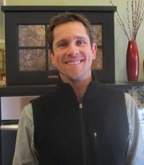 Matthew Maher, Design Consultant
Matthew comes to Neil Kelly Company after years of owning his own design/build company. This experience coupled with his education in architecture have given him a perspective toward the process that allows him to weave together clever, interesting and functional design solutions. With years of experience in custom home design, Matthew is prepared to handle any aspect of residential work. Just before coming to Neil Kelly Company he also worked as a project manager in commercial tenant improvements and looks forward to developing this area of expertise.
Client Testimonials
"I chose Neil Kelly because the company has a reputation for doing high quality work. My Neil Kelly designer was a pleasure to work with, as was the project manager and all of the other folks on the Neil Kelly team."
D. Panasewich
"We chose Neil Kelly because of their reputation for quality of design, workmanship, and ability to meet deadlines. The project communication, scheduling and production were excellent. The design work by Neil Kelly compliments our overall house design, our personal taste, and style. Would we be a reference for Neil Kelly? Absolutely!"
P. and J. Miller