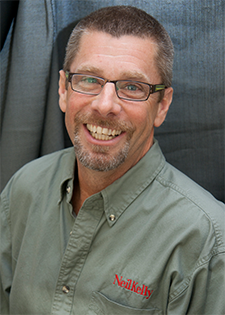 Rick Swedblom
Experience: I started as a kid working summers with my Dad, and now have more than 43 years of experience.  My Dad always had some home construction-related business.  We started with a roofing company and then went to custom home building and finally remodeling.
Specialties: I don't feel like a have a specialty, and maybe that's why I keep so busy. I consider myself very versatile.  One advantage to having that much experience is that there's really nothing that surprises me.  I have been a professional handyman, carpenter, builder and remodeling contractor for so long that there's nothing I can't fix.
What gives you the most satisfaction in your job? Well, I know it sounds pretty basic, but what gives me the most job satisfaction are happy clients.
What have been some of your most challenging projects? One of the most challenging types of projects are finding and fixing leaks. I have  dealt with a lot of them, and as a result I feel like I'm the "Leak-Fixing Guru".  You get a lot of satisfaction going in there and fixing a leak that 10 other guys have tried to fix; leaks are very challenging.
What do you like about interacting with your clients? I just like interacting with the clients.  I have a great client base and some folks I've worked with for 20 years.  Of course, when they give me cookies and coffee at break time that's pretty nice too.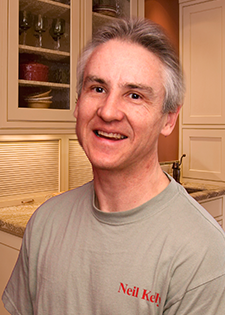 Larry Romick
Experience: I have more than 50 years of experience in construction– if you count building with blocks. Nearly half of my remodeling and home repair experience has been here at Neil Kelly.
Specialties: My specialty is helping clients achieve their goals…getting whatever they need done.  Whether we do it ourselves, enable them to complete the job, or just help them find the right person–I want to facilitate their goals of getting that "dream home".
What gives you the most satisfaction in your job? Happy clients.
What do you like about interacting with your clients? It's amazing how we always find something we have in common – whether it's people we know or places we have been I always have  fun sharing experiences with new people.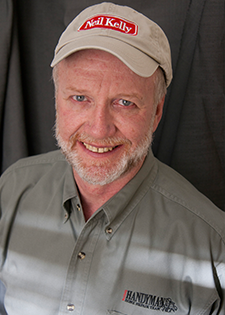 Howard Hasbrook
Experience: I've been in construction since 1975 and with Neil Kelly for at least 9 years.  I believe that having a positive character is a big part of life.
Interests and Hobbies: I like to go fly fishing with my ten-year old Grandson. We like to go to the Salmon River at Welches and the Deschutes River. I enjoy spending time with my three adult daughters and three grandchildren.
Favorite Jobs and Clients: I like creating new relationships… that's what this job is all about. I feel like being a professional handyman is more about forging a relationship more than just walking into someone's home. I was just invited to a surprise birthday party for one of my clients, and that is pretty cool.
Interests in the Community: I like to be the neighborhood handyman. If someone has a problem with their home on my block I'll go over and see if I can help. I'm also involved in my church community and I volunteer at Portland Rescue and the Warm Springs Indian Reservation.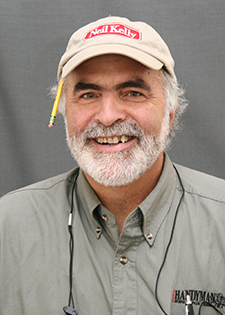 Thomas Lifschutz
Experience: I've been working in home remodeling and repair since 1972 when I built my first house, an 8X12. One day I came home and found Sarah, our cow, standing in it — trying to stay cool, I guess. It's been nothing but onward and upward from there!
Specialties: Anything having to do with residential remodeling and repair. I'm uniquely qualified for all exterior work, windows, doors, siding, trim, roofing, gutters, painting, decks, railing, porches, patios, concrete, awnings, masonry and anything having to do with fireplaces, chimneys, wood stoves and gas heaters.
What gives you the most satisfaction in your job: I enjoy developing projects alongside my clients. It's a lot of fun and ensures that the job is completed exactly as the homeowners envisioned. I like being able to help folks who don't want to do building or repairs themselves and don't want to go through the trial-and-error process of finding someone capable of getting the job done right.
What have been some of your most challenging projects? Restoration and damage repair covered by homeowner's insurance policies. Making everything work – for the client, for the insurance company and for Neil Kelly Company – is a true-blue challenge. My successes are usually the result of an extraordinary amount of hard work, careful timing, skillful allocation of labor and materials, and a bit of plain old luck.
What do you like about interacting with your clients? I love people of all types. Just like the houses they occupy, each person is different from the next. No matter how much I think I might be able to predict what folks will be like I am forever surprised and humbled by the people I encounter. Every life is precious and unique — and I'm reminded of that with every single interaction I have, both on and off the job.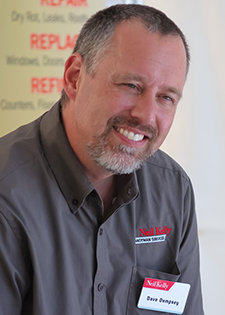 Dave Dempsey
Experience: I was introduced to a cabinet shop at a young age in Spokane, Washington.  By the time I met my wife in high school I was into building custom homes and it wasn't long before I went into full time commercial construction–at the age of 20.
Specialties: If you've ever tried to work on stairs, you know how hard they can be.  However, stairs are my specialty– they're part of what I call "Focal Point Construction": That's the focal point when you first enter a  home; the entryway, stairs, barrel vaults, copper ceilings, and mill work. I used to manage a large shop that did a lot of pre-fab stair work as well.
What gives you the most satisfaction in your job: I really like the planning stage of any project.  I like to sit down with the home owner and develop a plan and then see it come to live.  I'm very specific about detail and feel that I have a good eye for it.  The details of a job often cause me to stay up at night making sure in my mind that every last thing is done right.
What have been some of your most challenging projects? Some of the most challenging jobs are historical restoration.  Having owned an older home I know how important it is to keep that home true to it's period of time–and that's not always easy.  I grew up in the Mount Tabor neighborhood of Southeast Portland so I'm familiar with historical homes.  It's about being consistent and accurate–less is more.
What do you like about interacting with your clients? Like I mentioned previously, I really like sitting down with clients before projects to envision their dreams. I want to really get in their heads and visualize the goals of their individual project.  And every project–like every client–is different.  It's why I like being at Neil Kelly:  We are surrounded by a culture of excellence and an environment that fosters communication.
Jeff Emmett
Experience: I've had a hammer in my hand for more than 37 years.  My Dad built our family home when I was 1-1/2 years old.  While the framing was going up Dad gave me an Estwing claw hammer and a bunch of nails.   That's how I grew up.  Since then I've been involved in home construction and remodeling of hundreds of homes– from the Willamette valley to California.
Specialties: I think of myself as a problem solver.  I enjoy coming up with simple solutions to what are initially considered to be major issues.
What gives you the most satisfaction in your job?  I like seeing the excitement in a homeowners' face when they see the finished product for the first time.
What have been some of the most challenging projects?   I worked with a young couple that wanted to have a playground slide installed from their upstairs master bedroom down to the open foyer.  At first I thought they were joking, but they weren't.   After I explained potential building code issues, safety concerns, and resale ramifications they chose to have a stairway built instead. I mean, that would have been cool—but it had some serious issues.
What do you like about interacting with your clients?  Often, when I go to clients homes it's to discuss either a problem or something they just don't like about their home.  It's always fun to see people get excited when they realize that we can help and come up a great solution.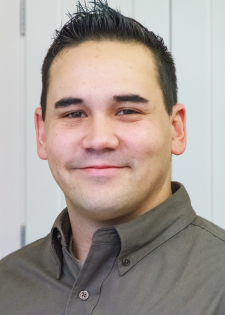 Paul Obias
Experience: I started building at the age of 11 with my father (a Preacher, Lumberjack and former Forester) deep in the Columbia River Gorge. As the years passed I learned the importance of equality, the respect of nature, and skill of versatility. By the age of 16 I had been well-groomed for the trade I would later call a profession.
I have 14 years total experience as a professional Carpenter; six as a Foreman. And I've spent four years as a professional Home Designer as well.
Specialties: My specialties are structural support (post and beam work), finish work, rot repair, siding, sound proofing and my passion– design/building accessory dwellings (Art studios, Man caves, Garden retreats, Recording studios).
What gives you the most satisfaction in your job? Inspiring others to create beautiful projects and being that vehicle to get them there. The smiles and joy that come with the finished product is a huge payoff for me.
What have been some of the most challenging projects?   One project stands out in particular where we removed all main supports within a cabin and had to redesign and rebuild the entire interior without negatively affecting the exterior cladding. It was incredibly challenging and pushed us to our limits mentally and physically. In the end, this challenge made me a stronger problem solver and  faster at trouble-shooting issues.
What do you like about interacting with your clients? I love meeting new people from all walks of life and believe that our diversity is the spice to an otherwise boring dish. I enjoy learning from others and building lasting relationships with the many people we call clients.