Suzie Atkin, AKBD
Designer/Consultant
Suzie Atkin has been a designer in the Kitchen and Bath Industry since 2003 after receiving a Bachelor's Degree in Interior Design. Her career started in Montana, where she became the lead designer for a small kitchen and bath firm, winning numerous awards for her designs. Since joining Neil Kelly in 2007, Suzie has continued to produce meticulous award winning design, most notably winning a National CoTY Award in 2010. Her commitment to her craft and her clients has led her to be published in numerous magazines, including Portrait of Portland and Oregon Home Magazine. Suzie has a unique ability to understand and interpret her client's needs and style, which has allowed her to produce projects from contemporary to historical.
When not designing, (which isn't often), Suzie spends her time enjoying the reasons she came to the Pacific NW in the first place: snowboarding, cycling, hiking and appreciating our beautiful natural surroundings.
503.335.9238 | Suzie.Atkin@neilkelly.com |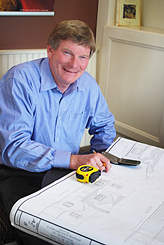 Stan Friesen
Project Manager
Stan brings a wealth of knowledge and experience to your project. He began his carpentry career at Neil Kelly Company in 1974. He worked hard and became a Master Carpenter.
In 1995, Stan suffered a back injury but the company knew that Stan would be an asset as a Project Manager.
For the past 16 years, Stan has managed every imaginable home remodel you can think of.  His passion for carpentry, along with his ability to worry more about the project then the client, is what makes Stan unique. Stan's attention to detail and knowledge of construction, combined with his love of your home, will make your remodeling experience unforgettable.
In his spare time, Stan and his wife, Sherry, enjoy boating, fishing and rock hounding.  Stan is always outdoors and enjoys time with his two grown children.
Client Testimonials
"Suzie Atkin remodeled our master bathroom and closet. We were so pleased with the results, we hired her to do a complete kitchen remodel, which also included the laundry room. Suzie is an attentive listener who collaborated with us to create beautiful and functional spaces. Our master bath feels like a spa and the kitchen is a much better use of space with the added bonus of a recharging drawer. We are also very grateful for the recycling station in the laundry room. It was a joy to work with Suzie and her project manager, Stan Friesen. Their attention to detail and responsiveness to our questions made the challenge of remodeling, less challenging. We also appreciated their efforts to make living in the house during the remodel do-able!"

Kimberly55
"Before retaining Neil Kelly we researched and interviewed a number of firms. While some presented lower initial pricing, none could match the quality of workmanship, or design and construction expertise. We began the design process with Suzie Atkin who was extremely professional, talented and patient. Although as owners we had been through a number of earlier projects in our other homes and felt very familiar with the process, Suzie and Project Manager Stan Friesen added their own special touches that we loved and admired. In the end the work was finished ahead of schedule, under budget and nicer than we had ever hoped. By the time Suzie and Stan had finished we considered them not only outstanding professionals but trusted friends. A few months later we had an open house party with Suzie and Stan as the guests of honor!"

Kakeener
"I love it! It's [the kitchen] perfect for us and I couldn't imagine how it could get any better than this! Everyone who worked on our project was AWESOME! Stan, Suzie and Randy all went the extra mile to make sure I understood everything every step of the way, and that I was happy! Nothing was done without a call or a visit and a thorough explanation of the next steps. We will use [Neil Kelly] for all our projects in the future!"
Kate Thurston
Timeless thoughtful design. Meticulous craftsmanship. Spaces to love for a lifetime.
From a small bathroom to a complex addition, kitchens to custom homes, we can do it all. Call me today and set up your free consultation. Let's make your dream project a reality.