Going the Extra Mile for Sustainable Cabinets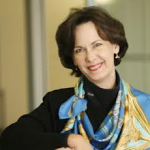 Where does a board member of the US Green Building Council go to get her kitchen cabinets?  Well, for her 1920s bungalow in Alexandria, Virginia, Beth Heider had a lot of choices. "As Chair of USGBC's Board of Directors I wanted to work with a cabinet company with a long standing commitment to using resources responsibly, "Heider says.  Whatever cabinet company she chose would face an impressive challenge. The cabinet designer would need to navigate around 21 fixed points and eight appliances to create three seamless walls of cabinets.  And since the remodeling contractor was faced with walls and floors that were far from plumb, level or true, those 21 "fixed" points would change over the course of the project.
Heider spent twelve years researching and planning the kitchen project. Besides her involvement in the USGBC, she is a LEED  Accredited Senior Vice President of Green
Markets for Skanska USA Building, a worldwide project development and construction group. Add those factors together and you have one very qualified client with a
strong sense of environmental stewardship.  "I have worked in the design and construction industry for over 30 years, and I care deeply about celebrating environmental leadership and creating healthy places," she says.
After years of research, study, and careful consideration Heider had finally found her cabinet company, and it was nowhere near Virginia. It was in Oregon.  It was the Neil Kelly Cabinet Company.
"Neil Kelly uses certified woods, no-added formaldehyde agri-board panels, plywood binders and glues, responsibly sourced wood veneers and ultra-low VOC (Volatile Organic Compound), no added formaldehyde adhesives and finishes, " she says.  "I had to face the environmental dilemma of trucking cabinets across country.  But I really wanted to work with Neil Kelly because of their leadership in environmental stewardship and the quality of their craftsmanship at a competitive price. " Neil Kelly cabinets also participate in the Declare labeling program, which is sort of a 'nutritional label' for the building industry. Heider doesn't have to guess what's in her cabinets, Declare has everything listed and confirmed.
And Heider found one other factor she hadn't expected, Mark Smith. "I went through my email baskets the other day," Heider says, "There were over 50 sent emails to Mark Smith, President of Neil Kelly Cabinets, and more than 50 replies. That reflects an extraordinary standard of care and phenomenal service. With all the hassles, all the refinements, and an impossible schedule, Mark kept his good humor and gave me the confidence that the cabinets would be gorgeous, true to my vision, delivered on time (over the holidays) and fitting like a glove into a jigsaw of walls."  Around Neil Kelly's Northwest Portland cabinet shop they call Mark "Smitty", and Smitty is just as appreciative of his client as she is of him.
"Beth was truly a pleasure to work with," Smitty says. "Bright, creative and having a practical background in design, she knew mechanically how the big picture was going to work.  She was prompt, thorough and articulate when answering my questions.  She sent pictures, made templates and personally met with me to review her design.
Collaboratively she worked with me all through the project and listened respectfully to my suggestions and concerns and directions from the cabinet maker's point of view."  That isn't to say she didn't challenge the Portland-based cabinet makers.
" Ultra low VOC finishes, PureBond case components, custom moldings, wainscot backsplashes and some very interesting corner transitions, all modern materials, conformed into a classic Craftsman design in a classy place," said Smitty.  And he's quick to thank the East Coast contingent that put it all together. "There is something
to be said about the installers from Case Construction," Mark says."Those guys did a fantastic job assembling the 100+ pieces of the kitchen assembly and really did an excellent job making our cabinetry look good."
Although it didn't fit in Heider's kitchen design, she is also impressed by a visionary Neil Kelly project that uses juniper wood for cabinet construction. "Juniper is indigenous to Eastern Oregon," she says. "It has become invasive in areas of the Northwest and is depleting the water table and contributing to soil erosion. Neil Kelly is turning invasive
juniper into beautiful rustic cabinetry while helping to restore the natural ecosystem". Beth also hired Neil Kelly to do the cabinets for her bath and the mantle in her living room.
"I was surprised by how important customer service was to me and that everyone really care about bringing their A game to this project.  It is a different experience when you build for yourself and when it is your home, it is personal.  It is emotional."   She summed up her experience with Neil Kelly with a Will Rogers quote:  "People may not remember exactly what you did, or what you said, but they will always remember how you made the feel."