Commercial Remodeling: "We Do That Too!"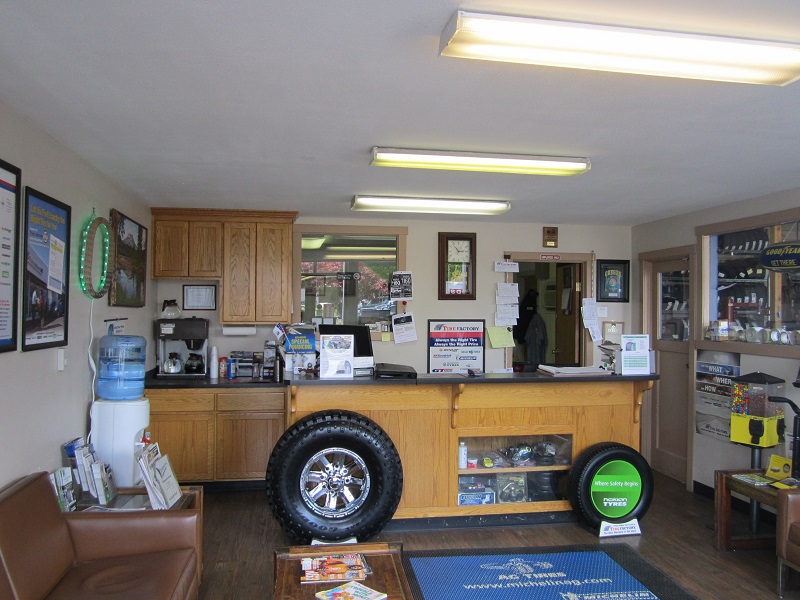 When you think of winter weather in the Northwest the first word that comes to mind is "sunshine", right? Just like when you think of Neil Kelly we're sure the first thing that comes to your mind is "Tire Store".
After this article you may have to change the way you look at the Neil Kelly company!
Neil Kelly's renovation of Jim's Tire Factory helped the Cottage Grove business win the "Ultimate Store Makeover Award"–the best renovation in the 200-store powerhouse operated by the Northwest Tire Factory Group.
"We wanted to modernize our building to create an efficient and comfortable experience for our customers, " says Jim's Tire Factory Business Manager, Jeff Keating. "We knew that design and a better space configuration were key."
Neil Kelly Eugene General Manager, Matt White, had to relocate the lobby and double its size.  Then the Neil Kelly crew had to relocate and double the size of the mechanical area, move the tire storage area, and increase overall energy efficiency. 
Oh, and they had to complete this huge commercial remodeling project…while the store was still open for business.
"We love figuring out solutions for touch design challenges," says Matt. "We had to update the 50-year-old building, relocate and expand waiting and mechanical areas, and cut energy costs in this commercial remodeling project."
By "going green" in this commercial remodeling project Jim's Tire Factory is able to save some green. Double-insulated, energy efficient windows were installed in the large storefront waiting area. And the updated lighting and HVAC system were eligible for grants from the federal government. Says Jeff Keating: "In addition to creating a more comfortable environment for our customers, we're already saving almost $300 dollars a month in energy costs."
Converted the structure from three 7'6" wide bays on the south end to four 11' wide bays. This required significant engineering.
Relocated the lobby to the center of the building and doubled its size.
Relocated and doubled the size of the mechanical area, including adding a secondary lift to work on cars, and moving them closer to the tire area.
Relocated the tire storage area.
Increased overall energy efficiency and decreased heating and cooling costs.