Countertop Choices: Quartz, Laminate and Metal
Remodeling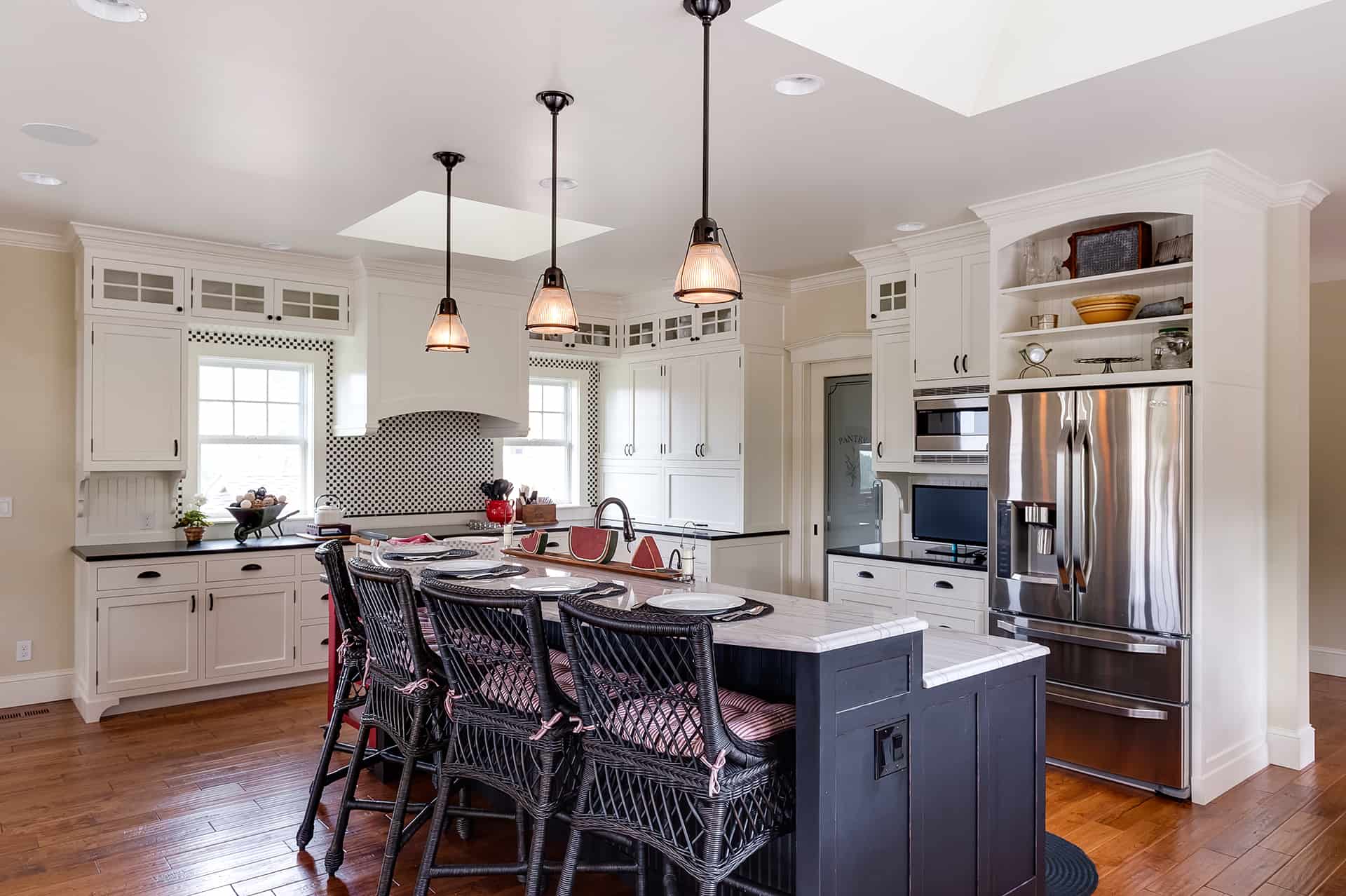 Four different countertop materials were selected for this project for practical and aesthetic reasons. They include quartz, quartzite, metal, and laminate.
With manufacturing technology constantly developing and improving, countertop choices have exploded in recent years, often creating confusion for the consumer. The sheer number of materials available — even for modest remodeling projects — can be overwhelming to take in all at once.
In this 3-part article series, I will discuss some of the major materials selections in countertops, and provide a case study for each. Part 1 deals with Granite, Natural Stone, and Wood Countertops. Part 2 looks at Solid and Recycled Glass, Marble, and Butcher Block Countertops. Part 3 describes a project with Quartz, Quartzite, Laminate, and Metal Countertops.
Welcome to Part 3!
Quartz:
Quartz, often referred to as "engineered" or "manufactured" stone, is a very durable, low maintenance material ideal for kitchens — for example, on perimeter counters and actively used pantry counters.
Quartz is one of the hardest minerals on earth. Mixing ground quartz (usually 90–94%) with polyester resins and compressing with high-pressure results in a nonporous slab that is very stain and scratch resistant. Unlike natural stone, it does not require periodic sealing.
The colors and pattern varieties are now vast in quartz. The first introductions tended to lack the patterns and colors found in natural stone. Today manufacturers have the ability to produce multi-colored tops with flecks, swirling, and random patterning to rival natural stone. Even flecks of mica and recycled glass are added to replicate that found in natural stones.
Quartzite (How are Quartz and Quartzite different?):
Though the names can be confusing, in the world of countertops, quartzite and quartz are two different things. Quartzite is "nature-made," whereas quartz is created through a fusion of nature and technology.
Quartzite begins as sandstone. A transformation occurs when the empty spaces between the sandstone are filled with the mineral quartz, then fused together under heat and pressure resulting in a very hard metamorphic rock. On the Mohs scale of hardness (from 1 to 10, with 10 being the hardest), granite measures in at around 6-6.5 and quartzite measures in at approximately 7.
With light grey and white stones being popular stylistic choices for countertops now, quartzite offers a multitude of optimal materials to use. Many selections ranging from grey and whites to golden tones and browns are available.

Metal Tops:
When you're looking for that special, unique touch and not worried too much about care, metal tops can fit the bill. Here, the top for the worktable was made of aluminum and distressed with a copper drip.  Many unique looks are available ranging from copper to various distressed finishes. Expect some etching and staining as the metal is a "living finish" and changes over time — like a shiny copper that patinas to a greenish cast.
Stainless steel tops are another great counter choice for durability, hardness, stain and heat resistance. Sinks can be seamed for a one piece sink and counter, and no-drip edges and coved backsplashes are all possibilities. Fair warning, however: stainless will scratch.
Plastic Laminate:
Often called by the brand name Formica, high-pressure laminate countertops offer a cost effective counter with a vast array of colors, wood grains, abstracts, textures, and patterns available.
I always jump on the chance to tour any factory and certainly did when the opportunity arose to see how plastic laminates are made. High-pressure laminates consist of paper, the top layer being the color and pattern, with a layer of melamine impregnated into the top. Imagine a stack of brown paper bag-type paper, approximately 10–12" high, with a colorful top layer pressed through a machine to approximately 1/8" thickness.
With high definition photography and improved printing technology in use today, many laminates look like the real thing — putting wood, granite, metal or stone textures into play at a more affordable price point.
Laminates are prone to scratching, staining and chipping. Many people love the idea of laminate until they learn that under-mount sinks are not recommended. (Water penetration will eventually cause swelling and delamination.) Laminate is best reserved for vertical surfaces or low use areas such as the desk and pantry in the Country home at right.
NORTHWEST PORTLAND COUNTRY HOME
Goal: The clients built their original 1,850 sq. ft. Northwest Contemporary-style home in 1974, on property that had been in their family for over 100 years. As time went by, the clients' tastes changed to a more comfortable Country style; décor reflecting a love of the outdoors, gardening, and a country lifestyle quickly filled their home.
When we first met to discuss a new addition, the homeowners had a well-developed list of needs but no idea how to accomplish their goals. The list included:
– Create a Country-style home from a 1974 Northwest Contemporary-style home
– Attractive, warm, and welcoming for family
– Easier driveway access than current steep and short driveway with increased parking area
– Gain a view of the yard and valley
– Open layout with enlarged kitchen, family room and dining room for entertaining
– Walk-in pantry
– Kitchen desk
– Breakfast nook
– More light
– Wraparound porch
– Outdoor living space
– Improve traffic flow throughout the home
Solution: A 940 sq. ft. addition changed the orientation of the home toward the south, making access easier and gaining an interaction with the yard.
The kitchen and wrap around porch overlook the valley to the northwest and the additional space allowed the wish list to be completed.
Additional light pours into the home through window well/dormers in the roof and breaks up the mass of the roof. All surfaces inside and out were touched with fresh paint, floors were refinished, new interior trims and stair railings installed, wraparound porch and outside patio added, and the chimney was widened and covered in stone.
MORE DESIGN TIPS FROM THIS PROJECT
Looking for more ideas to improve your space? Neil Kelly can help. Connect with one of our design consultants to get started.