Delicious Kitchen Details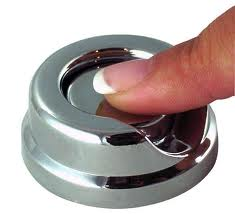 When planning a kitchen remodel most homeowners can easily visualize the big stuff:  The range, the sink, and the countertops.  But beyond the "big wows" of sexy Carrara marble and gleaming stainless steel Sub Zerorefrigerators lie a handful of little lifesavers that can improve your kitchen experience.
1). AIR SWITCH:   Popular on spas, air switches use a cushion of air to activate a sealed switch. The title is a little misleading because instead of a switch, it's a little button on the back edge of the sink, and since there's no electricity at the switch location it is ideal in wet locations. Traditionally, you're cleaning up after Thanksgiving dinner, your hands are wet from cleaning,and now you've got to turn on the disposal. Well, likely your disposal switch is on the backsplash, or worse, located in the cabinet under the sink. If you had an air switch next to your faucet you would save the finish on your back splash and minimize the water run-off on your floor.  It's a little thing, but it makes a huge difference when it comes to keeping your kitchen clean.
2). BUILT-IN MICROWAVE:  Why hide those beautiful countertops with appliances? Now that microwaves are commonly built in to cabinets there's no reason to clutter up your counters.  And new drawer microwaves offer even more versatility –and comfort.
3). FOOT-PEDAL FAUCET:  Neil Kelly Sales Director Randy Hudson had a foot operatedfaucet installed in his kitchen, and believes they should be recommended for every remodel project. "It drastically conserves water as you never walk away from a faucet that's running and wasting water," he says. "When you do want the water to keep running, just kick the button on the floor pedal and it acts like a traditional faucet." Thenthere's the cleanliness factor:  Your hands are wet and you need to turn on the faucet.  We've all had that "not so fresh feeling" reaching down and turning on a slimy faucet handle.  Not so with a foot operated faucet!  You let your toes do the walking and voila—fewer germs, a cleaner kitchen, and a happy chef!
 4). HIDDEN OUTLETS:  You have to have electrical outlets but no one says you have to see them! Another alternative is Plugmold, which is mounted on top of the backsplash, mainly concealed by the cabinets. If you get them to match the color of your backsplash you will probably be the only one to know the outlets even exist.
5). "THE CAN CAN'T":  Obviously, you need a garbage can.  But is it a design feature you want to show off?  Likely, no.  Most cabinet companies, like Neil Kelly Cabinets, offer a trash/recycling combo pullout for lower cabinets.  For customers in the Pacific Northwest, the Neil Kelly roll-out is made locally–they are higher in quality and have a smaller carbon footprint—a "win-win" for those who care about the appearance of their kitchen and about Mother Nature.
6). "THE NOSE KNOWS":  Our kitchens are the last place we want unwanted odors.  "Aroma" is good.  "Odor" is bad.  Too many kitchens suffer from air quality issues because many have exhaust hoods that do not vent to the outside.  If you want odors, smoke, and smells to leave your home make sure you give them a way to leave. Neil Kelly Design Consultant Karen Richmond points out one other good reason to vent outside. "In many municipalities it is now code to provide an external vent to the microwave," she says.
7). CORD SHOCK:  We're not sure what universal constant requires that our kitchen countertops become the repository for our cell phone chargers, keys, and other assorted goodies, but to clean up the look of your kitchen consider doing something as simple as re-purposing a cabinet drawer.  Some have even gone as far as cutting access ports in the back of the drawer for cords to fit though—but that can be a code issue and therefore a valid conversation to have with a Neil Kelly Design Consultant or HomeForce handyman.
It's always the big stuff that gets noticed, but considering the utilitarian function that
our kitchens serve, it's truly the delicious kitchen details that make kitchen life easier to live.