Eugene Neil Kelly "Jelly" Commercial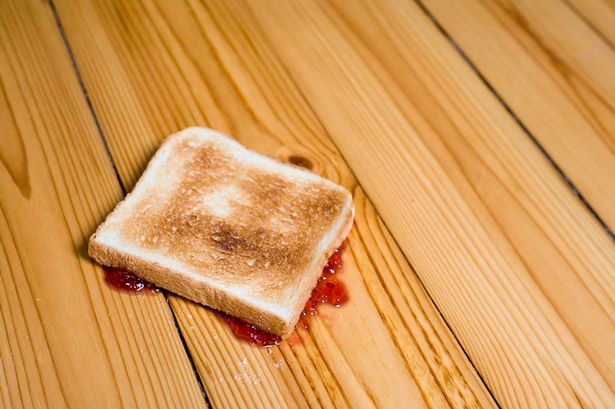 You've likely heard the phrase "jelly side down"; the notion that if a piece of toast was dropped on the floor the majority of the time it would land "jelly side down".
Well, now consider how to use this phrase in a television commercial about residential remodeling, and here's what you'll get:
The whiz kids at our advertising agency, Grady Britton, came up with this cool idea. The commercial is airing first in Seattle, and will likely air in all of our markets at some point. The job featured is actually in Eugene, and was designed by another whiz kid, Matt White (He's younger than I am so I get to call him a "kid").
The original kitchen was looking a little tired and dated. "It was important to incorporate a refined contemporary craftsman style using high quality products, so we chose stylish cabinets with a conversion varnish finish," Matt says. "We mixed granite and engineered stone and chose to add high efficient LED lighting throughout the kitchen."

Before they could get to the updated finishes in this Eugene contemporary home, the Neil Kelly crew had to find new homes for the awkwardly placed appliances. "We relocated the new refrigerator so the doors would open easily and the homeowner could maneuver through the work area more efficiently," Matt says. "We enlarged the island giving more space for the family of five to come together and allowing a separation between the kitchen workspace," he says. Speaking of the island, notice how the Verde Karzi granite contrasts with the Lagos Blue Caesarstone perimeter countertops.
The end result was one slick looking kitchen and one satisfied customer. "Matt's design work was insightful and the finished product is gorgeous," says the homeowner. "Now the quality of the kitchen is in line with the rest of our Craftsman-featured home."
And it looks great on video, too!