Furniture Design: "Now THAT'S a Conference Table!"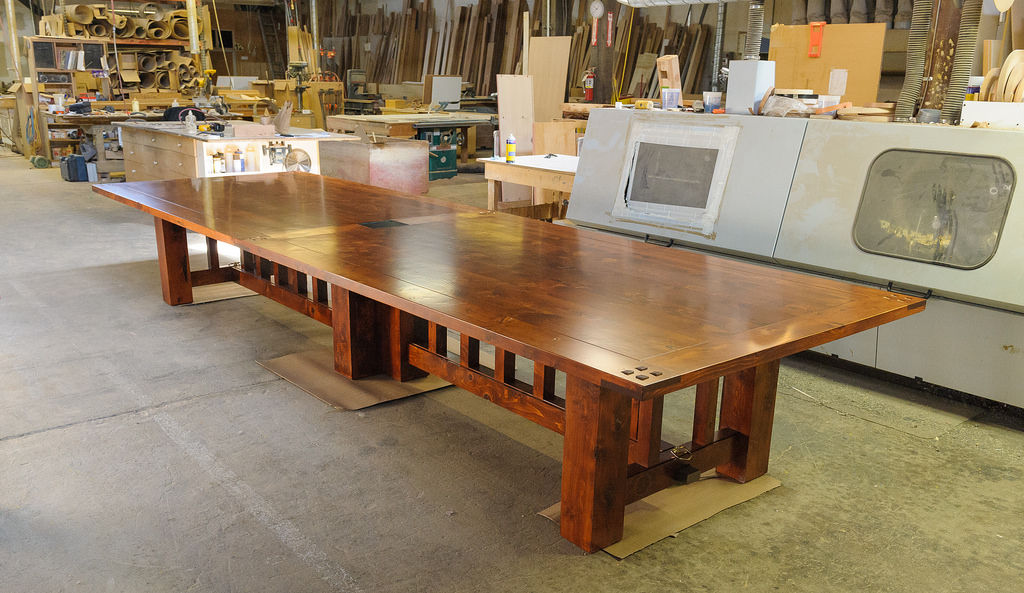 Furniture design is an art form.  And thanks to the Neil Kelly Cabinet Company, a group of health care professionals in Alaska is about to get a conference table that is a work of art.  And—it's helping the Central Oregon environment.
How could a piece of furniture be one of the largest conference tables you've ever seen AND help the environment?  Well, we're glad you asked.
This massive table—it will seat more than 24 people—was commissioned by the Moda Health Center in Anchorage, Alaska.  Much of the table is made from western juniper sourced from grassland restoration projects in Central and Eastern Oregon's high desert.
You see, juniper is a native Oregon species—but it is an invasive native species. A side effect of our ability to control wildfires is that juniper has spread, well, like wildfire. It's crowding out native grasslands, threatening the sage grouse and sucking the fragile water table dry.
Juniper is really an inspiring wood—it's strong, moisture and bug resistant, and has beautiful markings. It's so resistant that planter boxes made from juniper can last 50 years, unlike cedar.


"I'm passionate about juniper," says Neil Kelly Cabinet President Mark Smith.  "We've developed the only juniper panels that I know of." Using a proprietary manufacturing process, the Neil Kelly Cabinet Company has started turning a nuisance into yet another market for this unique wood. "We're taking the product and refining it to make it look like a piece of furniture rather than a piece of branches," Mark says.

And you certainly can't confuse this table with a pile of branches.  The table is 5'x16' and features 80 square feet of meeting space.  It took over 175 hours to make, and will be completely disassembled to ship to Alaska.
It was finished in American Cherry stain with an ultra-low VOC (Volatile Organic Compounds) varnish, and the center fields were made with the PureBond method.  That guarantees the table is high quality, American made, and contains no formaldehyde.
Safe, big, and beautiful: Now THAT's a conference table.
Neil Kelly cabinets meet current national and international air quality standards including proposed new 2009 California emission air quality regulations that will soon significantly reduce indoor emissions. We are members of the Forest Stewardship Council and the U.S. Green Building Council, members of the PureBond Fabricators