New Kitchen Has Healing Properties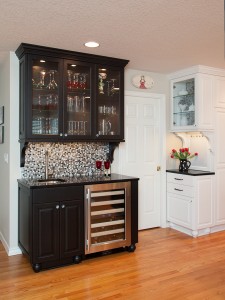 Her new kitchen just recently completed, Jackie woke up one October morning feeling horrible.
She had the flu.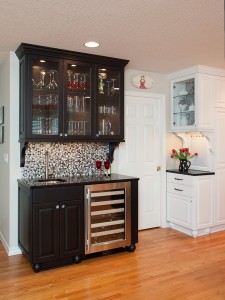 "I just was feeling so bad, but then I thought—ooh—look at my new kitchen," Jackie said. "And then it started to make me feel better."
Jackie and her husband Steve had their West Portland home built 22 years ago, and even though the home has fit their needs over the years, the kitchen was never exactly what Jackie wanted. "I wanted white cabinets, and somehow we wound up with oak," she says. But now I've finally got the white cabinets I've always wanted."  And she has something else she's been missing all these years—space.  Each of her base and tall pantry cabinets comes with roll-outs. "This new kitchen now has space for pots and pans…ready for someone to use. We don't really cook that much in the kitchen," Jackie says. "But we look at our new kitchen. I sit for hours and I look at that new kitchen."
The old white laminate countertops with their beveled peach edges were one target for Neil Kelly design consultant Suzie Atkin.  But she also wanted to
create more storage and more space overall. "Where the white tall pantry cabinetry is now there used to be a framed in pantry and it took up way too much space without providing adequate storage," Suzie says. "By removing the framed-in pantry and providing tall pantry cabinets in its place along with insetting the refrigerator into the back wall, we gain considerable storage space as well as making the walkway bigger."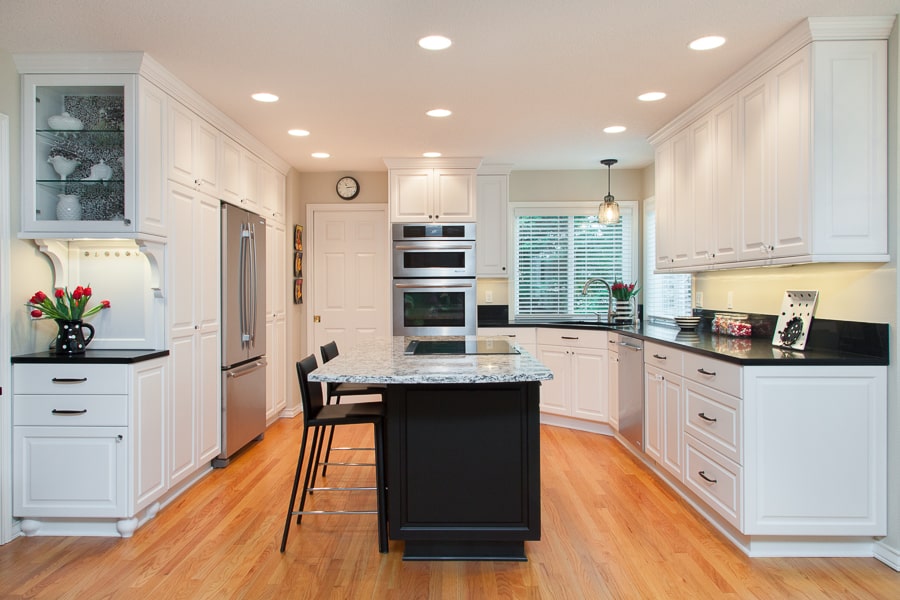 And for those of you tired of loose change, keys, and cell phone charges lying around on the counter, Suzie added a little "docking station" that keeps the clutter off the countertops. "My husband now comes in here and dumps all his stuff in his own drawer instead of it lying around on the counter," Jackie says. "And I have my own personal drawer so I don't have to go all the way upstairs in case I need something like a Band-Aid."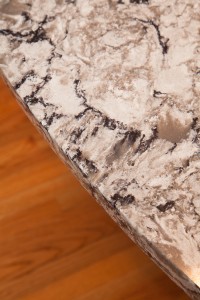 The countertops were replaced with Caesarstone "Absolute Noir" on the perimeter of the kitchen, and Cambria Quartz countertops on the island. These not only added the unique design "wow factor" Jackie was looking for, but were installed with a slim steel support below the counter, so as to eliminate knee-banging corbel. This created a sturdy, clean design consistent with the rest of the new kitchen's feel. Then there's the "cool factor" of the Jenn-Air pop-up range. "Although overhead venting is always best because hot air and particulates naturally want to rise, a pop-up downdraft vent is the next best thing," Suzie says. "It keeps the ceiling clear of a large hood, and can be retracted when not in use to keep the area clutter-free.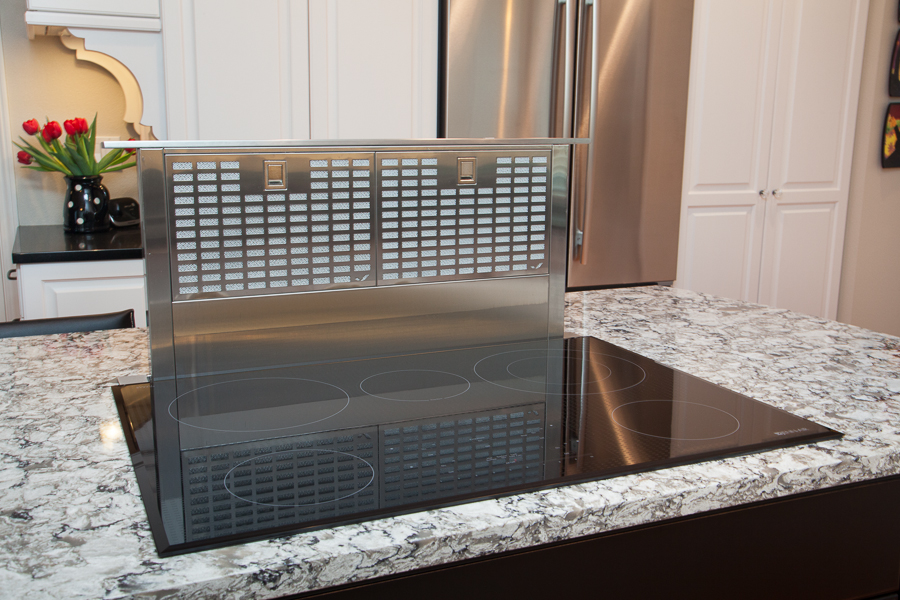 All that space has to be filled, of course, and now it is filling up with friends and  neighbors.  According to Jackie they are stopping by just to look at the kitchen.  And that's something that she—herself—can't seem to get enough of. "There's not one thing
I would change about this new kitchen."