Countertop Choices: Glass, Marble, and Butcher Block
Remodeling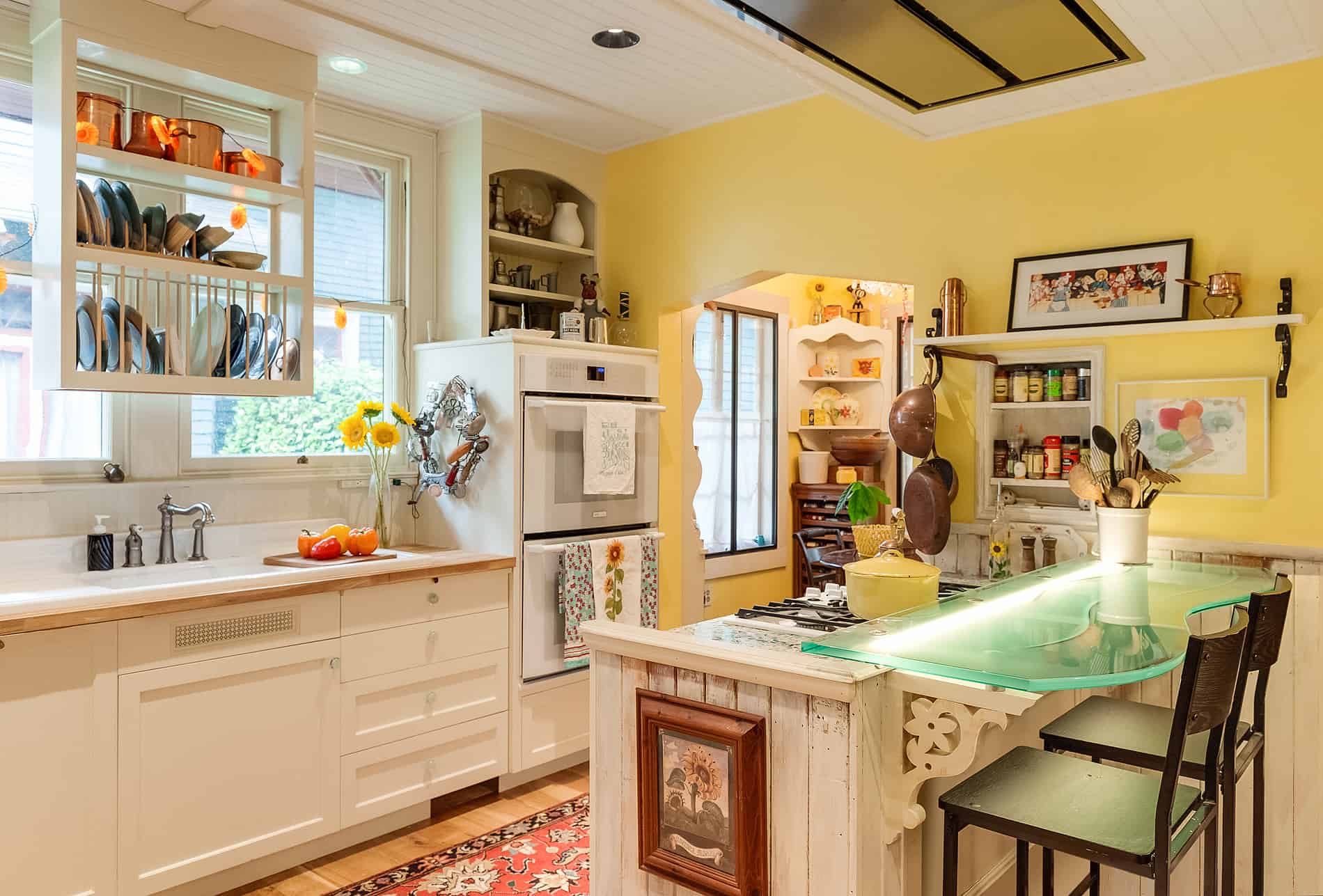 Wood, solid glass and recycled glass countertops add to the antiquarian flavor of this charming Irvington kitchen.
With manufacturing technology constantly developing and improving, countertop choices have exploded in recent years, often creating confusion for the consumer. The sheer number of materials available — even for modest remodeling projects — can be overwhelming to take in all at once.
In this 3-part article series, I will discuss some of the major materials selections in countertops, and provide a case study for each. Part 1 deals with Granite, Natural Stone, and Wood Countertops. Part 2 looks at Solid and Recycled Glass, Marble, and Butcher Block Countertops. Part 3 describes a project with Quartz, Quartzite, Laminate, and Metal Countertops.
Welcome to Part 2!
Recycled Glass Countertops – Recycled glass counters can be a stunning choice as they are offered in a wide variety of colors. Not only do the glass chips vary in color, the concrete base the chips are set in can also be colored. No two counters are ever exactly alike.
Vetrazzo is an extremely durable and fairly easy to maintain surface comparable to caring for natural stone. Like natural stone it is recommended to reseal it every year or two to keep it looking like new. This is an easy process: simply wipe on the sealant, let it sit for 20 minutes or so and wipe it off. For an additional protective layer and sheen it is recommended to apply marble polish (such as Goddard's) two or three times a year. Daily cleaning is simply wiping the surface clean with mild soap and water.
Vetrazzo's porosity is better than marble and concrete, and equivalent to some granite. But you do have to care for it. 85% of the surface is glass, which is impervious to stain. However, acids (like red wine, lemon juice and vinegar) will etch the matrix of the surface (the concrete area between the glass) if not cleaned up right away. And staining agents (like coffee and tea) will leave a trace if allowed to remain on the surface. If you clean up messes quickly, your Vetrazzo will remain unchanged. If you are more care free, you may appreciate the natural patina that develops as you live with and enjoy your Vetrazzo. Also, dark mixes and those with patina hide the signs of a care free lifestyle remarkably well. Vetrazzo is extremely strong and durable and will withstand years and years of normal use. In the unlikely event of damage, it can be repaired by your fabricator.
Solid Glass Countertops – Solid glass tops such as the one we used for the snack counter in the below project can vary in thickness; the thicker the glass the darker the color tint. Patterns can be added to glass with sandblasting or etching, and slumped glass offers tons of textural possibilities. Cleaning is with a regular glass cleaner.
Marble Countertops – In this project, marble came as the tabletop for the antique console table used as a tea and coffee station. Natural stone provides the most unique countertop material as each piece boasts its own pattern and color that isn't found in man-made materials.
Marble is generally a softer stone than granite and most commonly used in bathrooms rather than kitchens. All natural stones can chip, scratch and stain. Penetrating sealers can be installed as a one-time thing when first installed. The user would still want to exert care with oils and acids (think oil and vinegar) as oils can stain deeply and acids can etch the surface.
Butcher Block Countertops – Best used as accent pieces outside of the work area, wood can provide a wonderful texture and color contrast. Of course, you may choose to install a butcher block counter as a good workhorse if you are okay with the inevitable cut and patina surface that results. There are many sources of reclaimed wood including storm damaged trees, sinker logs, old beams, old barn wood, etc., and lesser known species such as madrone. All make stunning, one-of-a-kind counters.
IRVINGTON 1895 SHINGLE-STYLE HOME
Goals: Update original, inefficient kitchen by reusing as many materials as possible. The kitchen needed to preserve the period style of the home but also be as fresh and fun-loving as the owner.
Desired Look: After a lifetime of collecting antiques, old building parts and other artifacts, this owner had an intense desire to pull together her new kitchen in a way that respected the original 1890s architecture while using as many pieces as possible from her collection.
Achieving The Look: Seeing a glass snack counter in our showroom spun the project into focus for my client and set the stage for the remainder of the kitchen. The glass counter offered the right blue-green color and lightness for the raised snack counter in this relatively small kitchen. LED lights mounted below the counter highlight the sandblasted design on the underside of the glass. This is truly the focal point and conversation piece in this kitchen. It rises above the cooking area which is covered in a Vetrazzo turquoise recycled glass counter, made from recycled curbside glass.
The turquoise color and pattern on the peninsula are another conversation piece and worked with existing turquoise bookshelves that, by flanking a marble topped table, created a beverage station on the back wall. Lastly the sink area is covered with a maple butcher block as an ode to the original counter surface.
While there is variety in the colors, patterns and textures of the four counter types, they work together to achieve a cohesive, fresh and unexpected look while honoring the past.
FRESH IDEAS – DESIGN TIPS FROM THIS PROJECT
Karen Richmond's Countertop Series continues in Part 3: Quartz, Quartzite, Laminate and Metal Countertops.
Looking for more ideas to improve your space? Neil Kelly can help. Connect with one of our design consultants to get started.