Kitchen and Bath Design Trends for 2013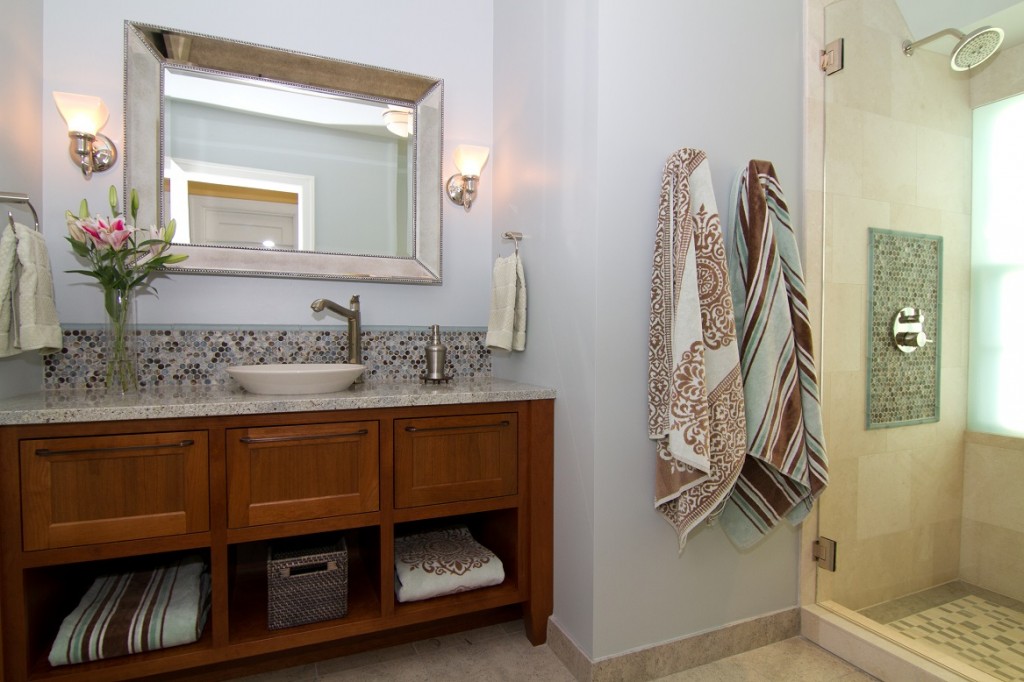 Over 300 members of the National Kitchen & Bath Association report the materials, product types, and styles they'll use in their kitchen and bath design projects this year.  And Neil Kelly is a NKBA member specializing in creating some of the most spectacular kitchen and bath designs you'll ever see.
As we round into the second quarter of 2013 here are the styles, designs, colors and surfaces that catch the eye of designers and clients alike.
TRANSITION TO TRANSITIONAL
It is a seamless blend of traditional and contemporary—called "Transitional" style—that is just as popular this year as it was in 2012.  In the NKBA's latest survey, nearly 70% of kitchen remodeling projects in the US are a transitional style.  Slightly over 60% of bathroom jobs are Transitional style.
WHITE WINS, BUT GRAY IS GROWING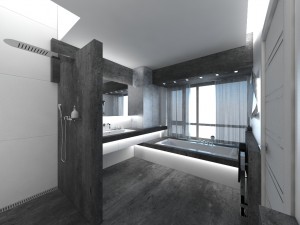 Whites and off-whites are still the top dogs in kitchen and bathroom color schemes…73% and 71%, respectively. In second place are beiges and bones, followed by grays and browns.
Brown seems to be the biggest loser—dropping to only 35% in 2013.  It's important to remember that, when it comes to your project the best color…is the color you like best!
COUNTER(TOP) WITH QUARTZ
While granite remains the most popular countertop surface material it had better keep an eye on quartz…especially in the kitchen.  Quartz zoomed nearly ten percentage points in kitchen countertop popularity. Quartz made substantial gains in the bathroom,
where marble still remains king of the countertop.
FUNKY FINISHES
As a nation, we must be fickle about faucet finishes. It's a trend that seems to change more rapidly than most other kitchen and bath design trends: satin nickel, oil-rubbed bronze, polished nickel, polished chrome—you name it—it's available.  But this years winner: Satin Nickel.  Oh, and 12% more of you are opting for a touch-activated faucet this year.
In the bathroom, ceramic and porcelain tiles remain the most popular of all materials…but they are starting to drop.  Though the NKBA report doesn't specify what
material is on the rise, ceramic/porcelain tiles are down from 93% in 2011 to 83% in 2013.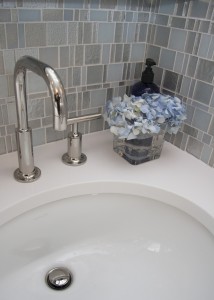 Ceramic and porcelain also hold top position in the kitchen backsplash, but glass has grown dramatically over the past three years.  Glass blacksplashes now outpace clients'
desire for natural stone.
L.E.D TO THE LEAD
The first generation of LED (Light Emitting Diode) lighting didn't pose a threat to any other type of lighting—it was cold, weak, and ineffective.  But LED has been re-tooled
and now provides strong light value in kitchen and bath designs.  Neil Kelly Design Consultant, Barbara Murphy, says "LED's are so small that the fixtures can tuck into tiny spaces, like a light 'bridge' we built over a kitchen sink or in very small spaces under existing wall cabinets."
WHAT YOU'RE WILLING TO SPEND
In the NKBA Kitchen and Bath Design Trends Survey each year, designers are asked for the total average cost of the kitchens and baths they design, including materials and labor.  While that number in 2013 is far higher than it was in 2009, it will not be substantially more than last year. Again, this is an average, but the survey indicates Americans will spend just under $50,000 on their kitchen remodel project and about $19,000 on kitchens.