Meet HomeForce Handyman Hero Rick Swedblum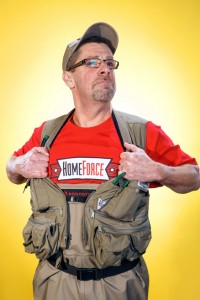 We interviewed Rick, who handles Vancouver-area handyman calls, and got these responses. Is this what you'd expect for your handyman?
Favorite superhero? Superman. He can fly, and it would be great to be able to fly.  I wouldn't mind rescuing damsels in distress, either. Actually, that's my job right now, I'm always rescuing someone.  Many of my clients are older ladies and I love to help them out. I guess I see myself as Superman with nail gun.
Favorite song? Chicken Fried (Zack Brown band).  He plays Country Bluegrass. And I don't even listen to that much country but I really like this guy and can't get enough.  He even has a little reggae in there as well.  I'm a music guy so I listen to all different kinds of music.  Classic rock is probably my genre, but I'll even listen to heavy metal on occasion.
What sounds do you love?  Running water, like my water feature outside my house.  Plus I have a creek on the back of the property, and I love the sound of it.  The only place I don't want to hear running water is in the wrong place inside my house.
If you could witness any event, what would it be? There's a future event I would like to see, and that is Democrats and Republicans getting along and doing productive things for the country.  It would be an event I would love to see.
What's a crazy story you want to share? One time I rolled over the tractor into the creek on the back part of my property.  I was in a hurry and turned too sharply and rolled it right into the water.  Luckily I was able to jump off…but it was like trying to jump off a bull in the rodeo.  Then I had to get my truck back there to pull out the tractor, which was no fun.
What's the most unbelievable thing about you?  I'm an impulsive clean fanatic.  You never know what I'm going to clean.  The garage for example…I pulled everything out and cleaned and painted and organized.  My garage is going to have tile cabinets and new paint and I'm totally going through it, I'm even going to epoxy the floor. My truck is spotless as well.  I'm such a clean freak I even scrub the undersides of my truck.