Seattle Kitchen: "New Baby, New Kitchen"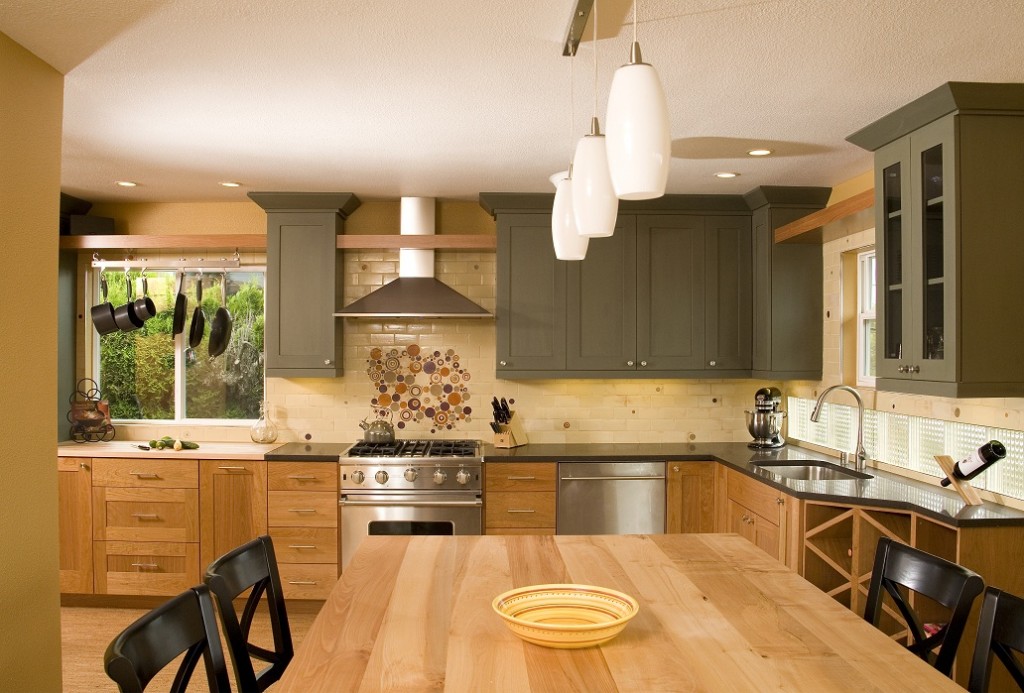 Scott and Avery faced a definite deadline: Their first child.
The Seward Park couple knew they needed a new kitchen.  They'd lived in the old one as tenants for four years, and were painfully aware of the cramped quarters, skimpy storage, and dated look. Now they owned the home, and knew changes were needed.
Talking with Neil Kelly Design Consultant, Elizabeth Lord, the couple disclosed that they were expecting a baby in the spring and they either needed to put off the project or push up the construction start date.
Like the baby, this project could not be late.
Being an adventurous young couple that likes to entertain, the Shinnemans were excited about the design process and wanted to make a statement with their home by reconfiguring their kitchen, removing walls, and opening up space to the gorgeous views of Lake Washington.
They decided to go for it.
Design Consultant Ellie started the plan rolling by removing the wall between the small dining room and the kitchen, and relocating a wall between the kitchen and larger mud room—creating counter space with a butcher block countertop for canning, storage, and an island that provided seating for six.
"To keep sustainability as a priority, we chose products that were not only environmentally friendly, but aesthetically pleasing", says Ellie. "The combination of cherry and green with black tinted Neil Kelly cabinets became the focal point of the kitchen, and complimented the wide plank cork floors."  A custom hand-created
Mercury Tile bubble backsplash adds vibrant color to the space.
Then Lord designed a custom Novustone countertop, which has a low "carbon footprint"
because it uses post-consumer recycled glass from beer bottles and stop lights that actually came from King County.  It's such a new product that it had a longer lead time than expected, and it arrived after the baby. "The baby arrived ¾ of the way through the project", Ellie says. "That was difficult considering such a deadline, but the couple did a great job handling all that change."
Now, the Shinnemans have two exciting new additions in their life: The kitchen they've always wanted, and a happy, healthy newborn.