New Homes For 14 Portland Children! (VIDEO)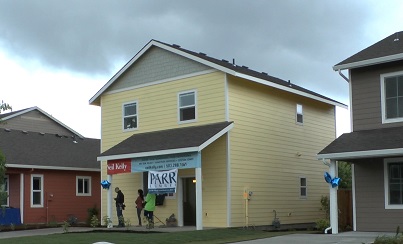 The 2014 Habitat for Humanity Builders Blitz will give new homes to 14 Portland-area children, and Neil Kelly is proud to be a part!
Neil Kelly volunteers and trade partners built one of the four East Portland homes, which were dedicated on Friday, June 13th.  That's may be a day of superstition, but it's a great day for the Hoo/Gay/Ni family, who escaped a dangerous situation in their homeland of Myanmar and lived for five years in a refugee camp in Thailand. 14-year old-Bikylella says for that time the family had no running water. "Our old home in the refugee camp was made out of bamboo, and we had no water and no electricity. It was hard."  See the rest of her interview and a video showing the entire build: A "Builders Blitz" is a little different than most Habitat for Humanity builds. Most of the folks working on the homes are professionals, so they're pretty fast. While the homes'pad was poured months ago, the framers actually had the entire first floor done by the end of the first day! In just about two-and-a-half weeks the entire home was done.
The Neil Kelly Habitat Home is one of dozens on a 30-acre parcel in East Portland. Neil Kelly President, Tom Kelly, was a member of the group that negotiated the price and the deal for Habitat for Humanity Metro East. "Habitat is one of those very cool groups that's doing more for our community and our world than just about any other group", says Tom. "We couldn't be more proud to be a part of providing needed homes for low-income families."