New Kitchen Design: "Keep the Conversation Going."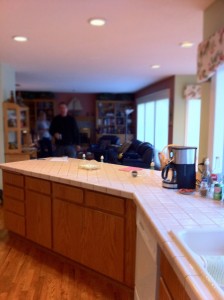 New Kitchen Designs can cure a severe case of "Conversatious Interuptus".
Don't know what "conversatious interuptus" is?
Well, don't feel bad.
We just made it up.
In our newly acquired dictionary of obscure and most certainly fictitious design terms, "converstious interuptus" is "any design feature that disrupts, interrupts, and in any way impedes conversation within a dwelling".  And Neil Kelly Design Consultant, Barbara Murphy, had a client with a bad case of conversatious interuptus.
"Our clients 1980's kitchen was woefully inadequate for a budding gourmet cook and his family," says Barbara. "His primary goal was to cook on a commercial style range without a hood obstructing the view to the family room," she says.
And haven't we all been there? When friends and family come to visit—nine times out of ten everyone winds up in the kitchen. In Barbara's case it was important for her client to be able to chat with guests while cooking. "He is tall and did not want a hood that he could not see around," Barbara says.  A downdraft vent would not be adequate with the very high BTU range, so there was really only one option: A ceiling mounted exhaust fan complete with LED lighting—strong enough to pull smoke and vapor out of the  kitchen without getting in the way of a good story…or "talk story"… as they say in Hawaii.

NEW KITCHEN GOODIES: "Look, up in the soffit: It's a vent…it's a light…it's a…cloud?"
In most cases the word Cirrus describes a cloud formation, but in this case it's a brand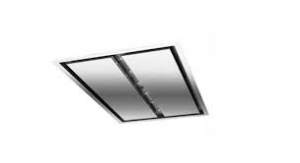 name for a new type of hood-less ceiling exhaust fans. It is powerful, quiet, and—most important—out of sight. That unobtrusive brushed stainless steel ceiling fan has four speeds, brilliant LED lighting, and mesh filters. "The clients and I all love the Cirrus," Barbara says. "It does a great job as an exhaust fan and the remote blower is outside the house so it creates very little noise." That being said, it was not an easy installation.
Barbara and her Neil Kelly crew had to build a soffit to make room for the ducts, and due to existing framing the crew was forced to rethink the entire duct system a couple times before a solution was found.
In the end the client got everything he was looking for: A brand new kitchen with additional storage, a new six-burner stove for those budding culinary skills, and an exhaust fan you can talk about—instead of having to talk around.