PORTLAND
Northwest Contemporary Update in Rock Creek
In 1978, the movie Grease was released, Jimmy Carter was president and gas was under a dollar a gallon. That same year Jo Lavey and Don Wold's Rock Creek home was built. Forty years later, they decided they needed an entire 2018 update and turned to Neil Kelly Company.
Simple, Clean and Modern
The owners wanted their home updated, but they also wanted to have it remain simple with a modern, Northwest Contemporary feel. "We kept our lines really simple and open, and then popped it with something fun and useful," says Neil Kelly Design Consultant Randi Reed. "For example, in the kitchen we added a four-foot round hammered copper moveable bar table."
"We kept our lines really simple and open, and then popped it with something fun and useful." – Randi Reed
Turning Challenges Into Solutions
Making a 40-year-old home more contemporary presented challenges. Though the look and style of the remodel were simple, there were difficult engineering hurdles to overcome — including the removal of a load-bearing wall. The Neil Kelly team turned the hurdle into an opportunity to add a unique design element. "We were able to put a beam up into the ceiling, creating a flat ceiling that evolves up," says Reed. "We did what made it look the best as opposed to taking the simplest route."
Another design component that helped modernize the home was the installation of a live-edge mantle. The living room fireplace was originally attached to high-vaulted ceilings made from brick and cedar. "We sheetrocked everything to modernize it, so it's just a big sheetrock vaulted fireplace chase that goes to the ceiling. It really was different, considering the year of the house," says Reed.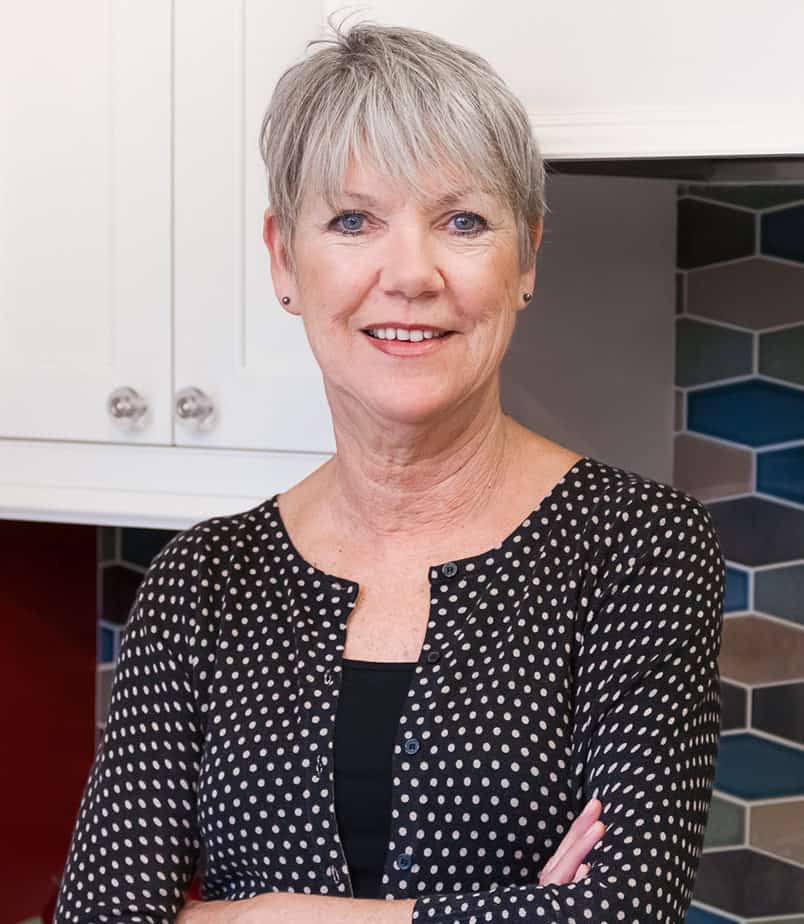 randi reed, Portland Design Consultant, CMKBD, CAPS
To merely say Randi Reed is an award-winning designer with lengthy experience is a bit of an understatement. During her 24 years with Neil Kelly Company, her projects have graced the pages of both regional and national publications. And she has gained considerable renown within the remodeling industry. Maybe it's because Randi pours her energies into such diverse projects, ranging from designing dog-washing stations, to spectacular one-of-a-kind kitchens, well-crafted bathrooms and even whole house remodels.
View Randi's Houzz portfolio and read client reviews.
SCHEDULE A CONSULTATION >
"We did what made it look the best as opposed to taking the simplest route." – Randi Reed
New Materials and Looks
For the kitchen and baths, Neil Kelly added small, effective touches. A microwave drawer was installed to free up space for the counters, while a curbless shower was added to the guest bath. The entire home is now ADA-compliant for future use and aging in place for the residents. "They can stay there for a long, long time," Reed says.
The home also had a quintessential 1970s sunken family room located next to the living room. In between each space was a step with a wall. Neil Kelly opened up the wall from the kitchen and the step between the living room and family room was raised, leveling the rooms. The result is a more cohesive social gathering place and a delighted client with a home they've lived in for 40 years drastically transformed. "It really is like a new house," adds Reed.
Need a whole-house upgrade or a new kitchen or bath? Bring us your ideas and we'll help you achieve your design goals and dreams. Get in touch with Neil Kelly today.