"Single White Bathroom Looking For Two Sinks and Class"
It may sound like a lonely hearts club ad, but in reality it was Mary Jo's goal of a new look to her Pearl District bathroom. "There was only one sink and honestly that doesn't work well with two people," Mary Jo exclaims. "Everything in that bathroom was white…so stark white. It almost hurt your eyes," she says. Neil Kelly Design Consultant, Karen Richmond, agreed: "The room was pretty bland. It had no focal point and the tub was small and awkwardly placed."
Mary Jo and husband Greg wanted a master bath that would be sophisticated and designed for a couple, and it already had some nice features—especially the glass-walled shower with a transom. So Karen set out to use the existing space and add some class. "Ours was the second remodeling project in that bathroom since 2005," says Karen. "And it would have been a shame to not use some of the existing materials." Karen added beautiful dark Neil Kelly butterfly cabinets. They're locally made with a dark antique quarter sawn ash topped with black absolute granite countertops.
And finally—two sinks—no waiting!


The old platform tub was replaced by a stunning sleek MTI Olivia II soaking tub featuring a stylish Riobel tub filler. "We absolutely love our huge soaking tub," Mary Jo says. "The Neil Kelly cabinets they made are beyond beautiful and the lighting was improved as well."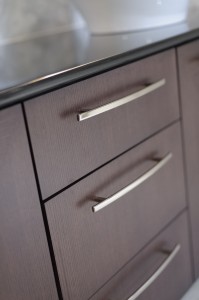 It's not just the eye-catching features that make for a successful remodeling project. Just ask Mary Jo: "Our experience with the Neil Kelly team was fantastic. They were very professional and always available if we had any questions or concerns. Every single person who worked on the project took pride in their work and always showed up on time. They were respectful of my home and my time."
Mary Jo says that the transformation was enormous, and she couldn't believe this incredible new space was actually her bathroom. "I now have such a beautiful, sophisticated bathroom", she says.
It's beautiful all right, and it has room for two. Looks like this single (sink) white bathroom has finally found the space and class it's needed.