Spring Home Gardening Furniture: "The Juniplanter"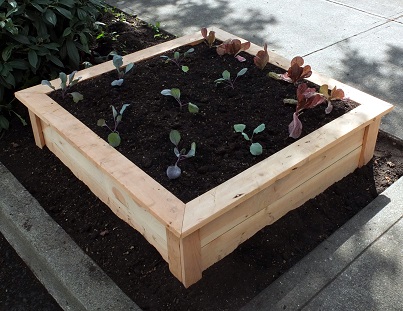 Spring Home Gardening season is right around the corner, and now's the time to think about what you're going to plant, how you're going to plant it, and where your garden will grow.
For a number of us urban gardeners, the "where your garden will grow" part of the equation is usually rooted in raised beds.  And our friends at "Growing Gardens" have a pretty cool planter box that can last up to 50 years, and it's a win-win for the home gardening pro and the environment!
The Juniplanter
"Growing Gardens" is a Portland non-profit organization that teaches people how to grow their own food.  And this year the group is offering raised beds made out of Juniper.  As you may already know, Juniper is an indiginous, invasive tree species that is growing out of control in Central Oregon.  It's sucking up an already parched water table, and crowding out native grassland habitat of the Sage Grouse.
As damaging as juniper is to the Central Oregon ecosystem, it has some attributes that make it a very attractive wood species in and around the home.  Growing Garden's Juniplanter is a DIY kit made out of locally sourced and milled Juniper hardwood.  It is resistant to wood-boring bugs and rot–and is estimated to last up to 50 years without harmful chemical sealers.  And, it makes for one really attractive planter.
From Garden to Cabinet
Why would the largest residential home remodeling contractor in the Pacific Northwest care about juniper? Well, besides the obvious benefit to the environment, the Neil Kelly cabinet company has found a way to mill juniper into some of the most beautiful, durable cabinets you've ever seen. The Neil Kelly Cabinet company is a family owned outfit and an industry pioneer in green and sustainable cabinet design design and manufacturing. We are members of the Forest Stewardship Council and the U.S. Green Building Council, members of the PureBond Fabricators network as well as founding members of the Oregon Natural Step Network.
So, in a word–we were green when it was just a color.
Growing Gardens: "The Natural Step"
So it makes sense that Neil Kelly–also a B Corporation–would support Growing Gardens. They organize hundresds of volunteers to build organic, raised bed vegetable gards in backyards, front yards, side yards, and even on blaconies. They support limited-income households with seeds, plants, classes, mentors and more. Let's face it: Veggies grown at home have a much smaller carbon footprint than veggies shipped hundreds–if not thousands–of miles away. Growing Gardens is a non-profit group, and is always looking for more volunteers and donations. Click here to learn more about Growing Gardens, and here to learn more about Neil Kelly's "Naturally Northwest" cabinet line.
And when you're done clicking, go plant something!