To Build Green or To Remodel Green?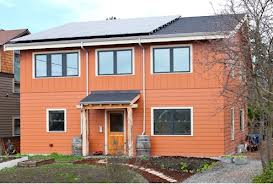 On Seattle's NW 60th street, a few blocks from the Woodland Park Zoo, centrally located between two Starbucks, you will find a newly completed two-story single-family home.
It doesn't look remarkably different than any of the other Ballard neighborhood home, other than it is about 80-years newer and one of the few "infill" structures in this well-established neighborhood. (photo courtesy of Eric Thomas)
But this 1915-square-foot, three-bedroom home is very different from its neighbors. It is what's called a "Net-Zero" home.
IT MAKES MORE THAN IT TAKES….
Simply put, the new kid on this West Seattle block has solar panels and a multitude of energy-saving features that can produce as much electricity that it consumes—even on a typically dreary Seattle day.  It is truly the first of its kind in Seattle, and it is a project driven by owners Eric Thomas and Alexandra Salmon.  They've set up a web site specifically for the Ballard Net-Zero Energy House http://www.zerohouse.wordpress.com).  "Our house was designed from the ground up to take advantage of the sun", says Thomas. "Its passive solar layout means we have lots of windows facing south and few on the north side.  The house itself is built from structural insulated panels (SIPS) manufactured in Fife, WA."  Thomas also did his homework it came to the homes' windows.  "Triple-pane windows by Vinyltek were a cost-effective way to bring in lots of light and passive solar heat without losing much heat at night, "he says.
BUILD GREEN: WINDOW TO A NEW WORLD
As windows can shine the light on savings in new green residential technology, they represent a character-defining crisis in retrofitting historic buildings.  And, with the rapidly disappearing parcels of available land within the urban growth boundary, more green builders are turning into green remodelers. For over 60 years in the Northwest, Neil Kelly has already been a sustainable remodeler.
"We've been pulling residential permits in Washington State for at least 40 years as I can remember…maybe longer", says company president, Tom Kelly.
The idea of sustainable remodeling is nothing new to the Neil Kelly Company, a design-build residential remodeling company with over 65 years of experience in the Northwest.  And it's not enough to increase the performance of an older building, but designers say they also want to keep the building historically accurate.  "At one point we've all walked into a 1920's bungalow, fancied its built in hutch and glass-laden pocket doors only to turn around the corner and run smack-dab into a 1970's kitchen countertop, " says Seattle Neil Kelly Designer, Leila Pasco. "We want to update the kitchen wiring and plumbing, sure, but even if we're remodeling an entire kitchen and installing modern amenities,it needs to be true to the style and age of the home", she says. 
AND THE GREENEST HOME IS….
SIPS Panels, Rain-Barrier Siding, and Passive solar.  You'll hear all the common parlance of the Green generation, but with all the technological advantage and continuing sustainability product evolution there is no green house like an OLD green house. It's just that simple, check out what Seattle-based Preservation Green Lab had to say: "It is a much greener process to fix the older buildings than tear them down and build new ones."  That's the conclusion reached in a 2012 report, "The Greenest Building: Quantifying the Environmental Value of Building Reuse." It takes ten to 80 years for a new building that is 30 percent more efficient than an average performing existing building to overcome" the energy and waste of deconstruction and construction process.
Those numbers would be vastly different in comparison to a net-zero home, but the fact is—few new homes are built to that high standard.
REMODEL GREEN: "EVERYTHING OLD IS NEW AGAIN"
Older homes can be converted into more energy efficient structures, but the first thing homeowners need to do is find where their homes are "leaking" energy. For instance, the Neil Kelly Company offers an energy audit, where the Home Performance team gives older homes energy consumption "check up".  From insulation and ventilation to duct sealing and HVAC efficiency—there are several areas in older homes that can be improved—without losing the historical accuracy of the home.
RESTORATION VERSUS RAZING
There is mounting evidence that restoring historic properties rather than razing them is an economic plus.  The Washington State Department of Archaeology and Historic Preservation claims that rehabilitation of historic buildings in King County from 2000 to 2004 generated $106 million dollars a year in product and service sales.  The report goes on to say that historic preservation added 1,230 jobs and added $43 million in wages to the economy.  The same study indicated that, in 2004, heritage tourists spent $307 million dollars in King County and supported 8,470 jobs generating $510 million dollars in wages.  And that is just one year in one county!
HISTORICAL HYSTERIA
To call Lawrence Kreisman a history buff is to call the Space Needle a "nifty" building.  For 40 years Kreisman has lived Seattle history, and he probably knows nearly every building in downtown—and most in the inner suburbs.  Kreisman is also Program Director of Historic Seattle—a preservation group desperately trying to save a piece of Seattle history.  "Reusing these old buildings is one of the best ways to improve the environment", he says.  "It's much greener than building green from scratch and it can make good business sense." The fight to re-use old buildings in Seattle is sometimes like driving a stick-shift on the streets of downtown—an uphill battle.  The old
Standard Record and Hi-Fi building represents the streamlined glass and shiny metal facades of the 1940s, and its features set it apart from the traditional 1920s brick of its neighbors.  But the Standard building was also in the way of the new Sound Transit Light Rail station.  Instead of incorporating part of the Standard building into the new station the Seattle Landmarks Preservation Board decided that the building did not qualify as a historic landmark.  "In the historic-preservation community, says Kreisman, we are frequently trying to get the word out that as cities evolve and push for sustainability, they should acknowledge the value of maintaining and upgrading old buildings that too often are seen as obstacles rather than opportunities."
THE NEIGHBORHOODS ARE NOTICING
Seattle's recent trend towards medium to large-scale apartment and condos replacing existing old homes is not going unnoticed.  Increasing pressure from social media sites is making it possible for old home-lovers to better network.  An example of one such networking site is the West Seattle Blog (http://westseattleblog.com/category/ws-housing), which not only takes note of individual projects threatening existing homes,
but also provides resources for those interesting in extending the life of a historic structure.