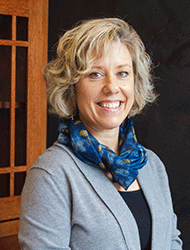 Sandi Erdman, Design Consultant
GOOD DESIGN SOLVES PROBLEMS IN A BEAUTIFUL WAY. Sandi Erdman brings a broad range of experience and perspective to every job. As evidence of her passion for residential design, her pre-professional experience includes several home renovation, and new home construction projects. After earning a Bachelor of Arts, Architecture in 2005 she worked for other residential Architects and Designers as well as independently until starting with Neil Kelly Co. in 2011. Sandi has designed kitchens, baths, interior remodels, additions and new homes and loves discovering each client's different wishes and preferences to create a unique project they'll love. Not surprisingly, the things Sandi enjoys most in her leisure-time also serve as inspiration for design: traveling, enjoying nature while hiking or kayaking, and reading.
Take advantage of Sandi's expertise to produce creative spaces that work for every homeowner. Whether your project is a large home or a half bath, she can provide innovative solutions consistent with your home's unique architecture and ambience. Contact Sandi today to set up an in-home design consultation. Let's get started!
503.331.9424 | Sandi.Erdman@neilkelly.com | 


"We loved Sandi and Neill Kelly! We had out kitchen remodeled at the beginning of this past summer and were thrilled with her designs and Neill Kelly's work on the project. Everything was done to perfection."