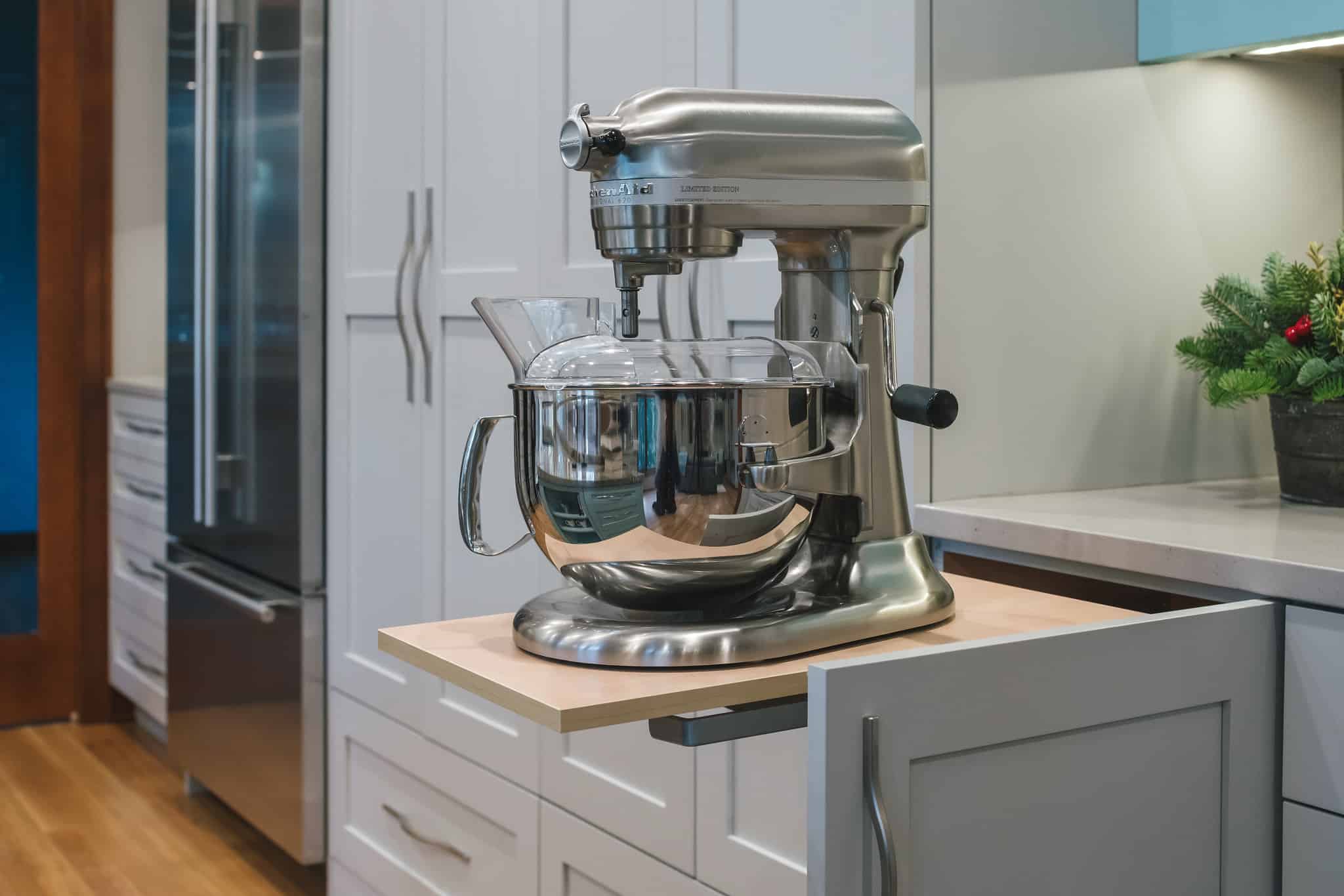 Interiors
|
Kitchens
Kitchen Storage Ideas to Get You Organized for Good
One of the biggest motivators in starting a kitchen remodeling project is storage. Maybe you just don't have enough cabinets or pantry space, or maybe the small kitchen storage space you do have isn't fully functional or well thought out. 
A kitchen with all the organizational bells and whistles is a true playground for those of us who love to have everything tucked away and immediately accessible at the same time. Neil Kelly designers have the experience and creativity to arrange custom kitchen storage solutions that perfectly fit your lifestyle and the way you use the space.
Kitchen Cabinet Storage Solutions

Kitchen cabinets and cupboards can quickly become disorganized with pots, pans, water bottles, and other kitchen equipment. But these cabinet organizers and storage solutions can help you find more storage space than you realized you had.
1. Blind corner cabinets

Let's start with the dreaded blind corner. If you have an L- or U-shaped kitchen, you have at least one corner cabinet with a deep, dark box that's difficult to get anything in or out of. With a clever solution like lazy susans or racks that pull out, pivot, and slide, accessing what's in the very back of your cabinet cave won't be a headache.

2. Adjustable rack storage

If your cutting boards, cookie sheets, and cooling racks are stacked in a drawer or cabinet somewhere, you will be thrilled to see the options you have in filing them with an adjustable racking system. Grab the one you need without clattering through all the others.




3. Mixer storage cabinet

Clear counter space is precious, especially when it's time to cook or bake, which makes this option even more helpful. Keep your heavy mixer in a lower cabinet, but don't wreck your back lugging it out. Use one of these clever built-in shelves that lift up to counter height. It will be the hit of your next cookie party.

4. Appliance garage cabinet

Nothing makes a kitchen feel cluttered faster than all the small appliances we've become accustomed to keeping out on our countertops. The toaster, blender, and coffee maker can actually all stay on the counter, but slide over into an "appliance garage" cabinet that keeps them concealed. These kinds of cabinets can house an entire coffee station or bar, and look even more intentional when they're lighted. Make sure to give some extra thought to the way the cabinet door opens, however. Doors can lift open, tilt up, fold up, or roll or slide back into a pocket. Just so long as the door isn't in your way once it's open.
5. Inside cabinet hooks storage

Hook storage solutions make accessing your cookware much easier than it probably is right now. Instead of stacking them (sometimes haphazardly), a hook system puts your pots and pans on parade as they extend out from the cabinet, and appropriately sized shelves on the back side of the cabinet door hold on to your lids.
6. Pull-out trash bin 

"Where's your garbage?" will be one of the most common questions in your kitchen when your trash can and other such receptacles are hidden away in a lower pull-out cabinet. It will also be forever satisfying to show your guests where it's hiding. Take this solution to the next level by installing a pull-out cutting board with a whole in it above the bin for conveniently sweeping away food waste.
7. Pull-out caddy

​​Let's cap off the pull-out rack solution with one last life saver: organizing under your kitchen sink. No one would blame you if this cabinet is in a bit of disarray. Crouching down and then reaching back in there to get what you need while dodging the plumbing is a blind corner kind of pain. Installing metal baskets that pull out will help you access things stored toward the back of the cabinet, and a narrower upper basket creates more storage space that works around your drain pipes. 

8. Water bottle storage

Staying hydrated is on everyone's to-do list, and reusable water bottles are stacking up in all of our kitchens. The best way to store them so you can see and access them all easily is horizontally, like a wine rack. Your water bottle storage rack(s) can be stowed in a cabinet or drawer, or built in as an open shelving feature of your cabinet system.

Kitchen Drawer Storage Solutions

Kitchen drawers are often cluttered with a variety of kitchen tools, miscellaneous items, and more, but no longer. These intuitive kitchen drawer organizers keep even the most cluttered kitchens clean.
1. Toe-Kick drawer

You haven't maxed out your kitchen's storage capability until those few inches hiding underneath your lower cabinets are turned into drawers. It's called the toe-kick for obvious reasons, and it's usually just a flat piece that covers dead space. Install a few drawers there and you can store anything from canned food to a collapsible step ladder.
2. Utensil drawer organizer

If you're a fan of minimalism, then the best kitchen storage solutions are ones that keep things off of the countertops. Many of us keep our spatulas, whisks, and wooden spoons in a utensil holder on the counter by the range. But one innocent utensil holder becomes two, and then why not just keep the olive oil and salt and pepper shakers right there, too, and then… clutter. This lower drawer pull out solution keeps all of that stowed away (and therefore cleaner) but still at arm's length for the chef.
3. Dish organizer drawer

If your kitchen has open shelving or no upper storage at all, you need an organized and protective way to store things like dishes and glassware in your lower cabinets. A great solution for this is a deep pull-out drawer with an adjustable peg system that holds stacks of dishes in place. For smaller items like glassware or food containers, just add a few more pegs and rearrange as necessary. This solution is also ergonomic and great for aging in place, because it keeps everything at waist height instead of high up.
4. Device charging drawer

Modern times call for modern measures. If the kitchen is where your keys, wallet, and phone land when you get home, creating a dedicated space for them is a smart move. Whether it's a drawer, or corner of the counter, make sure to include USB ports and electrical outlets so your devices are charged up while they're tucked away.




Vertical Storage Solutions

A narrow storage space is still plenty to work with at long as it has height and a little bit of depth. Vertical storage racks that roll out like the one below are taking kitchens by storm, allowing for top notch visibility and access while taking up very little square footage. This kind of system is ideal for spices, sauces, and oils, especially if it pulls out from beside your cooktop.
Ready to talk to a Neil Kelly Designer about building your dream kitchen? Schedule a complimentary design consultation or register for an upcoming Kitchen Design + Remodeling Webinar.