Interior Projects
A Dreamy Master Suite
Portland Bathroom Remodel
This Tualatin area bathroom remodeling project features a dual vanity, freestanding tub, walk-in shower and cozy fireplace.
If there was a Street of Dreams devoted to bathrooms, this renovated master suite designed by Neil Kelly Design Consultant Mary Miksch, would be a headliner.
"Space planning is my favorite thing to do," shares Miksch. "With the homeowners' wish list top of mind, I got out my trace paper and started sketching! I feel it's important to consider all the possibilities to find the perfect solution – sort of like Goldilocks and the Three Bears – so I sketched three options for them to consider."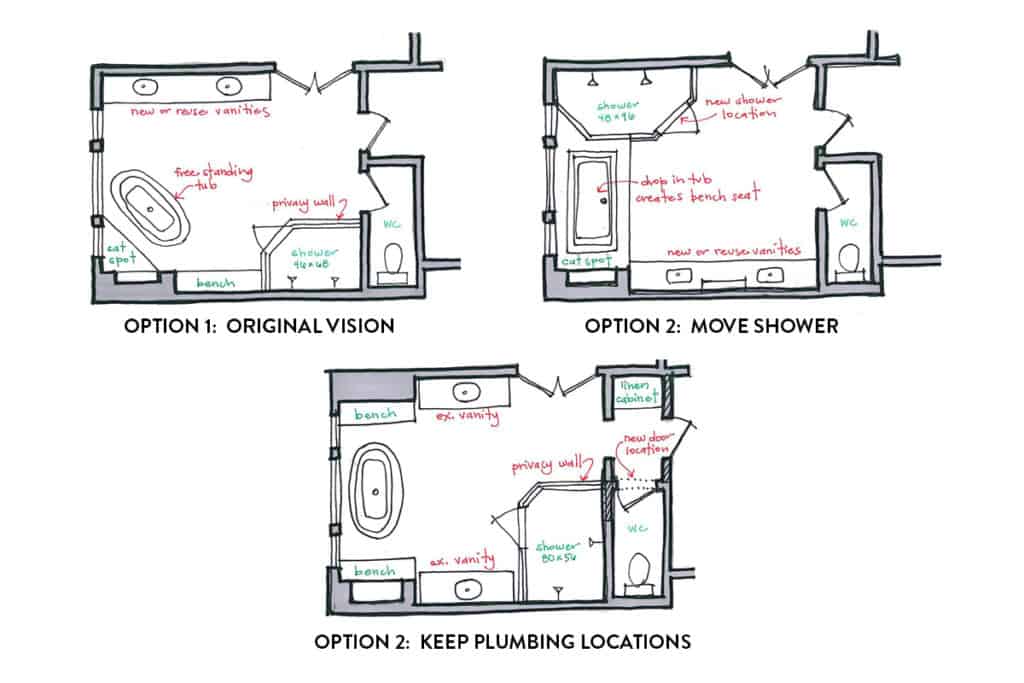 One challenge Miksch encountered: selecting materials that balanced the homeowners' love for natural materials with their desire for durability and low maintenance.
"Space planning is my favorite thing to do." – Mary Miksch
The solution: a smart combination of materials including sleek porcelain tile on the floors and shower walls offset by rustic, natural stone covering the fireplace and outer shower wall. Adds Miksch, "It all came together with the quartz countertops – we had them hand-chiseled to make them look more natural." The use of mixed metals polished off the look and feel of the new bathroom. Mixed brushed bronze for the faucets and a lighter honey bronze for the cabinet knobs compliment the mirrors and bring added warmth to the space.
'Juliet' Bathtub Brings Timeless Elegance
A freestanding tub was a "must-have" on the homeowners' wish list. "We wanted the tub to be the focal point and be a piece of art in itself," shares Miksch. "I love MTI Bath's line of boutique bathtubs – this one is called the Juliet. The asymmetry and sculptural design are why the homeowners love it. And the engineered solid stone is durable and easy-to-clean."
A Feline Friendly Feature
You may notice a triangle-shaped bench seating area in front of the fireplace. The homeowners wanted to create a special place for their cats to curl up next to the warm fire.
Master Bath Ideas
Here are some things to consider if you're thinking about remodeling your master bath.
Look and Feel: These homeowners wanted an updated classic look. What styles are you drawn to?
Functional Layout: Every space should have a distinct purpose.
Seating/Changing Area: Would you like a space to sit down or use as a changing area?
Fireplace Feature: Consider creating an inviting place for both humans and felines.
Statement Bathtub: A freestanding tub adds luxury and a visual design element.
Are you ready to create your own "Street of Dreams" master bath? Get in touch with Neil Kelly today.