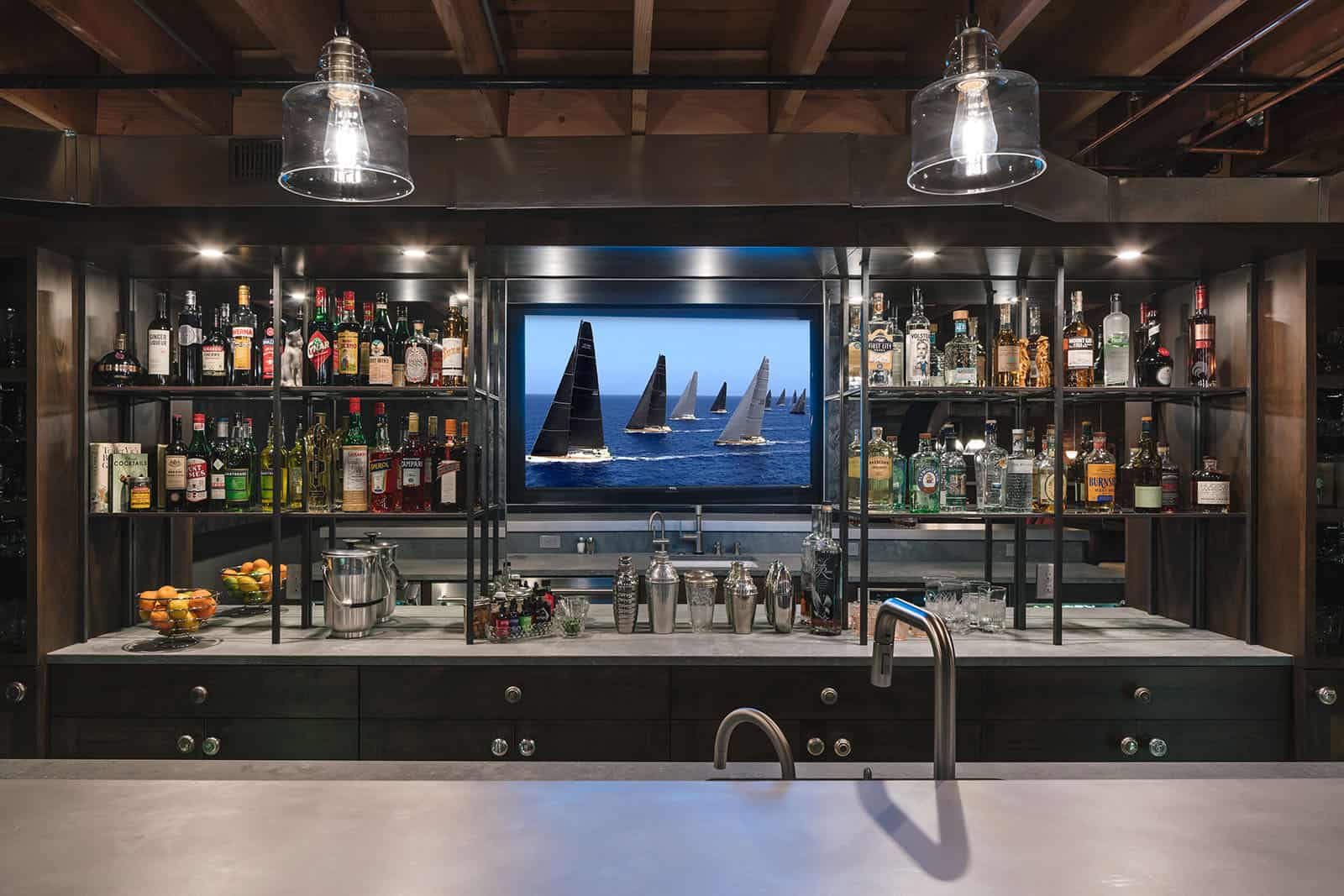 Above: This SW Portland home features a magnificent Speakeasy-inspired bar and billiards room in the basement.
Interiors
|
Kitchens
How To Create A Stylish Bar or Beverage Station
If your home is often brought into service as a gathering place for friends and family, you might be wondering about adding a swanky beverage station or bringing a full bar into the mix. Here are some ways to create a functional and stylish beverage area in your home.
When approaching a project like a bar or beverage station, Bend Design Consultant Paul Haigh starts by asking homeowners a series of questions:
Where will it go?
"Identifying a suitable location is heavily influenced by the layout of the existing home," says Paul.
A bar or beverage station should provide functionality for your entertaining needs. But it also needs to fit seamlessly into your home, and compliment the surrounding spaces.
If your home has an open floor plan, an integrated beverage station might be the way to go. Integrated beverage stations are incorporated into a larger space like a kitchen. These days, you'll often find them built into kitchen islands or perimeter cabinets.
If you have a formal dining room or living room space where guests tend to gather, a separate beverage station might be the best fit for you. These beverage stations occupy their own area of the home but are conveniently located for entertaining.
A dedicated space, such as a full bar or wine tasting area, has its own plumbing, electrical, storage, seating, appliances, etc. Full bars are usually found in areas of the home — like a family room or basement — that have good access to necessary utilities. A finished basement is an ideal place for wine storage.
How will it function?
A beverage station gives you the flexibility to serve drinks while being close to other activities. Some beverage stations are for storage only. Some contain a mini-fridge or chiller. Others include plumbing and function as a mini-bar.
Think about how you wish to serve and interact with your guests.
Will you be mixing and pouring drinks in the beverage area or will you be storing the supplies there and serving in other places?
"Keeping a casual beverage station away from the kitchen eliminates conflict in a busy household," Paul says.
Having a full bar, on the other hand, is the activity. It's a dedicated space where you can chat, play cards, or watch a big game, and have all of your snacks and beverages close at hand.
"It's a gathering location in itself," Paul says.
Who will be gathering there?
Think about who you will be entertaining, and how they will move through your home.
Is there a place for each group to sit or stand comfortably? How will they access refreshments? Will people move about freely or stay in one or two general areas?
Will you be entertaining adults and children? It may be necessary to set aside a small space — a beverage center or locked cabinet — to keep kids away from liquor storage.
What special features do you require?
The beverages you favor could impact the design of the space. For example, a wine cellar or wine tasting room has more specific requirements than a mini-bar or liquor cabinet.
Think about the specific amenities you'll need to entertain guests in the ways that you want.
Do you need refrigeration or temperature control in addition to storage? Do you need an extra sink and plumbing fixtures for creating complex drink recipes? Do you collect fine wines, or need the capacity to store large quantities of beverages in your home?
"Providing hidden keg storage and beer taps, here in craft-brewing country, is popular," says Paul.
HOW about style?
Bars and beverage stations — particularly those in separate or dedicated areas — are an opportunity to express your individual style, and perhaps make a statement you couldn't get away with in other parts of the home.
Think about how your tastes and personality will translate into a memorable experience for your guests.
Are you a beer geek? A cocktail aficionado? A wine connoisseur? Whatever inspires you, there is likely a design to match.
"The more glamorously designed, the greater the visual impact and 'show-off' factor," Paul says.
"Right now we see bars and beverage centers leaning more toward modern themes and clean lines. Quartz countertops, glass shelves, and LED lighting prevail."
Neil Kelly can help you create the bar or beverage station you've been dreaming of. Connect with one of our design consultants to get started.