Kitchen Projects
Bend Kitchen, Laundry + Powder Bath
Bend Kitchen Remodel
A classic Bend area home is given a major update in this kitchen project, which also includes a wine storage area, laundry room and powder bath.
After living elsewhere for many years because of work demands, this empty nester couple moved back into their Bend home.  They wanted to update, add creature comforts, and make it more of a "forever home" for themselves and extended family, rather than build new.  They wanted:
Wood floors throughout the entire first floor
Entertainment-friendly, more open kitchen to living spaces beyond
Updated surfaces and appliances, with a more efficient work flow
Convert small, under stairs pantry to wine cellar
Replace pantry storage
More inviting powder bath
Update, brighten awkwardly shaped laundry room
"An addition of any kind, especially a small one, can be a budget buster, so we decided to keep within the existing kitchen footprint." – Kathleen Donohue
After establishing a project budget and revising project scope to accommodate, we identified several challenges in creating the ideal space to meet their needs and as much of their "wish list" as possible.
Under-stair pantry inadequate for 400+ bottle storage wine cellar owners desired
Existing support columns needed to stay
Over-crowded kitchen layout with several "tight" points, constricting work flow
Outdated surfaces and hardly working appliances
Need to tie in new cabinetry with alder woodwork throughout the open plan home, but too much wood now makes the space dark and cramped feeling – owners considering white painted cabinets, but would that be too much contrast?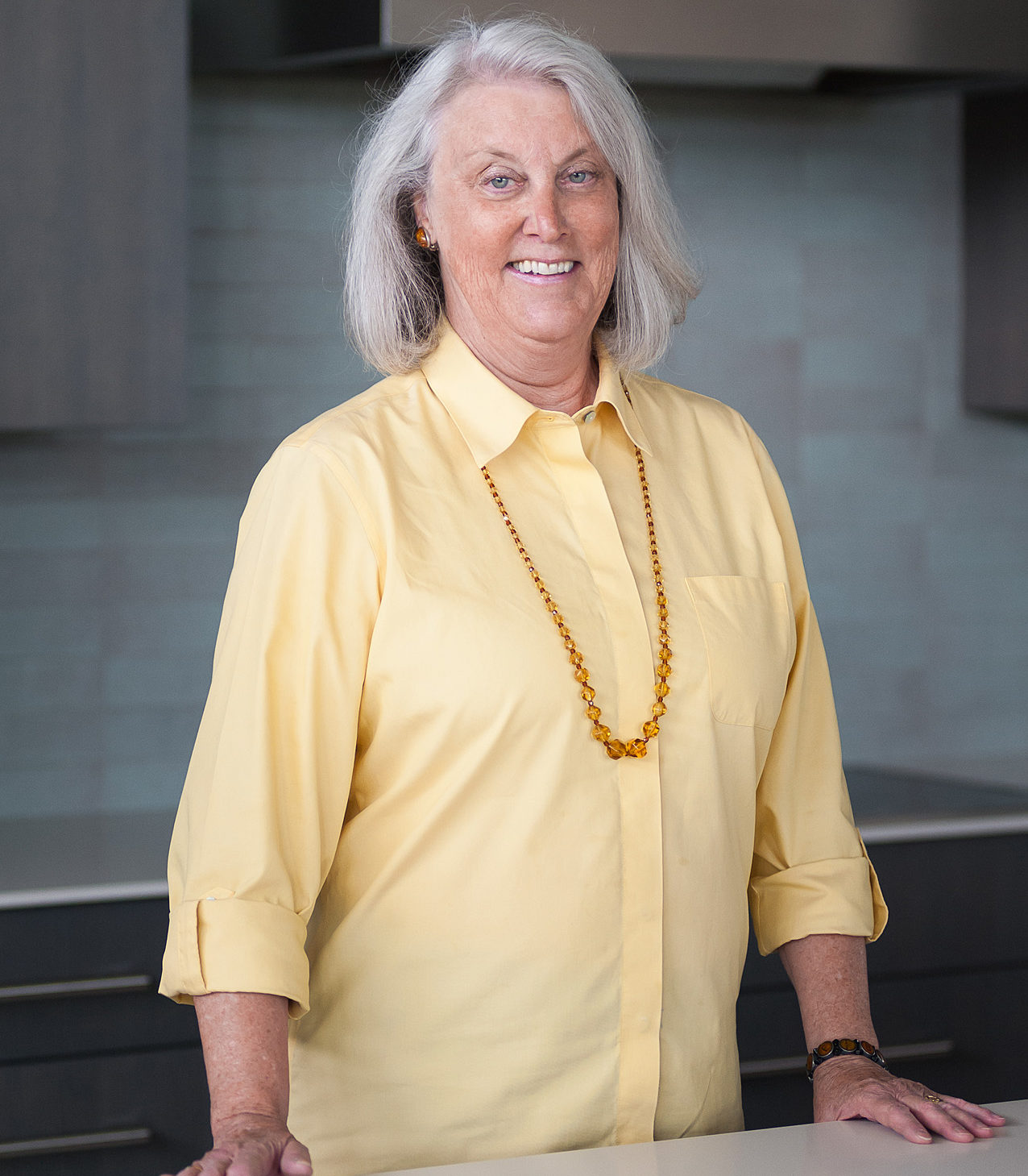 kathleen donohue, Bend Design Consultant, CMKBD, CAPS
Kathleen Donohue's distinctive designs have graced the world of kitchens and baths for over 30 year throughout the Pacific Northwest. Her heartfelt approach has earned Kathleen national design awards from the NKBA, the SubZero Design Competition, and NARI.  Many of Kathleen's award-winning projects have been featured in national consumer and trade publications. One publication, from McGraw Hill, is actually her own book, "Theme Design for Kitchens and Baths."
View Kathleen's Houzz portfolio and read client reviews.
SCHEDULE A CONSULTATION >
Realizing the wine cellar was of utmost importance to the client, we started looking for ways to expand the small under-stair space. There was an existing front porch area, to the side of the main entry, that was never used, but was underneath the existing roof. Also, the laundry room had a weird angled section that was under-utilized. This became the identified space for a proper wine cellar.  Problem solved.
An addition of any kind, especially a small one, can be a budget buster, so we decided to keep within the existing kitchen footprint, limiting any structural change to widening an existing doorway to the rear garage entry hall that was dark and had doors to the powder bath, laundry and kitchen.
The old kitchen had and island AND a peninsula (pick one!), making the kitchen feel crowded and closed off.  We repositioned the island to engage with the structural column and created more open circulation space where the old kitchen felt crowded and tight.  We solved the pantry problem by designing a custom pantry cabinet, to house all of her countertop appliances, and provide plenty of storage and extra work space off to the side of the kitchen, including pet food storage – a must for this 3 dog home!
The Bertazzoni range not only provides a focal point, but saves counterspace by combining cooktop and ovens in one appliance.  The clients loved the look of a custom wood hood, so the new hood is painted the same color as the Ivory range, tying the two together.
The new island has uninterrupted work/serving space, where the old island housed a downdraft cooktop, inadequate counter space, and an awkward raised counter for stools that intruded on the main narrow aisleway through the kitchen.
New cabinets are a combination of natural knotty alder, as a nod to the existing "lodge" architecture of the home, but the island and pantry are painted a soft, livable sage green.  Existing laundry cabinets were painted the same color.  The wine cellar is fitted with darker oak cabinetry, complimenting the wine racks, the El Dorado stone clad walls, and the cherry wood wine tasting table.  Behind a "cellar door" made of recycled barnwood, the cooling & humidifying equipment is discreetly housed.
The powder bath was simply dressed up with fresh and inviting finishes, so guests can feel pampered, rather than shunted off to a dark and dreary room off the garage entry hall.
Thinking about renovating your space or want kitchen ideas for your next project? Get in touch with the remodeling experts at Neil Kelly today.