Kitchen Projects
Bend, Oregon Kitchen & Bath Remodel
Broken Top Contemporary Home Update
Bend design consultant Kathleen Donohue and the Neil Kelly team worked with our clients on a multi-room home remodel focused on the kitchen, living room fireplace, and primary bath.
See how the design/build remodeling experts approached this contemporary upgrade in the Broken Top neighborhood.
Project Objectives and Client Wishlist
Our clients wanted to open up their existing space and emphasize the distinct architectural lines that were already there. Timeless and contemporary materials were selected to further enhance and showcase the natural architecture of the home and surrounding settings.
Our clients' wishlist for this custom home improvement included:
Improved kitchen space

Upgraded primary bathroom

Highlighted natural architecture

Better lighting
Design Collaboration and Project Planning
The existing home structure played a large role in the success and planning of this design/build remodeling project. The home's high-vaulted ceilings, ample windows and natural light, and strong architectural lines provided a terrific foundation for a new and refreshing design. 
As Donohue said, "The dramatic architectural design of the home was just begging to be released from its mundane partitions and materials."
Our clients were also excited and involved from the beginning. They provided Donohue and the Neil Kelly team with a number of design inspirations and ideas. 
Design Solutions
This project called for removing several pre-existing features that made the home feel closed off. Within the kitchen, non-structural curtain walls trapped the kitchen and dining area. These were removed to open up the rooms and allow the kitchen to blend into the spacious, light-filled living room. 
To further showcase the home's natural design in the living room, the dramatically tall fireplace with textured tile and bulky hearth was removed.
Within the master bath, a freestanding tub, an enlarged curbless shower, and a floating Fleurco Edge Lit vanity and mirrors replaced old and outdated features that made the space feel congested and closed off.
Finally, throughout the home, the main window walls were tiled floor to ceiling in softly patterned marble and drama was introduced with creative and dramatic lighting throughout the home.
Special Features and Customizations
Donohue helped our clients create a more open space that was both warm and contemporary to better suit their lifestyle. 
Notable features and customizations for this kitchen and bath remodel included:
Custom burnished galvanized metal hood

Dramatic waterfall granite island and

countertops from Imagine Stoneworks

Black stainless

Johnson Brothers kitchen appliances

Dark-stained cabinets from

Decor

Architectural soffit lighting

Distinctive light fixtures in kitchen and bath

Luxury vinyl plank flooring throughout one-level home

The finished result is a curated selection of refined finishes with a contemporary appeal 
Here's another Central Oregon Custom Home we did in Bend, with a mid-century modern flair.
Create Your Ideal Home With Neil Kelly
This astonishing Bend, Oregon home remodel rejuvenated the kitchen, living room, and master bathroom spaces. If you're thinking about a single or multi-space home remodel yourself, the design/build remodel experts at Neil Kelly would love to hear from you.
Our team of skilled professionals transforms homes all over the Pacific Northwest, with design centers in Bend, Portland, Eugene, and Seattle. 
Get in touch with us to learn more about what we do!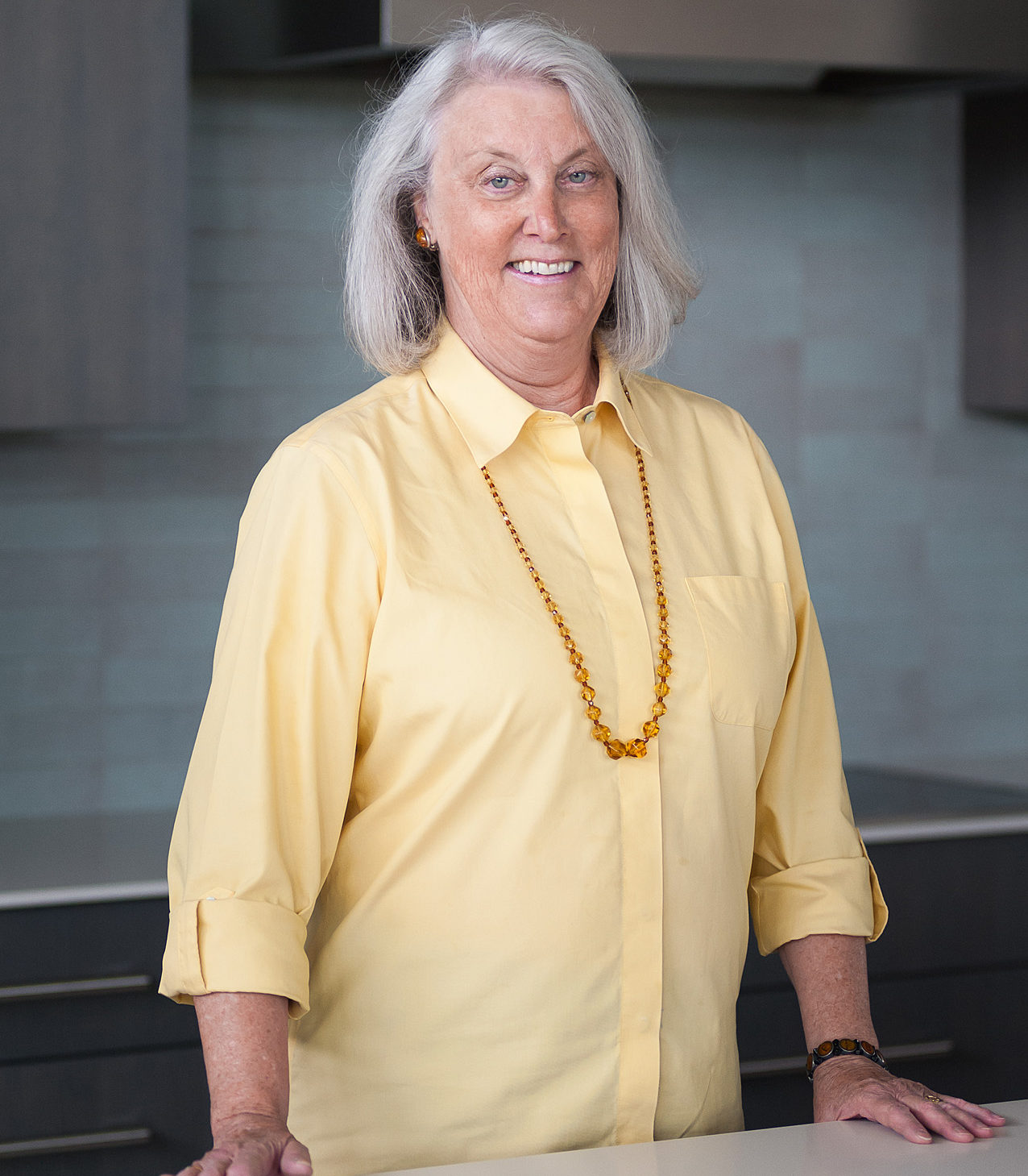 kathleen donohue, Bend Design Consultant, CMKBD, CAPS
Kathleen Donohue's distinctive designs have graced the world of kitchens and baths for over 30 year throughout the Pacific Northwest. Her heartfelt approach has earned Kathleen national design awards from the NKBA, the SubZero Design Competition, and NARI.  Many of Kathleen's award-winning projects have been featured in national consumer and trade publications. One publication, from McGraw Hill, is actually her own book, "Theme Design for Kitchens and Baths."
View Kathleen's Houzz portfolio and read client reviews.
SCHEDULE A CONSULTATION >