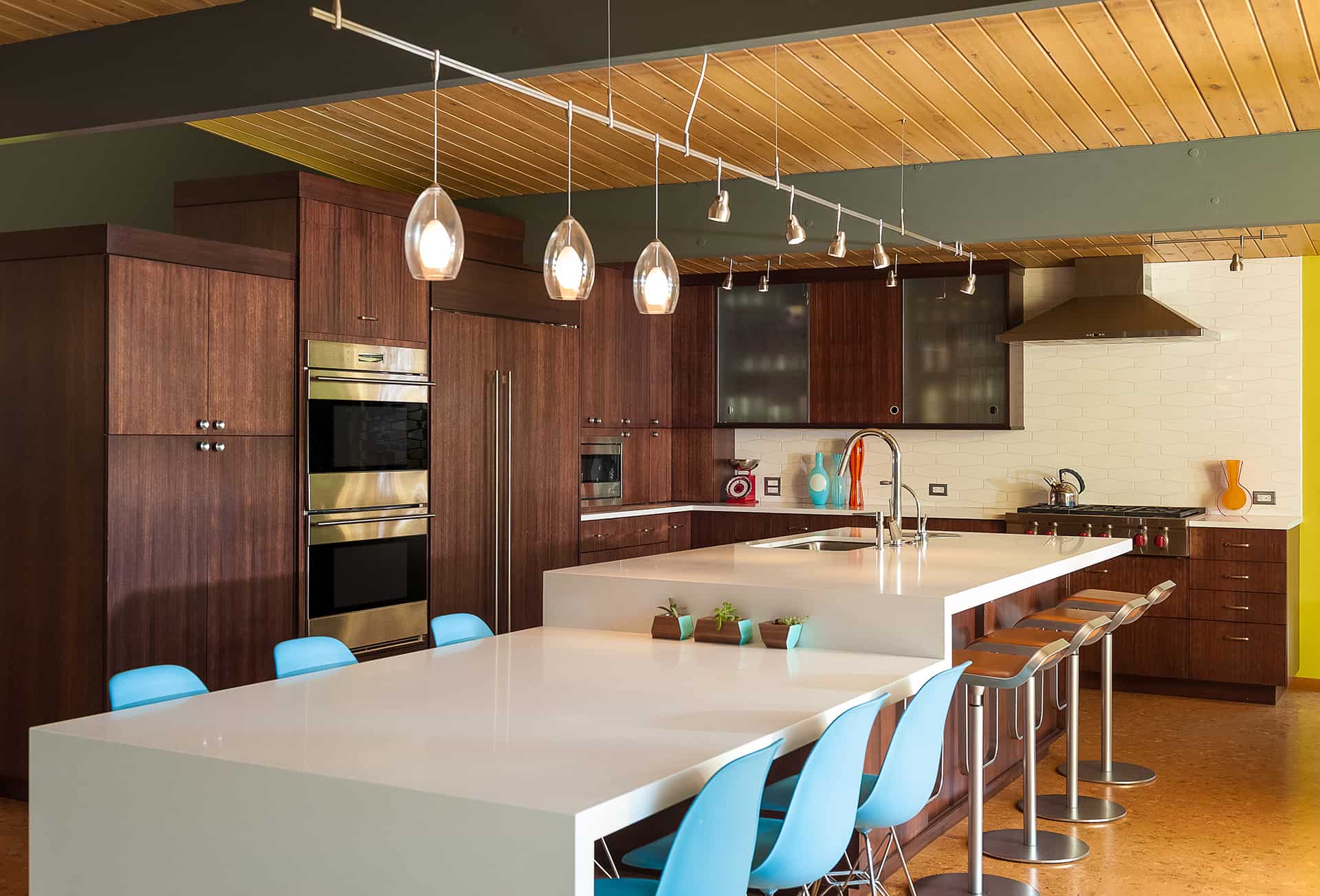 Above: From furnishings to wall colors this Mid Century inspired home features bold hues in almost every room.
Bathrooms
|
Kitchens
Be Bold With Colors And Materials
White, off-white or pearly white? Do you tend to be conservative when it comes to color? Wall and floor color can have a tremendous impact on how a room feels, so it's understandable that many people can be timid with their choices. It doesn't have to be that way! Be bold and read on for helpful tips about how to add more vibrancy and more colors to your home.
Color Choices
Don't choose at the store; take samples home to test. In addition to walls, consider testing on a large piece of poster board that you can move around a room at different times of the day and check your color options in various lighting conditions.
– Think about what the room is intended for
– Think about how the color will flow from room to room
– Use existing items in the room: furnishings, artwork, curtains, carpet, for inspiration
– Choose a bold color first, then add two more; use a color wheel to identify analogous and complimentary colors
– Three colors per room is usually the maximum
– If two colors are bold, the third should be neutral
– Try lighter or darker shades; neutrals
– White trim or natural wood is usually best
Neil Kelly Design Consultant Fabian Genovesi says, "We're helping a homeowner transform a large basement into an amazing entertaining space complete with a speakeasy-style bar, professional pool table, 10-person poker table and 18' shuffleboard. The look is very industrial, very bold with exposed ducting and wiring in the ceiling, concrete floors, mixed metals and woods. Adding vibrant colors, fabrics and accessories is key in helping to pull this space together and add warmth."
Neil Kelly Design Consultant Michelle Rolens shares, "When it comes to color, I always tell people to find something that speaks to you." When Michelle remodeled her own home, that turned out to be green decorative throw pillows she used as inspiration to create a show-stopping master bedroom.
"My color choices were driven by the pillows. The colors just spoke to me, so I continued the green theme for the bedding and some walls." The result? Feels like a special getaway or as Michelle describes, "It's like a treehouse and the kids love to come up and hang out."
Ready to create a more colorful space? Get in touch with Neil Kelly today.