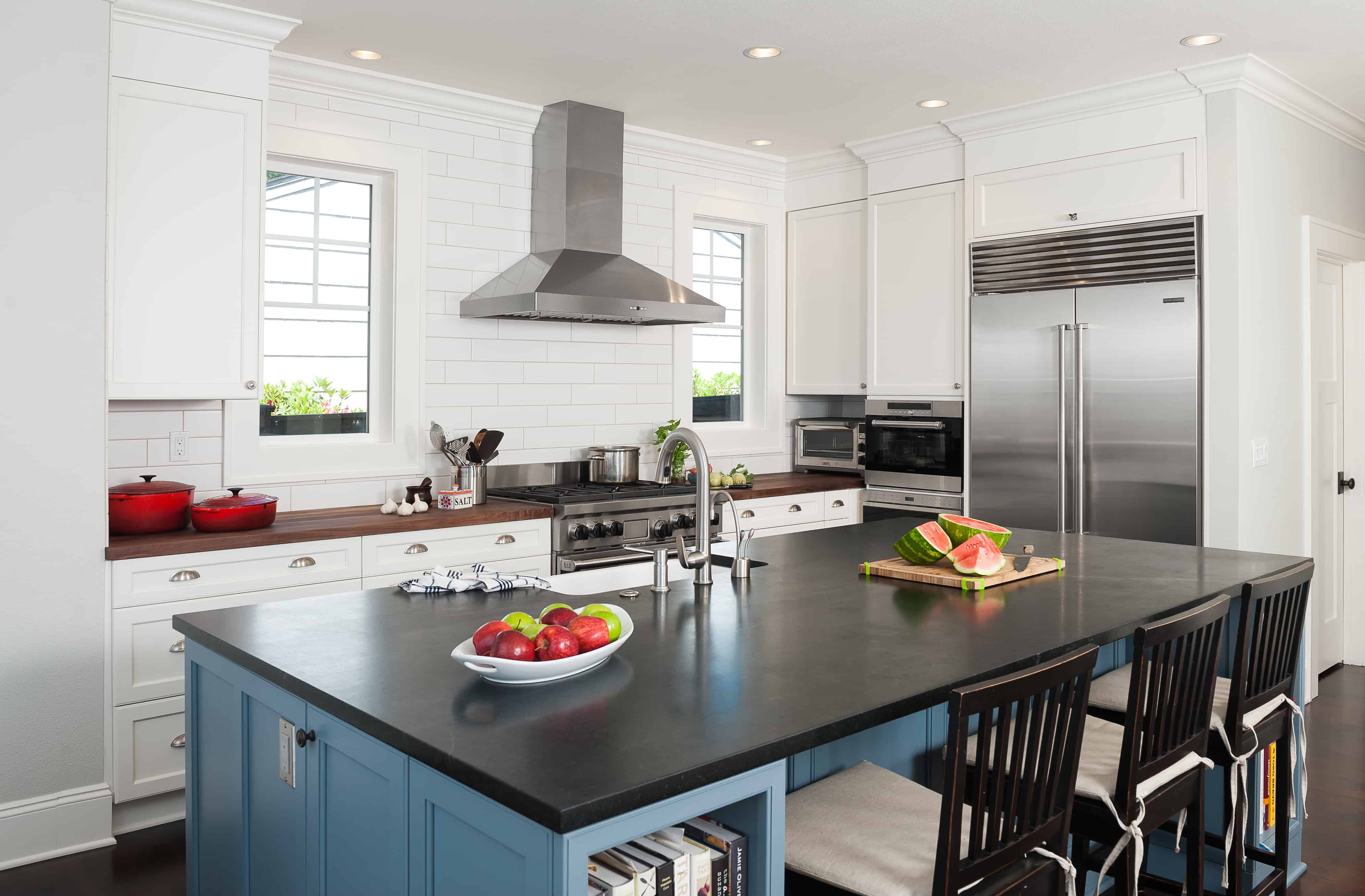 Above: This Lake Oswego kitchen was greatly influenced by Farmhouse style, with classic design supported by natural elements.
Interiors
|
Kitchens
Bringing The Outdoors Inside: Farmhouse Style
While technology impacts almost every aspect of modern life, many homeowners are yearning for a simpler lifestyle that reconnects them to the outdoors and homesteading traditions of the past. If you're looking for design elements that reflect your farm-to-table lifestyle, look no further than Farmhouse Style.
Farmhouse Style is a flexible aesthetic that allows homeowners to incorporate the latest technology and contemporary design with charming features of bygone days.
"Farmhouse Style is a special architectural style reminiscent of just that — farmhouses," says Neil Kelly Design Consultant Mary Miksch. "It's popular because of its nostalgic appeal and key design indicators. The style is more casual than French Country, and can be modern, and therefore easily incorporated into an existing house."
While the design style can blend into an existing home, the kitchen is the natural place to incorporate farmhouse elements — the most popular being the farmhouse sink.
What Defines Farmhouse Style?
Five key features truly define the aesthetic in the kitchen:
Bridge Faucet — The levers and the faucet itself all branch off of one part, which requires only two holes in the countertop instead of three.
Apron Front Sink — Also called a farmhouse sink, these have a distinct look because of the exposed front-facing side of the sink.
Cup Pulls — Upside-down cup-shaped pulls popularized in the mid-19th century.
Inset Cabinets — Doors and drawers that fit inside of the cabinet face frame openings. This type of cabinet gives a full view of the cabinet frame, with minimal spacing or gaps between the cabinet components.
Beadboard — A row of narrow wood planks lined up vertically. In between each wood plank is a little indentation or ridge, also known as a bead.
"In the greater Portland area, we are less formal in our houses but also have an appreciation for history, so the style is increasing in popularity," says Miksch. "You can make a simple nod to the style in a modern kitchen using a farmhouse sink made out of stainless steel, or incorporating family heirlooms or farm objects."
Other features that support the aesthetic include white subway tile, freestanding bathtubs, found or handmade objects — particularly handmade tile — shaker style cabinets or frameless cabinets.
How Does Farm-To-Table Influence Design?
Farmhouse Style isn't solely defined by its design elements. It's also influenced by the farm-to-table movement, and the cultural and social drive to get closer to our food sources. This lifestyle encourages the best possible appliances to cook your food with, and a kitchen space that is both functional and inviting.
"The farm-to-table movement is a connection to your food and your dinner table," says Miksch. "Because of this, the kitchen has become a place where people spend more time. Instead of the kitchen being a showcase or something that's only behind the scenes, the kitchen has become more of a comfortable living space for families."
Feeling inspired by antique furniture and your favorite farm-to-table restaurant but don't know how to incorporate these elements into your home? Schedule a consultation with our Design/Build Remodeling team today!