Interior Projects
Condo Refresh In 1910 Industrial Loft
Portland Condominium Remodel
This Portland area condominium remodel features a luxurious kitchen, elegant master bathroom and more.
The clients purchased this 6th floor loft condominium in Portland's Pearl District knowing it needed major updates. Built in 1910, the brick and timber building was converted to lofts in 1996. The "Dream of the 90s" was alive in this space, and it was time for a refresh for the kitchen, master bath, and one of two gas fireplaces.
Design Challenges
The building itself posed some limitations.
"No major wall changes or roof penetrations could be made, so all updates had to fit within the existing footprint," said Neil Kelly Design Consultant Erika Altenhofen. "We could not create a new penetration for the hood vent in the roof of the building, so we had to get creative."
The building itself posed some limitations. No major wall changes or roof penetrations could be made, so all updates had to fit within the existing footprint. We had to get creative." – Erika Altenhofen
Design Solutions
The building's historic character — visible in existing brick, timber and concrete — provided a gorgeous backdrop for new fixtures and finishes.
The kitchen hood needed to be relocated to accommodate a new island, so it was strategically planned to move only about 18 inches, and was able to be supported by the existing framing in place. The existing roof penetration was maintained by jogging the vent overhead.
An already generous master shower provided the perfect setting for a dramatic ombre glass mosaic, while keeping existing floor drains in place.
Erika's Favorite Features:
Two Big Ass Fans: giant industrial-looking ceiling fans you might find in an airplane hangar, which help move air in the 16-foot high space.
Glass ombre mosaic tile from Pratt and Larson in the master shower, which creates a dramatic backdrop for the master bath.
"Stunning Brazilian soapstone kitchen countertops from EleMar Oregon, which I love to stare at," Erika says. "They have beautiful white veining and specks of gold!"
Two-tier candelabra chandelier from Restoration Hardware in the dining area, which is a statement piece all on its own.
PHOTO GALLERY: View more condominium projects here.
Is your condominium feeling a little under the weather? We have the cure. Whether it's dealing with building access issues, finding the right materials, or creating an architecturally appropriate design for your space, Neil Kelly can assist you with any condo remodeling project — from first floor to penthouse suite. Connect with us to explore the possibilities.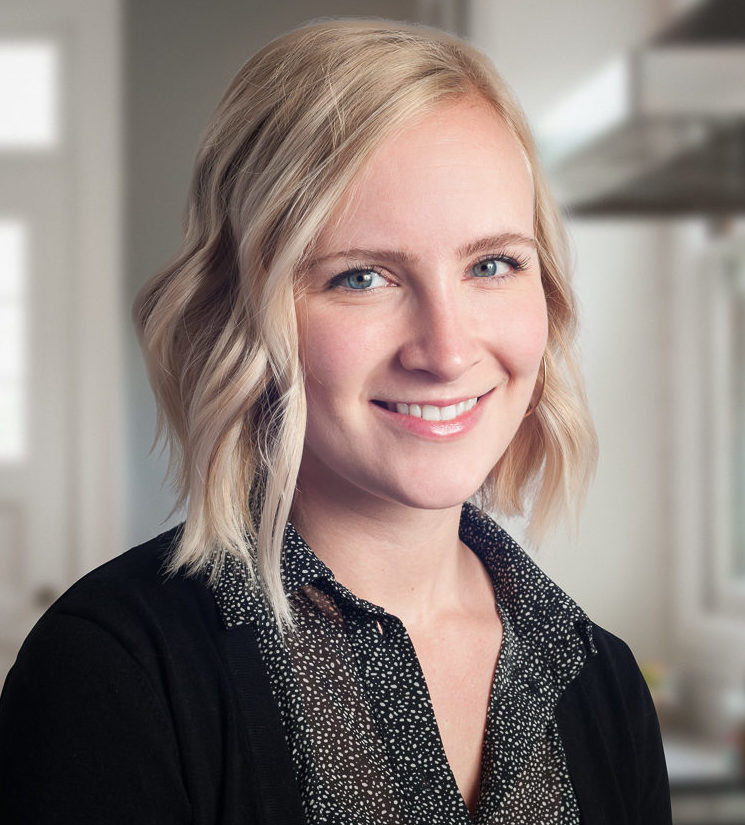 erika altenhofen, Portland Design Consultant, AKBD
For Erika Altenhofen, great design means using creative solutions to make homes more beautiful, comfortable and practical. She enjoys working on timeless designs that combine modern, sustainable materials with classic elements that can be enjoyed for decades. She also recognizes the importance of balancing visual design with functionality, producing spaces that are suited to each client's unique lifestyle.
"I love creating spaces that make my clients excited to be in every day," she says.
Erika graduated from Oregon State University's Interior Design program in 2012 and has been with Neil Kelly ever since.