Exterior Projects
Contemporary Outdoor Kitchen Design/Build in West Linn
Modern Outdoor Kitchen in Portland Metro Area
From a deteriorating deck to a dreamy outdoor dining space
, this striking Northwest-inspired outdoor kitchen is now one of the best features of our client's West Linn home.
In the coronavirus era, there's no denying the importance of comfortable, livable outdoor spaces. With this in mind, Portland design consultant Tessa Isett conceptualized a fully functional and welcoming area for relaxing, entertaining, and, most importantly, cooking.
The completed project included a kitchen with a bar, a dining area, multiple seating areas, and a space to watch football games, all covered by a tiered roof. Isett led the Neil Kelly team in transforming this Portland metro area deck into something spectacular. Find project photos and a breakdown of this contemporary outdoor kitchen design below.
Design Objectives and Client Wishlist
"The main objective for this project was to create a beautiful outdoor cooking and entertaining space," says Isett. "The clients wanted the new space to have an open concept while being protected from the elements year-round."
Outdoor Entertaining Space
Designated cooking area

Fully equipped bar

Sitting areas

Contemporary finishes

Pacific Northwest aesthetic
The client wanted the design to have a Pacific Northwest feel while blending with the existing house and complementing the surrounding nature of their forested backyard.
Year-Round Functionality
Open-concept design

Covered seating

Natural lighting

Weather-protected space

Outdoor heat source
"We needed to include a barbeque, smoker, sink, refrigerator, gas fireplace, and wall-mounted heater, as well as a large-screen TV," says Isett. "The details were going to be a main focus for the design process, as we knew this would ensure a cohesive blend of function and aesthetic appeal."
Design Challenges
Working with the existing 1,000-square-foot deck was a challenge. Isett explains, "It needed new decking and guardrails, as well as some framing repair. We were worried that the structure would not support the weight of the new construction." 
Designing the roof planes to blend aesthetically with the house presented another obstacle. "The layout of the first and second floor had us working through multiple design revisions until we landed on the final stepped roof structure," says Isett.
Design Solutions
Isett and her team designed a new roof for the deck. It would be supported by the house and columns underneath, minimizing the added weight and allowing it to support the kitchen and bar area.
New Roof Design
Oversized beams

Exposed raw wood rafters

Sealed car decking

Clerestory windows between roof panes for additional lighting
"Maintaining the same footprint of the existing deck, we used the angles to our advantage and created additional seating with a custom-built storage bench," says Isett.
Optimized Livable Space
Custom storage bench

Electric heaters, heat lamp, and gas fireplace

Under-counter refrigerator

Ample cabinet storage and drawer space

Concealed pull-out trash and recycling bins
Additionally, a heat lamp was mounted to one of the beams, radiant heaters were placed overhead, and a gas fireplace was installed. This ensures ample heat while enhancing the coziness at night and throughout the chilly season.
Special Features and Design Touches
Stainless steel cabinetry and appliances offer year-round weather resistance while lending to a modern appearance. The kitchen and bar are complemented by neutral solid surface countertops and accented with a small-scale tile backsplash.
Tan, taupe, and off-white stone accents were chosen to highlight the kitchen and exposed chimney. The colors complement the home's existing color palette while adding just the right amount of contrast to the forested backyard.
"All colors were selected to fall within the natural hues of the seasonally changing foliage surrounding the client's property," says Isett.
The gas fireplace and cultured stone-wrapped chimney act as a visual anchor and centerpiece for the deck. It also provided an opportunity to hide one of the supporting columns and create a protected space for the wall-mounted TV and soundbar.
Visitors can access the deck without entering the house, thanks to a garden path leading into the backyard. The stairs from the yard to the deck are illuminated with LEDs.
Contemporary Outdoor Kitchen Design
It's easy to feel inspired by this thoughtfully designed outdoor kitchen and entertaining area. If you're considering an exterior renovation for your Pacific Northwest home, we'd love to hear from you.
Neil Kelly has offices in Portland, Eugene, Bend, and Seattle, and we proudly serve clients throughout the region. Contact the design/build remodeling pros at Neil Kelly today.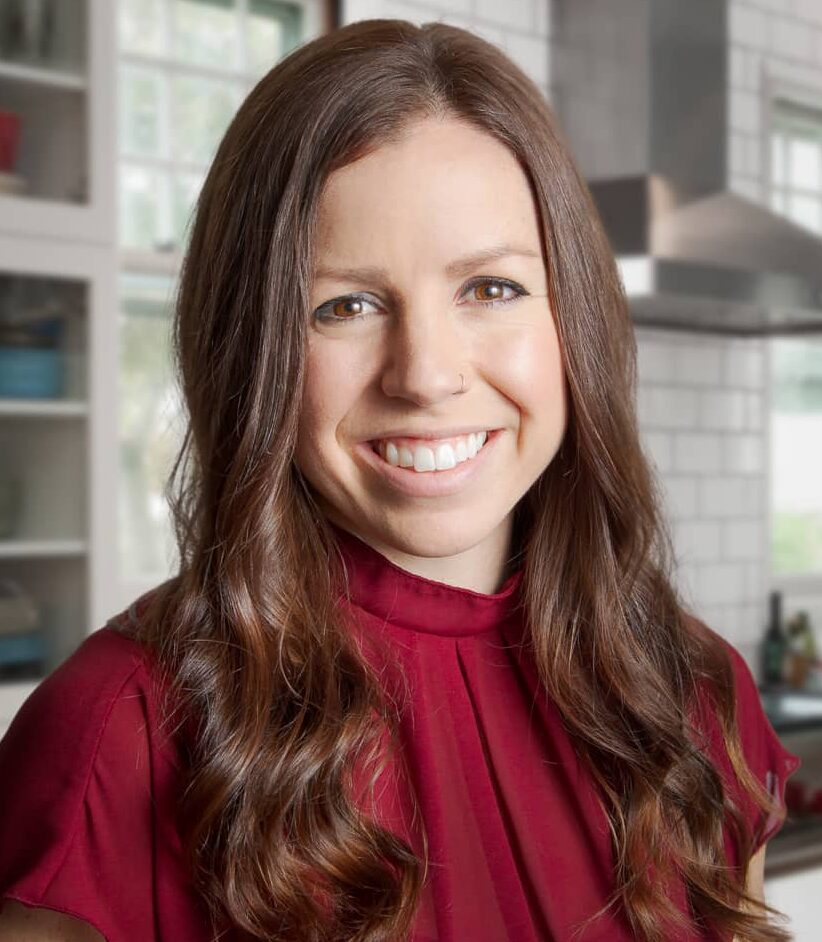 tessa isett, Portland Design Consultant
Tessa Isett is an experienced residential remodeling designer who brings a unique body of knowledge and expertise to every remodeling project. Her focus on quality and attention to detail results in gorgeous spaces that are perfectly suited to each client. Backed by a top-notch team of Neil Kelly design associates, project managers and craftspeople, you can rely on Tessa to show you what's possible in your home — and maybe even transform it into the home of your dreams.