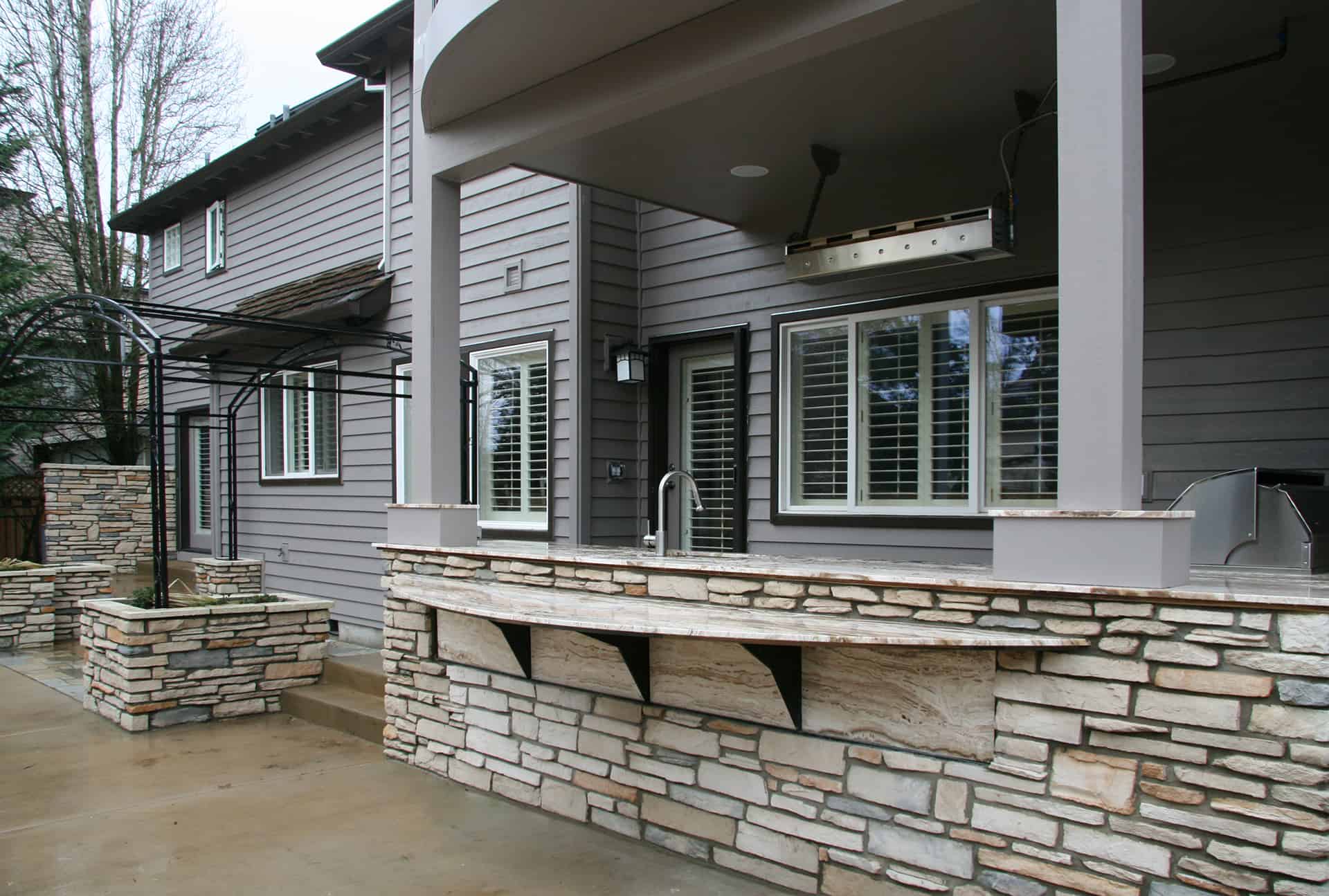 Above: A well-designed outdoor kitchen not only creates space for appliances, but also food prep, serving, and seating areas.
Exteriors
Creating Ideal Outdoor Spaces
What's the easiest way to get away from it all? Step onto your deck or patio for a mini outdoor getaway. Outdoor spaces create a sense of calm in our otherwise busy environments. While they're good for your mood, they're good for your overall home, too. Whether you want to entertain like a boss or increase the value of your property, adding a new deck, patio or outdoor kitchen is a great way to make improvements.
"We're definitely seeing a trend toward larger outdoor projects in both architectural remodeling and interior design," says Neil Kelly Design Consultant Therese DuBravac. "People want to blur the lines of indoor and outdoor spaces. We all lead busy lives and our home is such an oasis. Both inside and outside the home should be reflective of our lifestyle."
Decks and patios have become premium features, especially in busy markets where many new homes don't have spacious yards or the ability to build out. Some of the most common outdoor projects include outdoor kitchens, workspaces and living rooms — complete with firepits and televisions. Whether covered or in open air, outdoor projects should take advantage of amazing natural views and lighting, or work to create a sense of calm and privacy in dense, noisy areas.
Completing an outdoor space often means investing in landscaping or pergolas, especially around pools and spas. Adding outdoor water features and koi ponds not only creates a sense of serenity, but can help buffer noises in more urban, congested environments. No matter the project, homeowners should examine how the materials can withstand the elements over time.
"The Northwest is very damp and is exposed to harsh temperatures," says DuBravac. "It's important to find contractors and designers you can trust to choose the best outdoor building materials that are easy to clean, maintain and can stand up prolonged sun, wind and rain."
Before starting an outdoor project, take note for a full year of how you use the space. Pay attention to weather patterns in the area, temperature and noise. Next, identify your budget and use online resources like Houzz to get inspired.
"There are so many new outdoor building materials and creative ideas out there," says DuBravac. "It can be helpful to develop a portfolio of ideas to get you excited. Encourage yourself to dream big and then find a designer who can use your ideas as building blocks to complete the project."
Need help transforming your outdoor space? Neil Kelly can create an outdoor oasis that complements your home and lifestyle. Contact our Design-Build Remodel team for larger projects or our Handyman Services team for home repair, replacement and refinishing jobs.