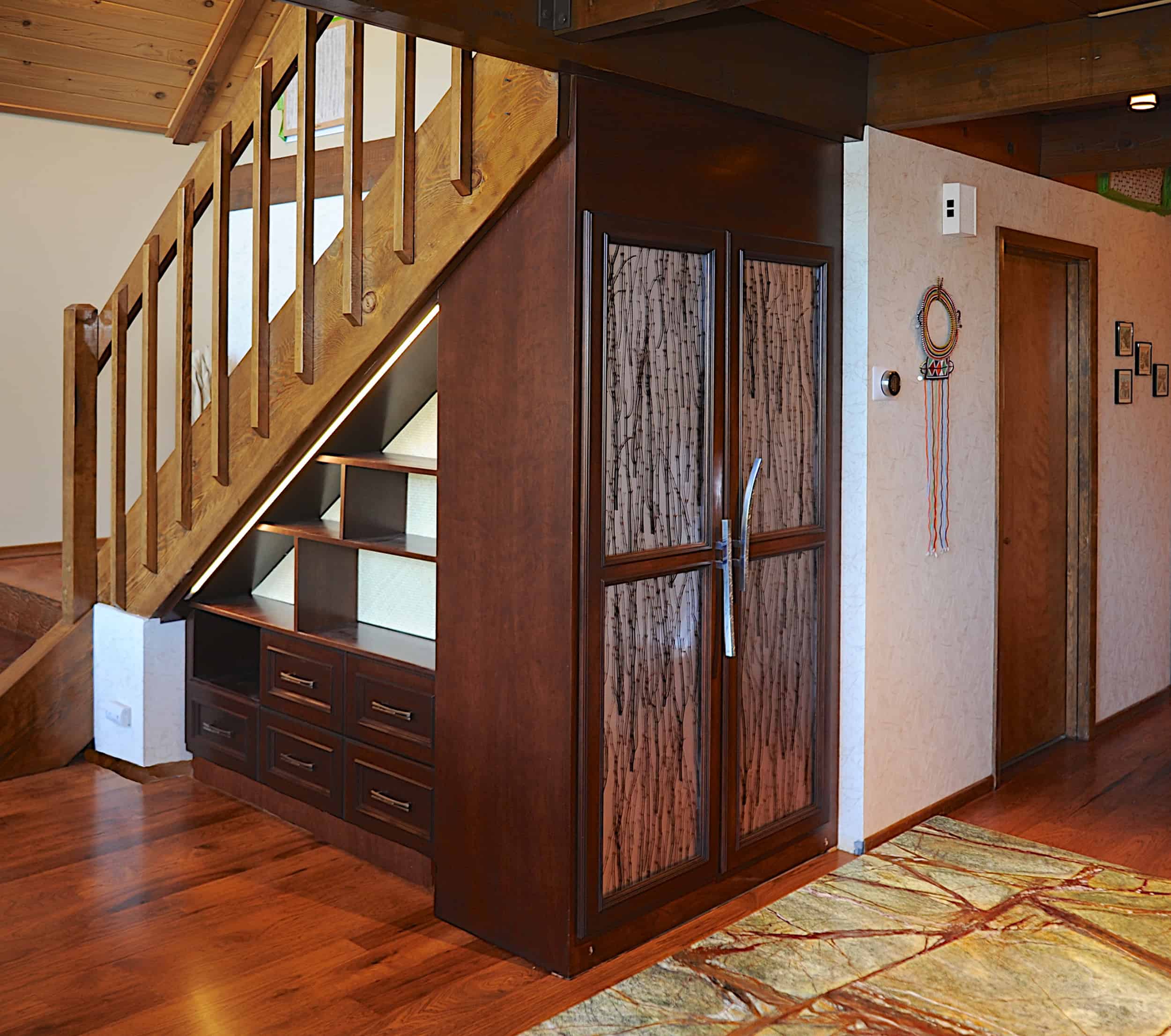 Above: Under stairs storage keeps clutter from getting... under foot.
Home Fixes
Decluttering: Clever Storage Ideas For All Spaces
Marie Kondo has become something of a cultural phenomenon with her mantra, "Tidy your space, transform your life." While obtaining spiritual enlightenment may require a few steps beyond decluttering your home—when it comes to living in a more beautiful and functional home, it's a great place to start.
Small Space Fixes
Are you looking to simplify your living space? Do ever feel overwhelmed by clutter? Whether you are living in a small space—or want to declutter a larger one—you may be experiencing some storage challenges. Here are a few design ideas that can help you keep your clutter under control.
– Think Smart, Think Stairs, Think Shelving
– Closets with Drawers and Dividers

– Trays and Baskets
– Shelving Above or Behind Doors
– Shelving Under Stairs
– Dual-Purpose Furniture
– Kitchen Cabinets with Pull Outs
– Pantries with Drawers and Dividers
– Outboxes
5 Kitchen Organization Tips
Neil Kelly design consultant Stefanie Rotella shares, "Under-the-sink organization is often one of the biggest annoyances for my clients." Rotella offers these creative kitchen storage tips:
1. Revive "dead" corners with functional storage solutions
This is typically where old lazy Susan's are placed in a kitchen.
2. Create a sleek landing zone
Make a dedicated space for phone and electronics charging, mail, keys, etc. This is often built into the end cap of the kitchen.
3. Leverage all of your vertical (storage) space
Take advantage of height rather than just square footage.
4. Organize your sink base
This is often a challenge, particularly in bathrooms because of the sink drain.
5. Hide small appliances.
Keep your countertops clear. This can often be accomplished by adding cabinets in awkward corners.
OUTBOXES AREN'T JUST FOR EMAIL
One method you might consider is to create an "Outbox" for high-clutter rooms—think family rooms, children's rooms, and home offices. Make a habit of adding unused items (or toys) to the Outbox whenever you use the room. Then, each month, donate or gift items from the Outbox. If you're in a book club, this is also a great way to "recycle" your favorite reads. The Outbox itself can be decorated in a way that suits the room and inspires people to use it. And consider enlisting your children's help and invite them to select one item each month to add to the box.
Are you interested in learning how smart design (and clever storage solutions) can help declutter YOUR space? Our team is here to help. We believe that (storage) enlightenment often comes in tidy spaces, thoughtful design, and creative solutions.