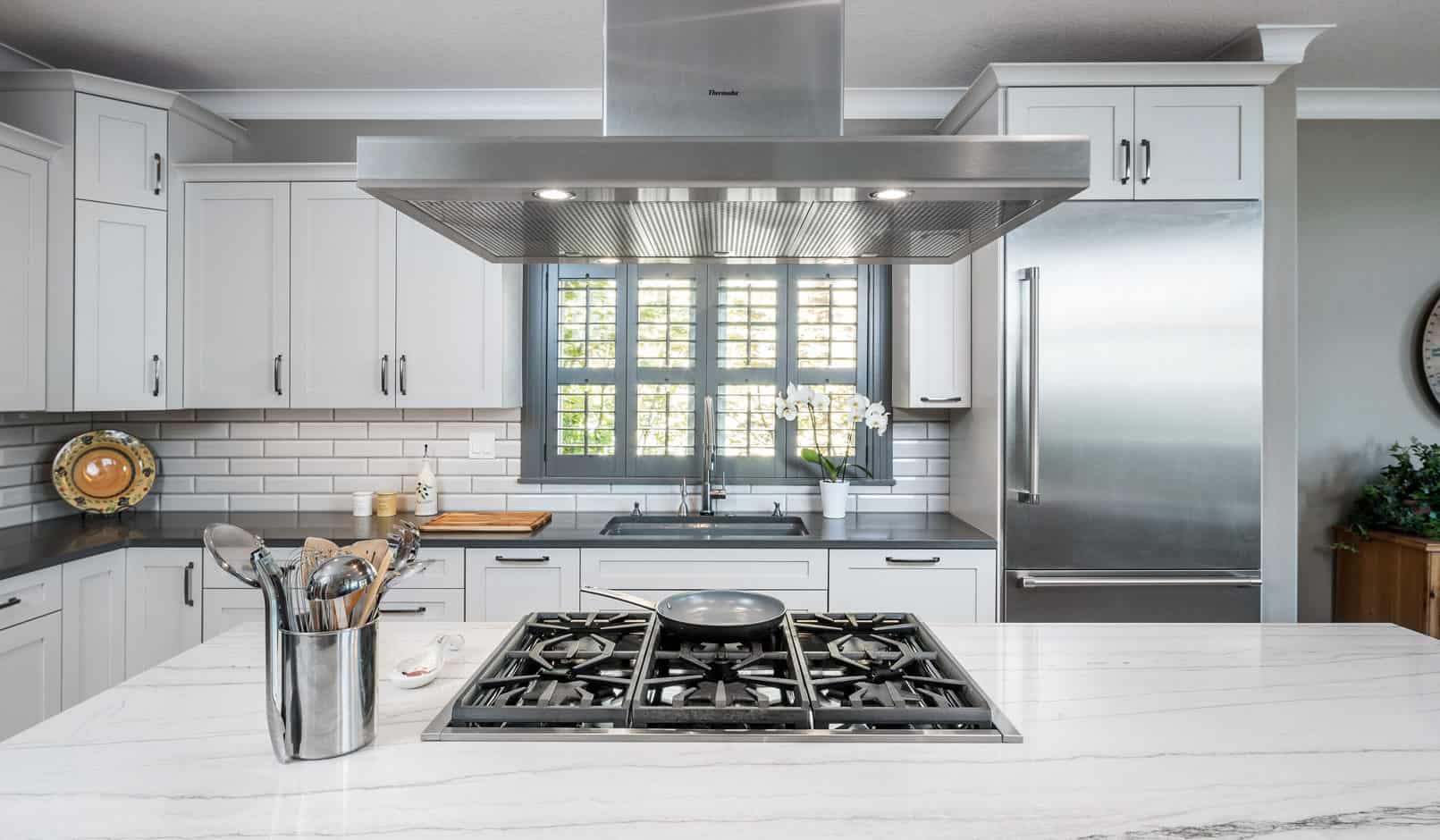 Above: Range hoods prevent odors, smoke, grease and other pollutants from being released into the air while cooking.
Home Fixes
|
Sustainability
Smart Fixes For A Healthy Home
While the topic of a "healthy home" may not come up at your next dinner party, it's something our home improvement team thinks about every day. From using sustainable, non-toxic materials, to installing ventilation systems that filter dangerous particles out of the air, our goal is to help create a safe and healthy home for you and your family.
Deep Breaths and Baby Steps   
"When empty, most homes will pass an air quality test with flying colors," explains Troy Zdzieblowski a home improvement consultant for Neil Kelly. "It's what people bring into a home that can lead to a more toxic air-quality environment." Being mindful and taking small steps to make changes can have a big impact on your overall health and well-being.
How Low Can You Go? Get curious and check the VOC (volatile organic chemical) levels in the big items you bring into your home – whether it's a couch or mattress or luggage or carpet or children's toys, you can make smart choices for the lowest possible VOCs. Check this "Red List" and "Homeowner Resources" produced by the Green Built Alliance for guidance.
Smart Storage: Store leftover paint, stains, and caulks in a safe and well-ventilated space. Do not store these toxic materials in your basement near the HVAC system. Rather, store these items in a ventilated garage or shed that is not a part of the home.
Clean Burning Candles: While candles often evoke a sense of calm and relaxation, paraffin and perfume scented candles can release carcinogenic toxins in the air. Look for 100 percent beeswax or vegetable-based wax candles with cotton wicks, which are free of toxic chemicals. Another healthy alternative is using pure essential oils with a diffuser.
Time to Call the Pros
If you're considering a home remodel or want to make large-scale improvements to your home's energy efficiency and ventilation systems, it might be time to call our home improvement team.  
According to Zdzieblowski, "As homes get more energy efficient, they maintain a tighter seal causing the need for proper ventilation systems. Heat recovery ventilation (HRV) and energy recovery ventilation (ERV) systems are becoming ubiquitous and not only monitor the incoming and outgoing air, but also filter the incoming air for fresher, healthier indoor air quality." These types of ventilation systems are the "new normal" for today's energy efficient homes.
While perhaps not the most alluring aspects of a home, the following ventilation tools can greatly improve the health of your home:
Windows: Key elements to a healthy home include ample amounts of sunlight and fresh air, which means windows move to the top of the priority list. If it's time for new windows, call our home improvement team to discuss the best options for your home from wood to fiberglass to composite.
HRV and ERV Systems: Depending on where you live, opening your windows might let polluted air inside your home. If you live in a congested, urban area, HRV and ERV ventilation systems can greatly improve your indoor air-quality and overall comfort of your home.
Bath Fans: Reduce and eliminate mold and mildew with an effective and efficient bathroom vent fan. Remember to turn on your bath fan when cleaning to reduce fumes from cleaning agents that could potentially cause health-related issues.
Kitchen Hood Vents: Move over Kitchen Aid, the range hood is one of the most important appliances in the kitchen. Designed to remove odors, smoke, grease and other pollutants that are released into the air while cooking, range vents are key to a healthy home. Bonus – vent hoods help prevent carbon monoxide poisoning.
Smart Design for a Healthy Home
If you're considering a home remodel, smart design can help you create a more beautiful, functional and healthy home. From incorporating Universal Design concepts such as curb less showers to large and well-placed windows to a streamlined kitchen, smart design can eliminate injuries and bring joy to spaces you occupy most in your home.
Studies have shown that good lighting and paint colors can significantly impact a person's mood. A well-designed home will allow just the right amount of light to enter throughout the day. It will also take into consideration workspace lighting, undershelf lighting and utilize smart home technology to allow people to change a room from calm to bright light with the press of a button.
Zdzieblowski adds, "If you don't have a remodel on your radar, there are smart fixes you can make, starting with the most popular room in the house – the kitchen. Assess your kitchen space. What appliances do you use most often? Can you make them more accessible? Create work stations to simplify your space and encourage everyone to have a role at meal times."
Want help creating a healthy home for you and your family? Neil Kelly's home improvement team can help. Contact the experts today!