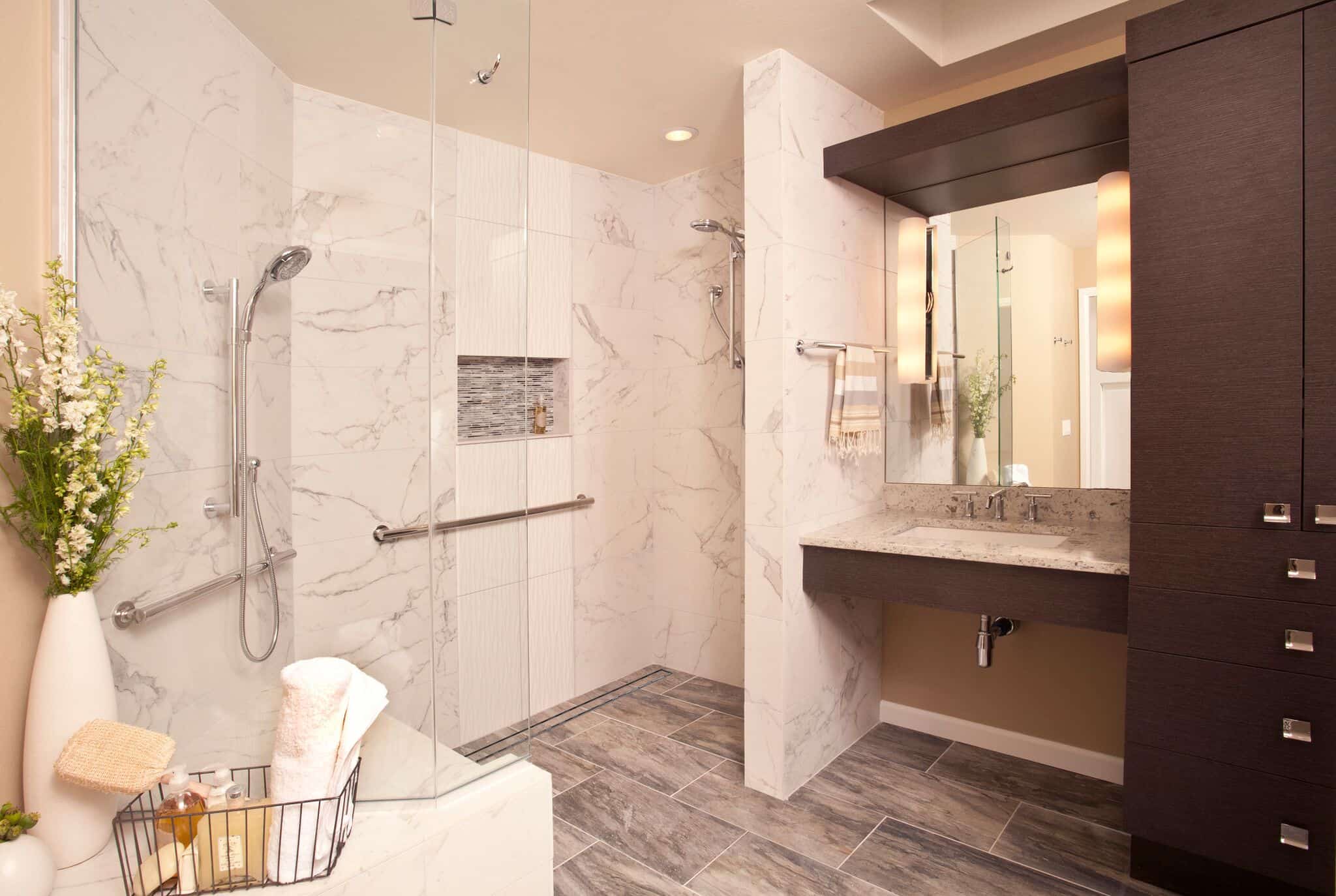 Above: Designer Diane Foreman's award-winning bath is a master class in Universal Design technique.
Bathrooms
|
Kitchens
Improving Access With Universal Design
Your home is a tool, an element that you operate with and within in order to live a comfortable, happy life. But that movement, the physical relationship you share with it, changes over time as you age or as life — broken bones, ailments and disabilities — just happens. So how do you ensure your home works with you when life changes? With Universal Design.
What is Universal Design?
Universal Design refers to the concept of designing a home that accommodates the largest number of people, no matter their age, size or disabilities. Though the concept is popular with 55+ homeowners, the conversations and planning should start early.
"As people are waiting longer to retire and choosing to age in place, the need for Universal Design is increasingly important," says Diane Foreman, design consultant with Neil Kelly. "But many homeowners don't want to talk about it because they see it as a sensitive issue that's part of the aging process."
Remodel or Sell?
It's hard to replace great neighbors. Or your favorite cafe around the corner. Moving versus remodeling your home is a big decision, and one that's factored into Universal Design. More often than not, homeowners make modifications all at once in their current home as opposed to moving, or doing a series of simple changes over the years.
"Once you've lived in your home for some years, you know how it works and where it's adaptable," says Foreman. "It's often the little things you put up with — that you think aren't a big deal because you've been living there so long. But it's these little things that can bite you."
Questions to Ask Yourself
Each home and each homeowner is different, so it's important to meet with a Certified Aging-In-Place Specialist (CAPS) to make sure your individual needs — as well as best practices — are taken into consideration. When considering a Universal Design project ask yourself:
– Why are you doing this project?
– What are your concerns?
– What health or mobility issues are you having or have the potential to have?
– What is your activity level?
"With each product we place into a space, we have to think about all the pros and cons," says Foreman. "It's when you start discussing each design element that a lot of these questions and details come out."
Universal Design Accommodations
There is a laundry list of home improvements, materials and design choices you can make to ensure your home is accessible. Minor home improvements might include adding grab bars, portable benches, wall-mounted folding seats and more in bathrooms. Hallways can be affixed with sensor lights and appliances can feature modifications for those with visual and auditory impairments. Major improvements include adding wheelchair accessibility throughout the home, which may require widening entrances, hallways and more.
"Trying to have a home that meets your needs ahead of time is the best way to set yourself up for the future," says Foreman. "Even beyond aging, you want your home to be comfortable for impaired friends or family."
Function & Style
Making a home accessible doesn't mean compromising on style. Updates can be made to reflect a clean, contemporary style without feeling sterile. Ideally, choose products that will last a long time and contrasting materials that will help you determine the edge of countertops, curbs and more to aid in depth perception.
"In the end, it comes down to good design," says Foreman. "When you're done, everyone should be able to use and enjoy the space."
Need help transforming your home? Neil Kelly's design/build remodel team will adapt your space to ensure it meets the needs of those who are aging or living with a physical disability. Schedule your consultation today.