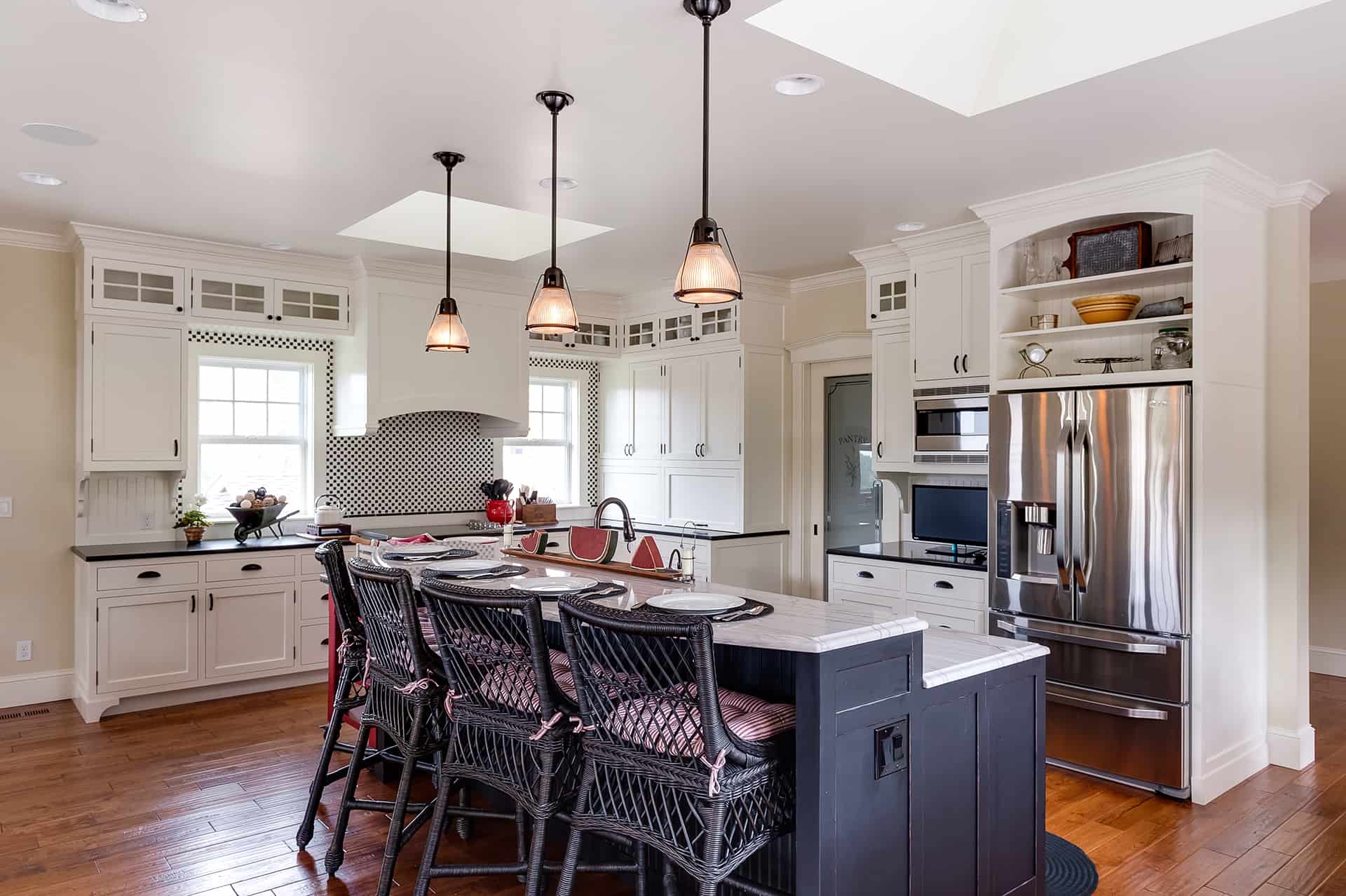 Above: In this kitchen, traffic flows around the central prep area, yet there is room for guests to interact with the cook(s).
Kitchens
Kitchens for Cooks and Entertainers
Kitchens for Cooks and Entertainers: If food is the way to your heart, then all roads lead to the kitchen. Whether you're an aspiring (or actual) gourmet chef or simply love to throw parties, kitchens are the center of your guests' attention.
"The kitchen is truly the heart of the home — it's where everyone wants to gather," says Karen Richmond, design consultant with Neil Kelly. "Cooking is an interactive activity and a great way for people to spend quality time together."
But creating the ultimate culinary space is tricky. Most kitchens have huge pain points. Whether your style is contemporary, transitional, traditional or shabby chic, the goal is to create a kitchen that works for your day-to-day activities, as well as holiday parties and weekend gatherings.
"Often kitchens are closed off from the rest of the house, which leaves cooks feeling isolated," says Richmond. "This lack of connectedness and the flow of traffic are often the biggest problems we face during kitchen remodels."
Provided are the top five remodel considerations for the ultimate cook and entertainer.
1. Traffic Flow
The ideal flow of traffic is when a cook can move around the kitchen without having a guest or family member in the way. For a single cook, this means they can get food from the refrigerator, move to the sink to prep it, move to the range for cooking and then move to serving with a sense of connectedness.
"It's important to have the cooking and cleanup areas connected because those are the two areas we move between the most," says Richmond. "Your kitchen is well-laid out when you can remove a hot pan from the stove and then drain it in the sink without other people passing through the space."
2. Counter Space
The more counter space the better for gourmet chefs and entertainers. To increase the flow of traffic, ensure there's enough counter space between each appliance. Adding a second sink on a kitchen island or next to the refrigerator is ideal when a second cook is also working.
"It's very common for baby boomers to have three generations helping in the kitchen," says Richmond. "Proper counter space allows for easy meal prep and additional seating."
The recommended height between your countertop and cabinet is 18" but custom fittings are ideal when you have larger appliances such as a Vitamix or espresso machine. A raised snack counter is an ideal solution for chefs that want to open up the kitchen to the living room, and provide additional seating. When choosing a snack counter, ensure there's enough room for an entire place setting.
READ MORE: Make More Room With A Kitchen Island
3. Lighting & Outlets
Proper lighting and outlets will help keep you safe and efficient while cooking. When examining the number of outlets you need, take into consideration how many electric appliances you regularly use, and whether or not you store them permanently on the countertops. "The goal is to have your house set up where you can live in it, work in it and walk through it without annoyances," says Richmond.
4. Storage & Organization
Almost every kitchen could use more storage and space for organization, especially homes with open living concepts. Adding a pantry or additional cabinetry is an easy win for most chefs. "Homeowners need to be honest with themselves about how much open display cabinets they like and how neat and tidy they really are," says Richmond. "Open storage might look great on Pinterest but not in real life. There needs to be a balance."
5. Appliances
The sky's the limit with kitchen appliances. From double ovens and stoves, warming drawers, built-in refrigerators and more, the key to appliances is ensuring each tool has enough surrounding space to prep and display food once it's finished.
READ MORE: Remodel Your Home For Entertaining
Are you ready to create the kitchen of your dreams? Schedule a consultation with Neil Kelly's design/build remodel team to create a space that's both inviting and hardworking — a space that's truly the heart of your home.