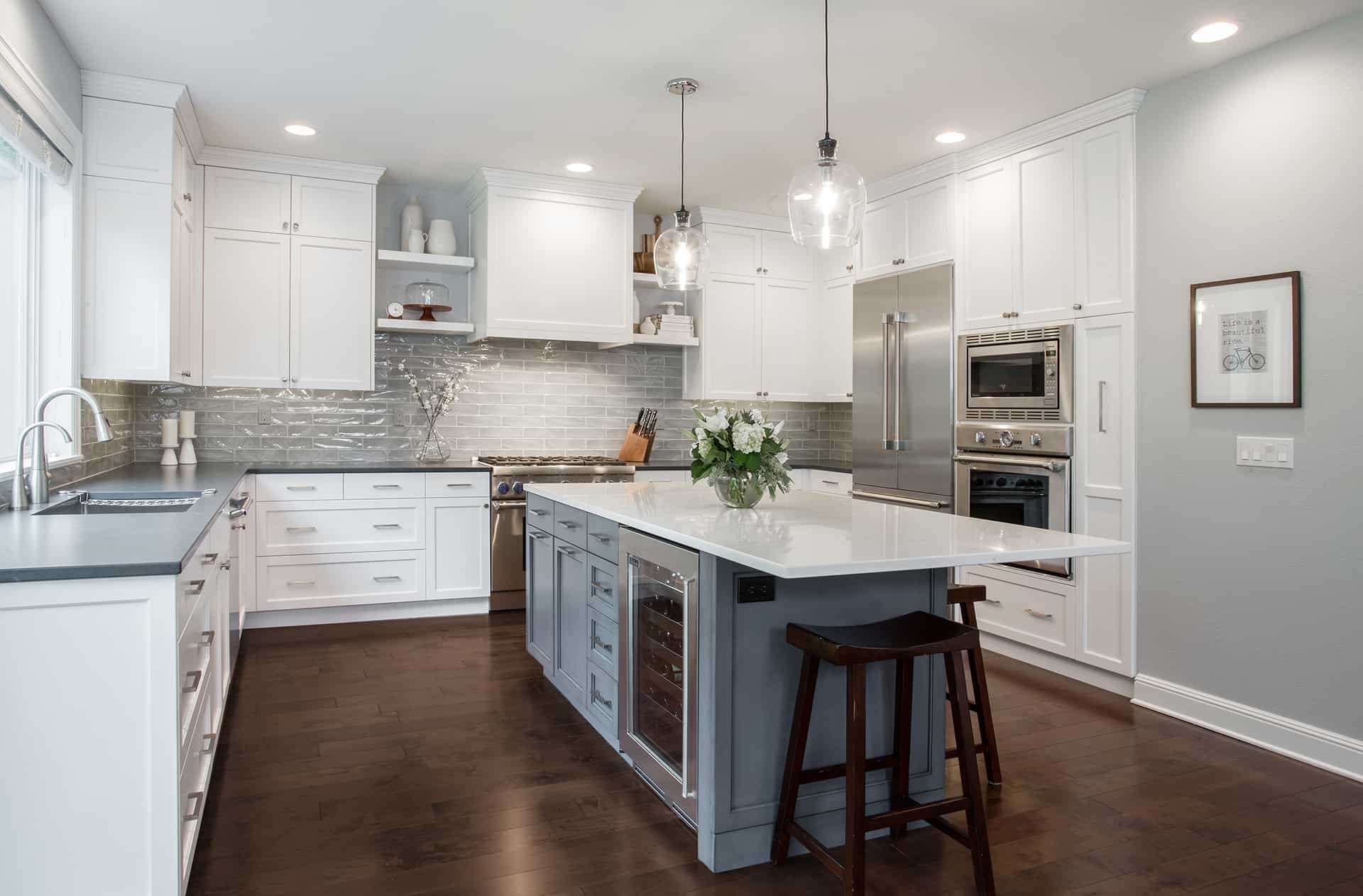 Above: One image shows all lighting types working together in an elegant kitchen project. The overall or ambient light level is set by large windows left of camera. Accent lights coming from the ceiling help fill shadows and define the shape of the room. Task lights are used in food prep areas, particularly above the range. Finally, decorative lights above the island add style and illuminate the serving area. All lights can be independently controlled for different effects.
Bathrooms
|
Kitchens
Enhance Your Home With Lighting
Cabinets, counters, floors, and color selection often get top billing in a remodeling project, but lighting is also a critical element in any interior design. Whether you're refreshing a large, open kitchen, or a tiny guest bathroom, lighting affects mood and ambience, it affects the perceived size of a space, and can impact comfort and safety.
A designer can help "shine the light" on how lighting is (or isn't) working in your space and can bring needed improvements.
There are four main types of lighting:
Ambient: The overall light level of a room, starting with natural light coming from windows
Task: Dedicated light for activities like cooking or reading or studying
Accent: Builds upon ambient light and helps define the shape of a room
Decorative: Fixtures, such as chandeliers, provide a focal point or fun conversation starter
The color and shape of the light itself also impacts design. For example, warm light from a small source is usually better suited for intimate spaces; cooler daylight or bright white light from a large source is usually better for food prep.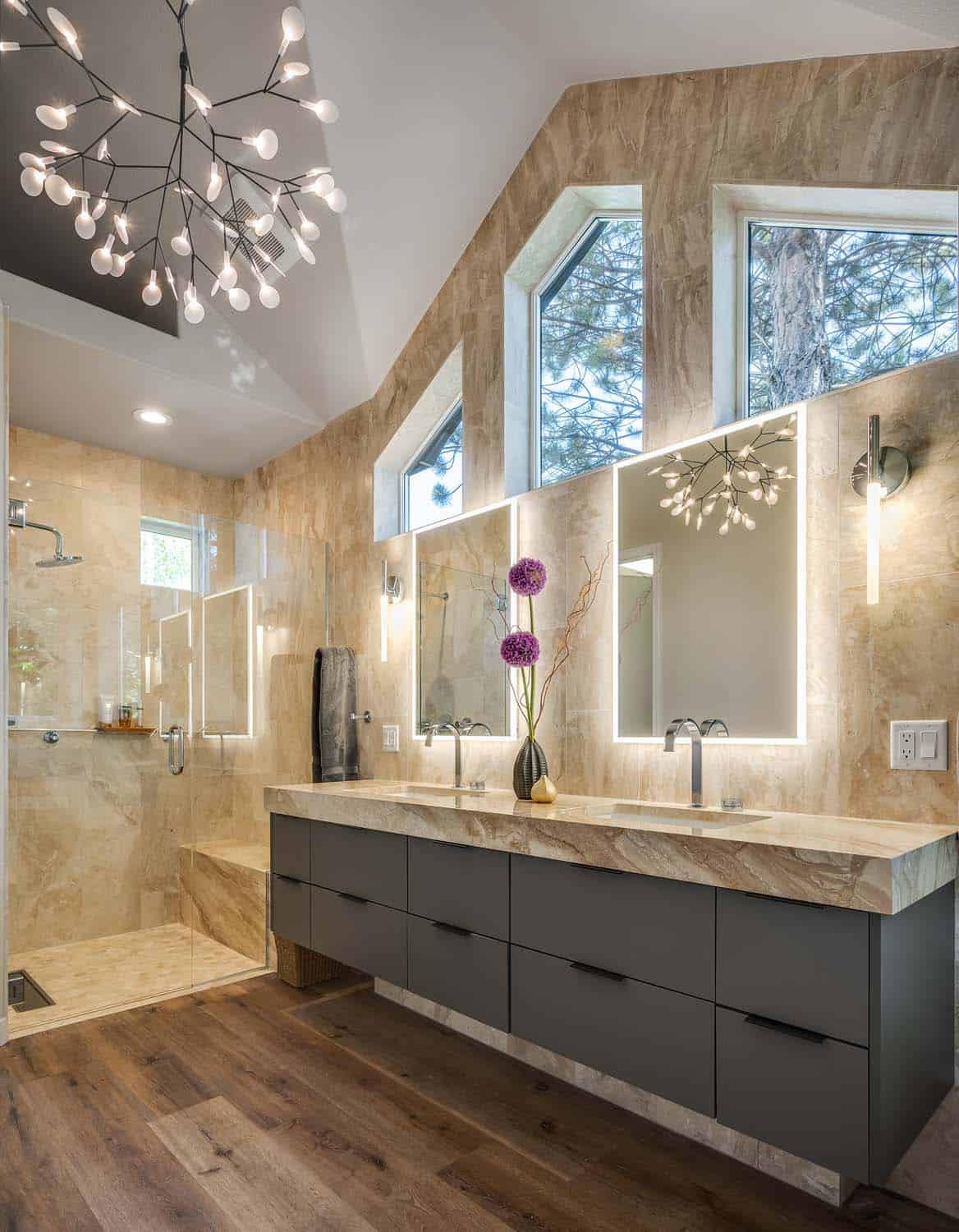 Avoid These Common Mistakes
Neil Kelly Design Consultant Michael Johnson offers some 'illuminating' tips for avoiding some of the most common mistakes that he sees:
Not enough light sources
Kitchens should include task, ambient and accent lighting. Closets are often overlooked, so consider adding task and accent lighting.
Not using proper controls
Dimmers are important, especially when it comes to entertaining. Timers are great for outdoor and security. Motion sensors in hallways and bathrooms are nice additions for guests that are not used to the layout of your home.
"Dimmers are important when entertaining. Crank up the lights while cooking but cool them down once guests arrive to create a more intimate atmosphere," Johnson says.
Choosing the wrong temperature
There are many LED color and warmth options. If your home has a lot of grey and white tones, bright white is the way to go. For earth tones, try softer lighting.
Ignoring size
The size of a light is often overlooked. A light that's too big can make a room feel smaller. You want to have a great balance. Picking the right size light can be more important than the actual design.
Poor placement
The correct location is very important. You don't want a light shining in your face while brushing your teeth or have a shadow on your book while trying to read.
While lighting technology — from bulbs and hardware to lighting controls in smart phone apps and home security systems — continues to evolve, good lighting design is one of the most enduring ways to add style, comfort and value to your home.
Ready to bring some bright new ideas into your home? Get in touch with Neil Kelly today.