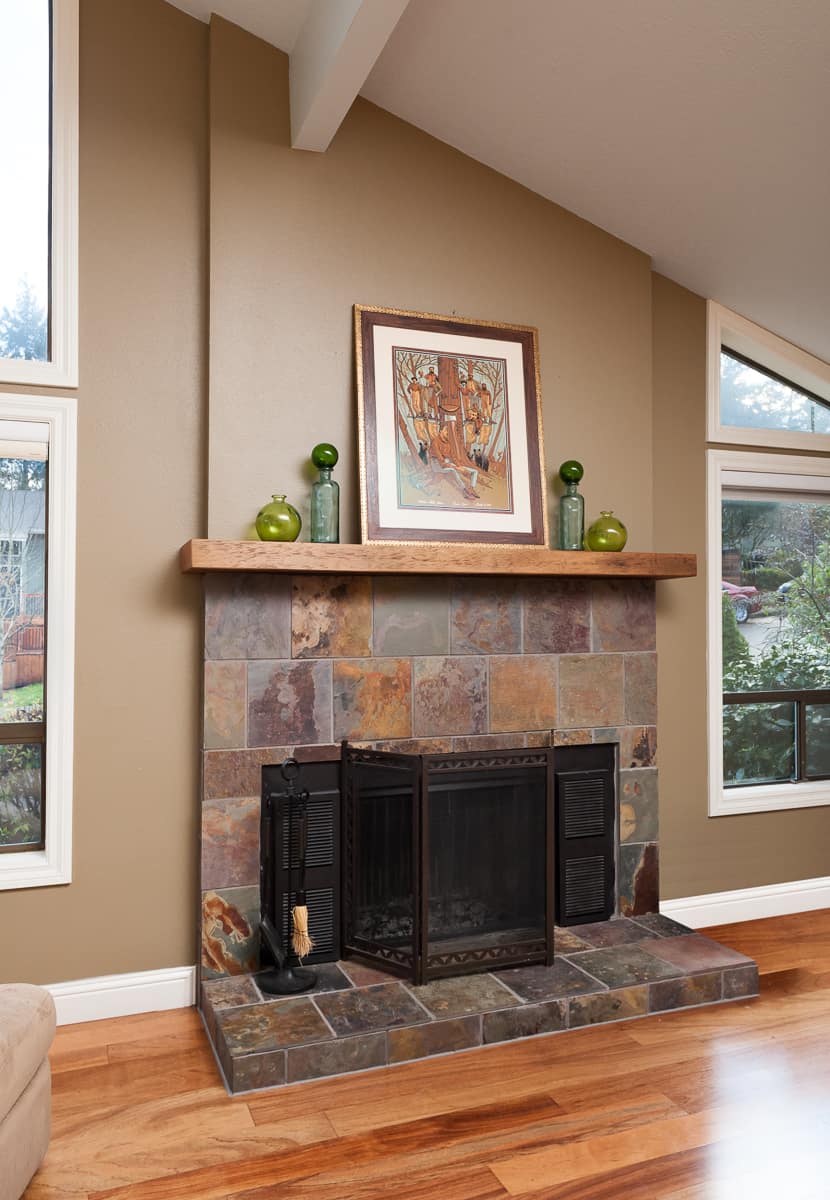 Home Fixes
Reclaimed Wood From Historic Mill Becomes A Mantelpiece
For some, it might look like another handsome piece of wood adorning a Pacific Northwest home, but for Alex Christopher, it represents a throwback to another time in the region's history, a time when the local landscape was dominated by old growth forests, and the local economy was dominated by timber.
"I love this mantelpiece because it tells so many stories," she says. "I like having pieces of our home speak about who we are and where we've been as a family."
Late last year, Christopher embarked on a project to create a custom mantelpiece out of a massive slab of cedar that had been kept by her family for more than 30 years.
The wood originally came from the Broughton Lumber Mill in Underwood, Washington, which had been operated by members of Christopher's family on her mother's side beginning in the early 1900s.
At its peak, the Broughton mill produced giant pieces of specialty lumber from logs that were transported down a 9-mile flume — the last of its kind to operate the United States — from Willard, Washington. By the mid-1980s, change in the timber industry left a dwindling supply of large pieces that Broughton was designed to cut. The mill closed in 1986.
Christopher's parents first received the piece as a gift in 1983. Years later, as Christopher and her husband were moving into a new home, her mother saw they had no mantel over their fireplace and suggested the wood — still in storage — to top it off.
"Buying something off the shelf would have been easier, yes," Christopher said. "But adding this element to our family room was a perfect way to make it feel like our home."
To have the slab cut into the right shape for her mantel, Christopher turned to Salvage Works, a Portland company that specializes in working with reclaimed wood and other heritage materials. Master Woodworker Timothy Brock was surprised to see the piece brought in off the street, but happy to help out. "We usually deal in large quantities of salvage from all over the Northwest," Brock said.
After it was cut, Christopher knew the heavy slab needed to be stable and functional when it was installed over her fireplace. So she brought in Neil Kelly Master Carpenter Larry Romick to do the job. As Christopher and her daughters watched, Romick carefully drilled holes in the wood, added epoxy gel, and lifted the slab onto a series of steel posts.
The next day the epoxy was set and Christopher was able to enjoy her rustic mantelpiece.
Apart from its history, the giant slab has another layer of significance for Christopher. She and her husband were married in Underwood, Washington, not far from where the wood was originally cut. "It's a piece of the beautiful Columbia River Gorge where my husband and I said our wedding vows," she says. "Now I can look at it every day. I couldn't be more thrilled with the way the project turned out."