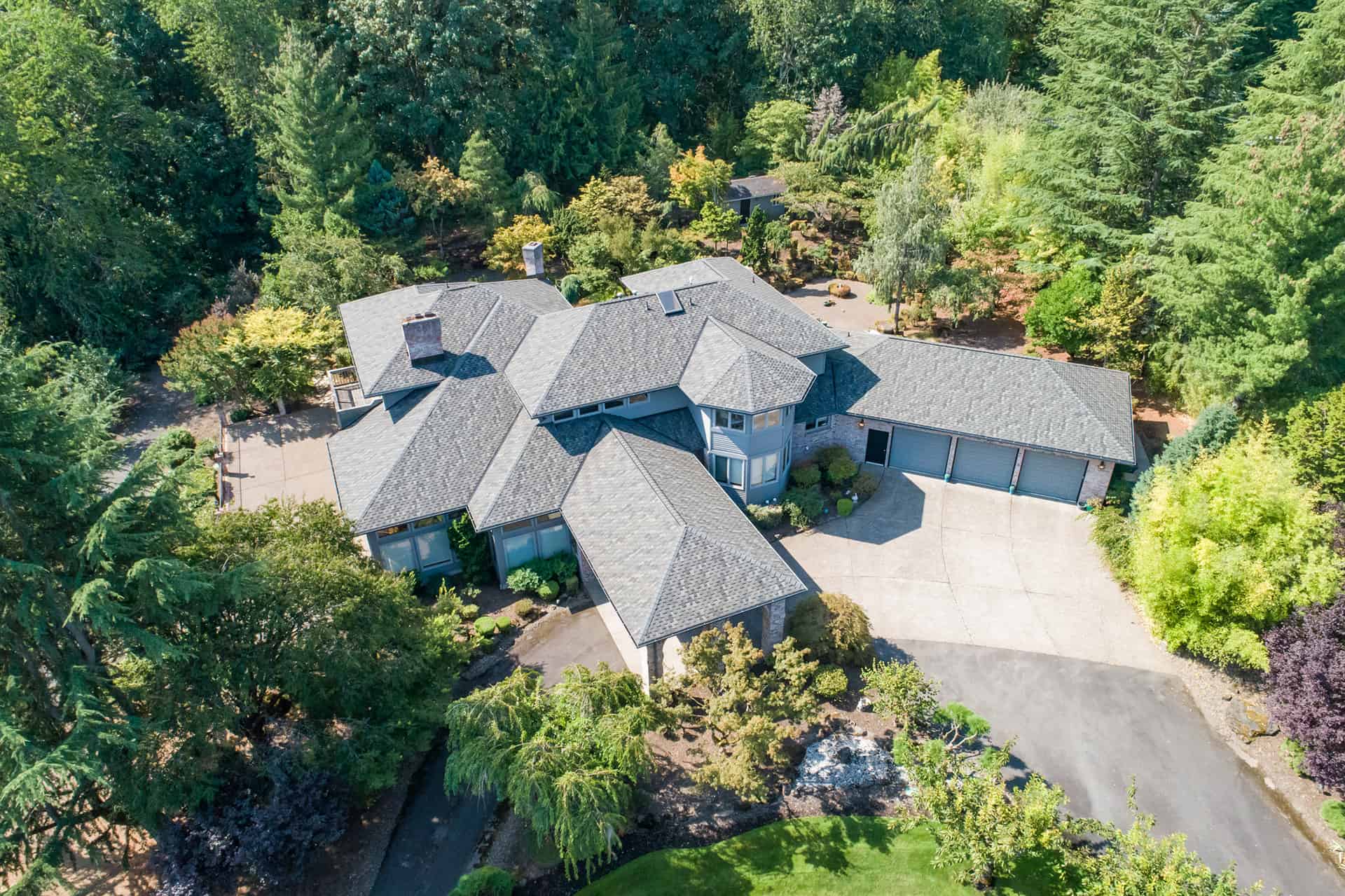 Above: This Tualatin roofing project shows that no job is too large for expert Neil Kelly roofing crews.
Exteriors
|
Home Fixes
How Many Lives Does Your Roof Have?
Your roof takes a beating. It's the one facet of your home that's never shielded from the elements, and yet, it endures. But just how many lives does your roof have? A roof's life expectancy depends on various elements, including the roof's design, the climate, the quality of the installation and the long-term maintenance it receives. In the Pacific Northwest, most roofs last 15-20 years.
"There's really no magic number to how long a roof will last," says Matt Metz, Neil Kelly Home Improvement General Manager. "If you've made it to the 15–20 year mark, it's time to address some changes."
In the Pacific Northwest, the most common elements that deteriorate your roof include pine needles, leaves, moss, algae and wind. Regular cleaning and maintenance can extend the life of your roof another 5–6 years, but it's best to have a professional consultation from roofing specialists.
At Neil Kelly, we offer a continual roof maintenance program and complete renovations year-round. For example, to combat moss and algae we use a moss detergent and warm water solution that can reduce buildup over time.
When Should You Replace Your Roof?
It's time for a new roof when it's leaking, the shingles are curled up or aren't laying flat, when your gutters are full of granules or when it appears to "sweat" due to lack of ventilation.
"Most homeowners never really look at their roof, which is why it's so important to call in the specialists," says Metz. "At Neil Kelly we're proud to set ourselves apart by offering a whole roof system that examines additional elements like dry rot and the structural integrity of the home."
GAF Master Elite Roofing Contractors
Neil Kelly offers homeowners a golden pledge, GAF Lifetime Roofing System, which is backed by a 25-year labor warranty and a transferable 50-year roofing system warranty.
Master Elite Certification is GAF's factory certification program that provides ongoing training to roofing contractors, giving customers confidence that a roof will be completed well and professionally. Only three percent of all roofing contractors have qualified as Master Elite.
"We're proud to be GAF Master Elite Roofing Contractors," says Metz. "All of our roof products, including the accessories from the flashing to ventilation, are top-of-the-line and have a 50-year warranty."
Neil Kelly Roof Replacement Process
There's no way around it, a roof replacement is a loud, dirty, labor-intensive demolition that lasts an average of 3–6 days. To maintain the structural integrity of the house and ensure its longevity, we don't layover existing roofing materials — we tear them off and completely start anew.
"We walk homeowners through the entire 360-degree process as best we can to ensure what we promised has been delivered," says Metz. "We understand that it's an inconvenience, but we make the situation as comfortable as possible for homeowners. We use plywood and tarps to keep the space as clean as possible and ensure no plants or possessions are damaged in the process."
Are you ready to see how many lives your roof has left? Contact us to schedule a comprehensive, no-obligation roof assessment and estimate today!