Bathroom Projects
Small Transitional Bath in Northwest Portland
Small Transitional Bath Remodel In Northwest Portland
Vintage and industrial styles come together in this small bath project, which features a walk-in shower, extra storage and more.
.
Design Objectives
In this bathroom project, the clients requested a look that honored their 1890 home but was fresh and contemporary at the same time. Specifically, they wanted to replace an existing clawfoot tub with a comfortable walk-in shower suitable for aging-in-place, and add additional storage.
Design Challenges
The bathroom was very small — only sixty square feet. With a narrow footprint and doors centered on each end, the space was challenging work in — let alone for two homeowners to use, potentially at the same time. And yet, the Neil Kelly design team came up with a plan that added the style and functionality the clients were looking for.
.
.
Design Solutions
Placing the shower in the center of the room made it possible to get the required depth for a shower. Angled front corners eased the traffic flow and kept the shower from overwhelming the space.
The shower placement also allowed a tall linen cabinet to be tucked into a space next to the door.
6″ deep wall cabinets were placed on the counter to function as medicine cabinets. The mirrored doors allow each user to groom while sharing the space. The vanity was designed for maximum storage and a toilet topper was added.
Special Features
The crisp pairing of black and white is new, yet blends seamlessly with the period style of the home.
"I love how the project ties a fresh industrial look with a vintage look," said Portland Design Consultant Karen Richmond.
Additionally, the project is a good example of what can be done in a small space.
"My favorite feature is the tiled floor border design with three medallions," Karen says. "This was wildly fun to design. I believe it makes a great visual accent to this room, as does the vanity and mirror configuration."
If you're feeling inspired by this project or are looking for more primary bathroom ideas, we'd love to hear from you. Contact the experts at Neil Kelly today to get started on your bathroom remodeling project.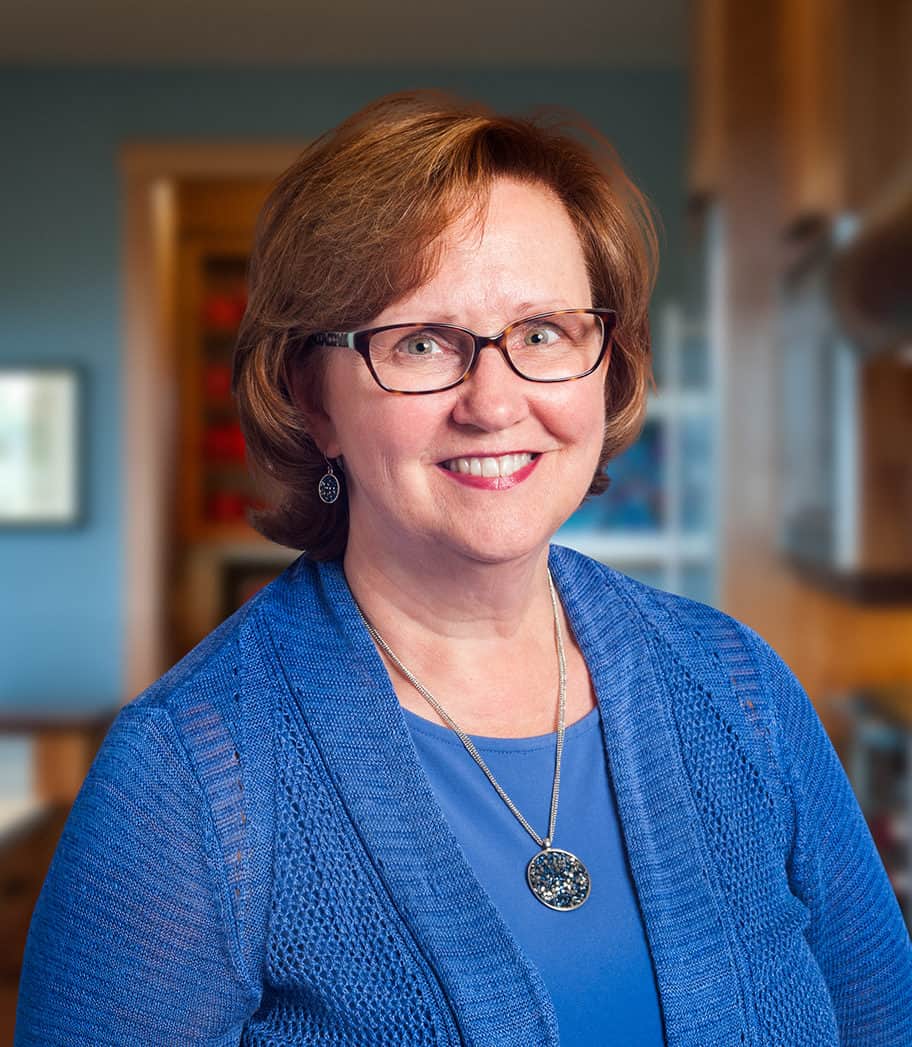 karen richmond, Portland Design Consultant, CMKBD, CAPS, CGP
Karen Richmond's fascination with design and construction began in high school when she and her family tore down their crumbling farmhouse to construct a new home. Seeing that structure come apart stirred Karen's interest in how it went together. Today, with a degree in Interior Design, 40+ years in the remodeling industry, and numerous design awards to her credit, Karen takes great joy in leading successful renovation projects that range from kitchens and baths to exterior remodels, additions, and new homes. Inspired by every home and homeowner, Karen draws upon a wealth of knowledge and experience to find solutions that meet her clients' needs.
In her free time Karen enjoys spending time with family and friends, connecting with nature, and in creative pursuits including cooking, gardening, and art making.
View Karen's Houzz portfolio and read client reviews.
SCHEDULE A CONSULTATION >