Kitchen Projects
Tanner Springs Kitchen
PORTLAND KITCHEN REMODEL
This Portland area kitchen features painted cabinets, a new island, quartz counters and more.
Neil Kelly clients Jan and Jay worked with Design Consultant Karen Richmond on this lovely kitchen update.
Jan is recently retired and husband Jay works from home. Having moved frequently for their jobs over the years, they wished to settle down in the Portland area. However, they felt the style of their West Linn home was dated, and they were ready for a new look and added functionality for in aging-in-place.
Client Needs and Design Objectives:
• Give the kitchen a more pleasing, up-to-date look while leaving the floor plan intact
• Add efficiency and functionality
• Add better ventilation for serious cooking
"The clients were ready for a new look and added functionality for aging-in-place." – Karen Richmond
Design Solutions:
• Repainted the perimeter cabinets
• New island eliminates an open shelf that gathered clutter
• New island houses a microwave drawer and pull-out trays for ease of access for aging-in-place
• Deep pantry shelves were replaced with roll-out shelves – again for ease of access
• White tile counters were replaced with a light-patterned quartz for ease of cleaning
• A textured tile backsplash provides interest and movement
• The new sink provides a more functional workstation
• New range hood with exterior venting greatly increases ventilation in kitchen
Are you ready to transform your kitchen into the space you've always dreamed of? Let's talk. Schedule a complimentary design consultation with one of our award-winning designers today!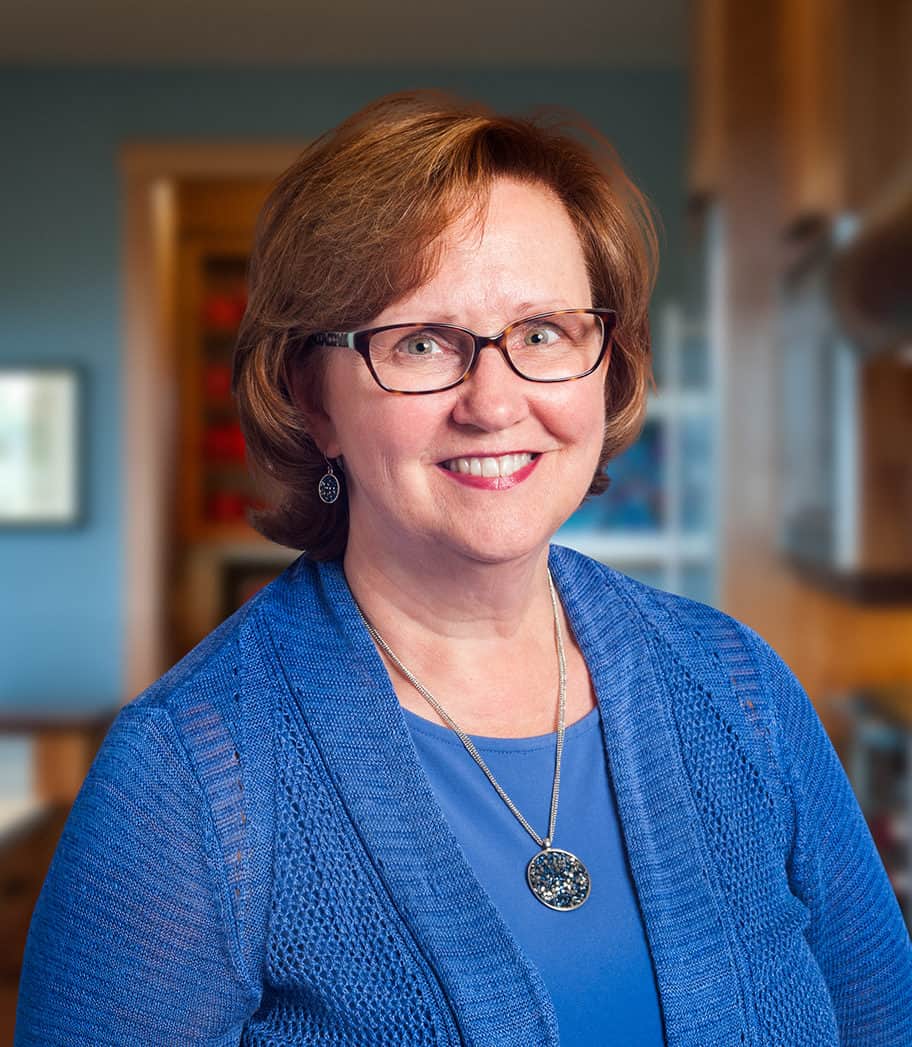 karen richmond, Portland Design Consultant, CMKBD, CAPS, CGP
Karen Richmond's fascination with design and construction began in high school when she and her family tore down their crumbling farmhouse to construct a new home. Seeing that structure come apart stirred Karen's interest in how it went together. Today, with a degree in Interior Design, 40+ years in the remodeling industry, and numerous design awards to her credit, Karen takes great joy in leading successful renovation projects that range from kitchens and baths to exterior remodels, additions, and new homes. Inspired by every home and homeowner, Karen draws upon a wealth of knowledge and experience to find solutions that meet her clients' needs.
In her free time Karen enjoys spending time with family and friends, connecting with nature, and in creative pursuits including cooking, gardening, and art making.
View Karen's Houzz portfolio and read client reviews.
SCHEDULE A CONSULTATION >