Kitchen Projects
Traditional Kitchen With Contemporary Touches
Bend Kitchen Remodel
This Bend kitchen remodeling project features a massive island perfect for entertaining — and homework.
This Bend-area family wanted to create a custom "true cook's kitchen" that matched their lifestyle. With two young children, comfort and convenience were high on their design list. The home has a traditional architectural style, but the homeowners were interested in adding a few, well-chosen contemporary touches. The brushed gold hardware and plumbing fixtures are good examples of how these styles were elegantly combined.
Oversize Island Offers Family Oasis
As designer Paul Haigh shares, "Since convenience was key, we replaced the formal dining table and chairs with built-in bench dining." The design team also created a giant 'family-size' island with seating on two sides that is perfect for food prep, entertaining, eating, as well as homework.  For this active family, the oversized island is proving to be a true oasis.
"It's a total transformation from builder-blah to completely custom." – Paul Haigh
Design Objectives
–   Create a larger, more open kitchen
–   Resolve the 'corner' cooktop and sink problem
–   Improve flow
Design Challenges
–   Bearing wall separating the kitchen from the dining area – and no desire for visible beams.
Design Solutions
–   In order to keep a short section of bearing wall, the island cabinetry and countertop wrap around it to make it an integrated part of the design solution.
–   Enlarged an opening into the kitchen to provide easier access.
Special Design Features
A new wine bar was added under the stairs and replaced some existing wine storage. This makes entertaining easier and keeps service out from under a busy cook's feet!  Other favorite design features include:
–   Introduced furniture-style cabinetry in two colors to create a more decorative style
–   Soft, brushed gold fixtures and accessories
–   Wine bar tucked under the stairs
–   Stunning backsplash
Client collaboration can yield great results. "The homeowner suggested moving the original ironwork chandelier from the above the dining table to above the kitchen island. It was a great idea and makes a bold elegant statement!" shares Paul.   
One of the biggest conversation-starters is the gorgeous tile backsplash. Paul explains, "The design reflects some eastern influence, which is interesting because the homeowner teaches yoga, so perhaps she was subconsciously drawn to it?"
Whatever design or style YOU are drawn to, Neil Kelly can help bring your vision to life. Get in touch with us today!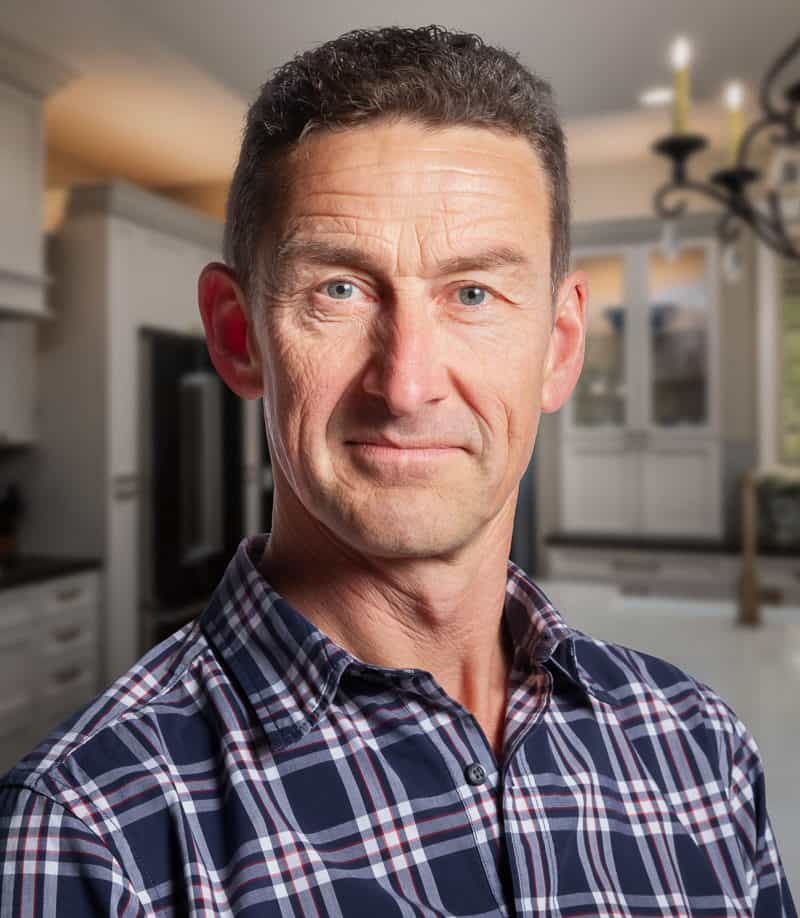 paul haigh, Bend Design Consultant AKBD, CAPS
Whole house remodeling is not only Paul Haigh's passion, it's his specialty at Neil Kelly. He's poured more than a decade of experience into a wide swath of projects, from kitchens and baths to complex additions.  Paul, a six year Neil Kelly veteran, considers it an honor to help people realize their dreams as they make significant improvements to their homes. Clients trust Paul for guidance with big changes as they begin the Neil Kelly design/build remodeling process.
View Paul's Houzz portfolio and read client reviews.
SCHEDULE A CONSULTATION >