Interior Projects
Transforming a Woodland Kitchen, Fireplace and Entry
Eugene Whole House Remodel
This Vida area whole house remodeling project features a kitchen, dining room and more.
This McKenzie River home was disjointed. Its pickled oak cabinets, gold hardware and pristine cream carpets were appropriate for the city, but not for its forested location. Tucked up against the foothills of the Cascade Mountains, this charming woodland home beckoned for warm, earthy materials, especially in the kitchen.
"The homeowners wanted the house to honor its beautiful surroundings," says Magda Zafer, Eugene Design Consultant. "In the end, the remodel encompassed the kitchen, dining room, living room and entryway. It was one of those perfect projects with an ideal client, process and solution."
"The homeowners loved the finished project and enjoyed participating in each step of the process." – Magda Zafer
The homeowners inherited the house from a family member five years prior to remodeling. The project had three objectives: create a natural design to match the woodland setting, enlarge the space between the kitchen and living room to remove a bottleneck flow of traffic, and improve the functionality in food prep and cooking spaces. The Neil Kelly team created a 11' long cooking island facing the river, hidden storage solutions for appliances and built-ins that worked around an extra-large refrigerator and existing media cabinet.
"We incorporated the river motif in the island countertops and the backsplash with beautiful veining of Verde Bordeaux granite that mimics the flow or the river," says Zafer. "Warm walnut cabinetry, soft pendant lighting and acacia flooring was also incorporated into the space."
Design Solutions
To truly tie the rooms together, Cultured Stone and stained concrete gave both the kitchen and living room fireplaces a unified yet contemporary look and feel. More than just an aesthetic upgrade, the kitchen layout needed redesigning and an improved connection to the living room. To improve the flow, walls were removed and the opening between rooms was enlarged by both width and height, which required installing a structural post.
"We worked to maximize the space and storage solutions despite working around some structural issues," says Zafer. "The homeowners loved the finished project and enjoyed participating in each step of the process, from the overall vision to the design details that went into making this space so unique."
Ready to transform your own space? Get in touch with Neil Kelly today.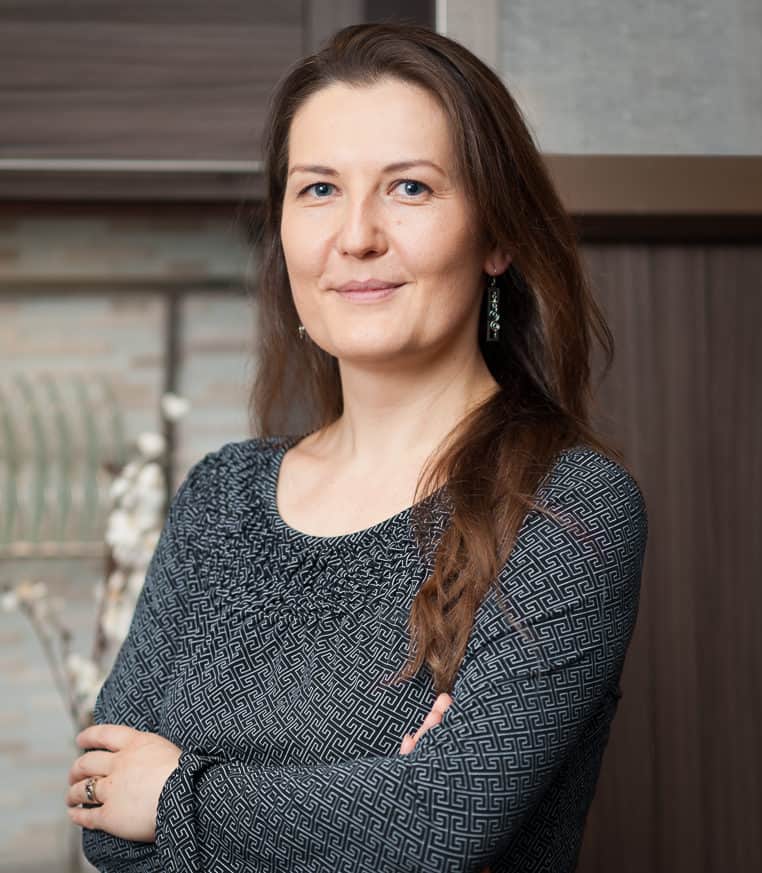 magda zafer, Eugene Design Consultant, ASSOC. AIA, CKBD, CAPS, CGP
Magda Zafer relocated to Eugene from Champaign, IL, where she received  her Master's degree in Architecture and worked with a custom construction company before opening her own design firm. Her designs have earned national recognition, with a Master Design Award from Qualified Remodeler Magazine and a Best of the Best Design Award from Professional Remodeler. Magda's many certifications include: kitchen and bath design, aging-in-place specialist, green professional and passive house consultant.
View Magda's Houzz portfolio and read client reviews.
SCHEDULE A CONSULTATION >