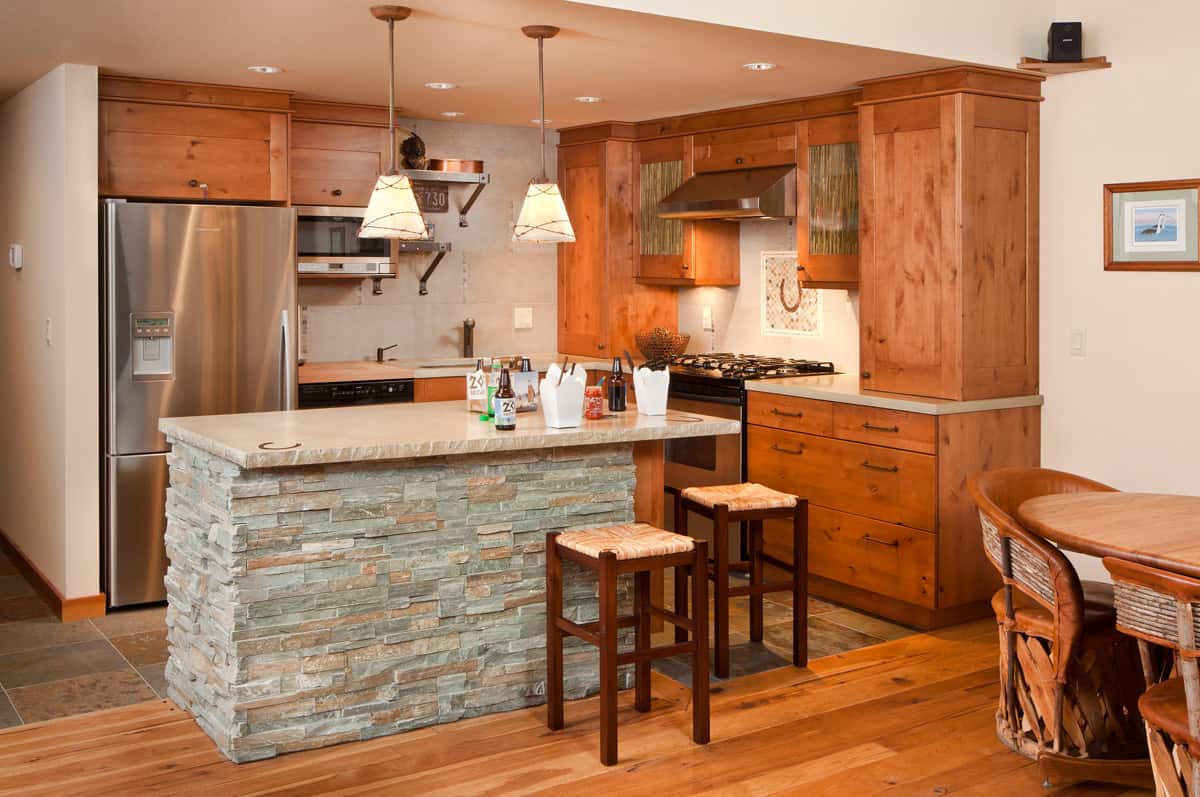 Natural and locally sourced materials from Central Oregon feature prominently in this Sunriver condominium project.
Exteriors
|
Interiors
6 Tips For Creating The Perfect Vacation Home
Vacation homes are designed with comfort in mind. But has your second home lost its shine? Have the once charming 1970s fixtures become a burden during your ski retreat or family reunion? Have its ratings and bookings fallen to the wayside with your vacation rental management company? If so, it's time for a remodel.
"It's a shame to have a house that's empty most of the year," says Kathleen Donohue, Bend design consultant with Neil Kelly. "Many homeowners use their second home as a vacation rental when family and friends aren't able to use it. Renting is an income generator that can help you maintain the home for generations to come."
Transforming a conventional space into a true vacation retreat is made possible with smart remodeling projects. Here are six upgrades that will overhaul your space and upgrade your vacation rental status.
Choose durable, quality materials
When selecting materials, choose pieces that are durable, like quartz countertops and tile or hardwood floors. "Don't pick items that are precious, but that are good quality and durable," says Donohue. "Don't skimp on things like sinks, faucets and toilets that can cause maintenance issues if you aren't there."
Keep technology modern but simple
As a best practice, each bedroom should have a television and the entire house should be equipped with WiFi. Keep in mind that your family or renters don't want to read eight pages of instructions to turn on the HVAC system or hot tub. Be sure to choose appliances and tech features that are intuitive and user friendly
Bathrooms are important
Ideally, your vacation home will have a designated bathroom for every bedroom in the house. Hot tubs are more popular than large indoor bathtubs, however luxury showers — think steam and multiple shower heads — and heated bathroom floors are crucial for your outdoor adventuring guests.
Choose contemporary yet natural design materials that will remain timeless and add the most value to your home. In Central Oregon and especially popular vacation spots like Sunriver and Black Butte Ranch, design aesthetics focus on masonry and natural woods like cedar siding that blend into the high desert. "Celebrate the sense of place and try to bring the outdoors in as much as possible," says Donohue. "Your goal is to blur the lines a bit to make a place truly special."
Become energy-efficient
Though the most common features to upgrade in a vacation home are the appliances, chances are they aren't the only things that need upgrading from the 1970s. From LED lights to smart-home technology that prepares your house before arrival, energy efficiency will make your home more comfortable. For the best results, schedule an energy audit to determine which parts of your house have room for the most improvement.
Get creative with sleeping quarters
Multi-generational families or corporate retreats need a lot of space, but your vacation home may have a limited footprint or must report to an architectural review committee to address just how dense the development can be. When sleeping space seems limited, get flexible. Creating bedrooms above the garage, bunk rooms and living rooms with convertible couches and cots can make all the difference.
Need helping transforming your second home? Schedule an appointment today to make your vacation home truly special.