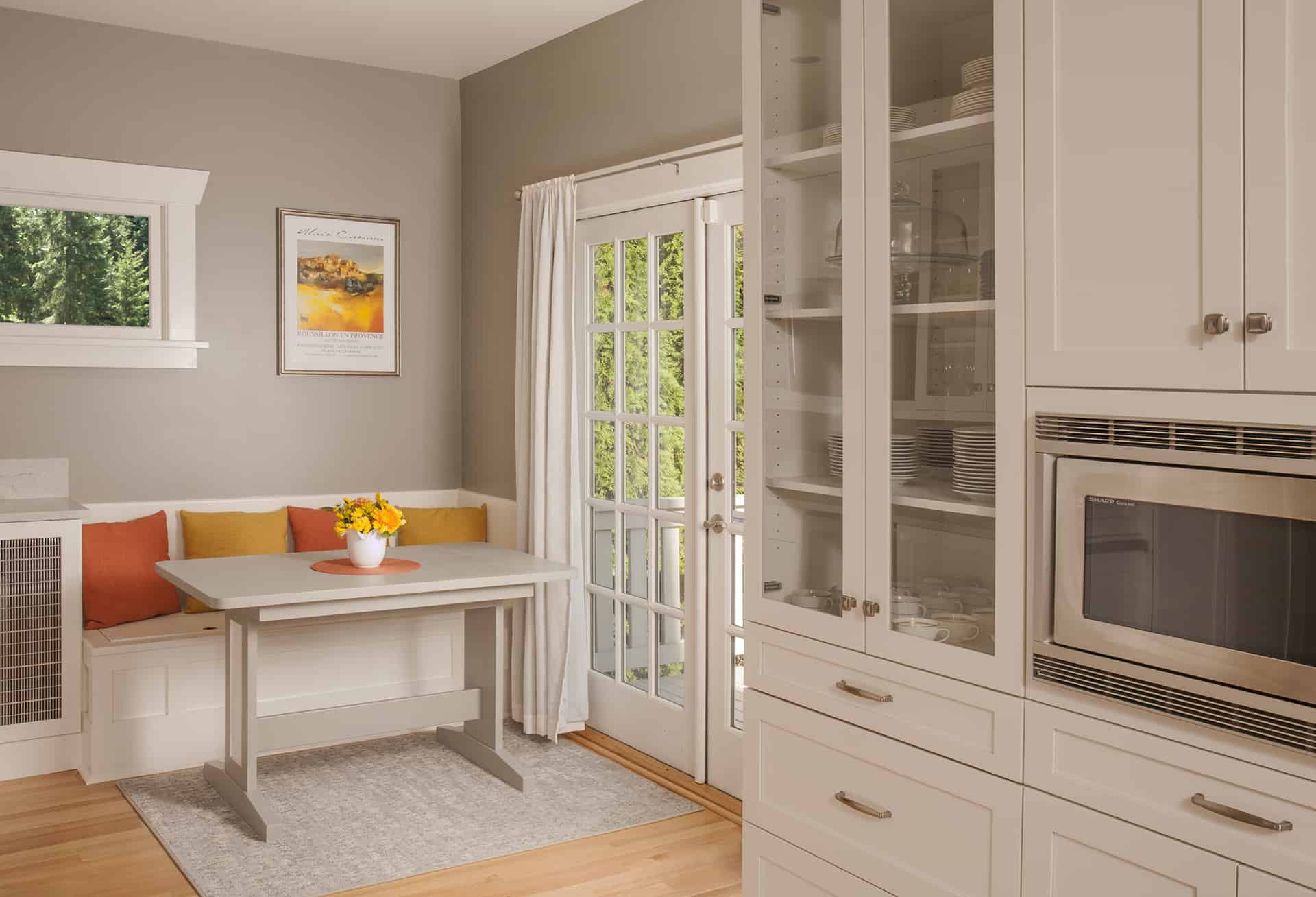 Above: Apart from opening to the backyard, French Doors bring light and a sense of added space to this delightful Seattle kitchen.
Exteriors
|
Interiors
All About French Doors
French doors are a timeless look that creates fluidity between two spaces. Whether interior or exterior, this design element is an elegant way to create some privacy but maintain a visual connection between spaces.
"French doors have always been a tried and true design feature because they completely open up a space," says Michael Rieger, Neil Kelly Home Improvement Consultant. "Advances in the technology have created modern doors that are much more durable and longer lasting."
French Door Placement
French doors connect spaces visually and can be an ideal access point between adjoining rooms or outdoor spaces. One major advantage over sliding glass doors is that French doors allow light to flow more easily between spaces. There are two common uses for French doors — patio and interior. Patio French doors typically open to a deck or backyard patio on the first floor of a home. Interior French doors are often in entryways between a dining room, kitchen or living room.
French doors may be in the original architectural design of a home, or can be created through the repurpose and refurbishment of current doors or windows.
"The easiest place to install French doors are on a pre-existing set of windows," says Rieger. "Replacing old double windows with French doors really opens up a room to an outdoor living space and can increase the effective use of the home's overall property, especially in the Portland area were we see a lot of smaller homes on larger outdoor plots."
French Door Style & Materials
From Colonial to Craftsman to traditional — and everything in between — French doors can be incorporated into any style. "French door manufacturers can truly match any style," says Rieger. "Best of all, homeowners can customize their doors so it doesn't look like anything else on the block."
Choosing the best materials for your project also impacts the overall style. Therma-Tru and Simpson make great French doors. Therma-Tru designs primarily fiberglass doors available in a faux wood finish that mimics the look of real wood. Simpson offers premium, solid wood doors. Doors can also include glass inserts that replicate older design styles, but have energy efficient inserts that keep out harmful UV rays.
To increase the durability on exterior doors, manufacturers add exterior cladding, which adds a metal or fiberglass skin to the exterior door to prevent it from deteriorating over time. Endo skins can also be added to prevent wear and tear from the elements.
"We replace a lot of older French doors because either the door or framing has rotted," says Rieger. "A lot of French doors are over 50 years old and if the wood rots it opens up the liability of the entire house to dry rot."
Is it time to replace your older French doors with something that's both stylish and durable? Contact our Handyman Services team for a free consultation.
Or are you ready to truly open up a space with the addition of a new design element? Contact our Design-Build Remodeling team to create a space that's uniquely yours.