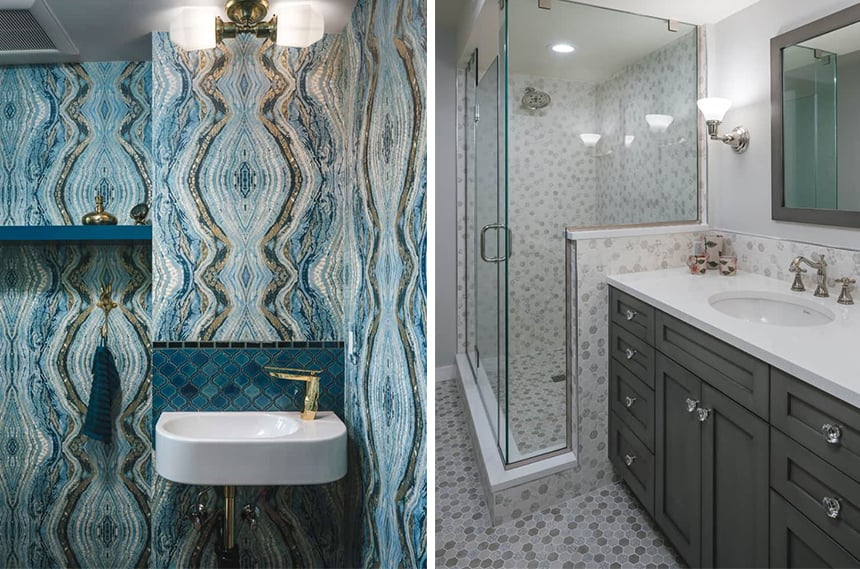 Above: Collage of two bathrooms, left with blue marble wallpaper, right with standing glass shower
Bathrooms
What's Your Best Bathroom Style?
Are you remodeling an existing bathroom or building a new one from scratch? If so, we know there are plenty of decisions to make, starting with what type of bath you'll create. Every custom bath project comes with an opportunity to make your home more comfortable, functional, valuable, and unique, whether you're remodeling a small bathroom or need ideas for a luxurious space.
So, what kind of bath will meet your needs and aesthetics? A variety of factors influence the design of a bathroom, most of which you can identify by evaluating your current bathroom and lifestyle. The expert design consultants at Neil Kelly are here to help you plan your bath remodeling project from start to finish. Let's begin.
YOUR CURRENT BATHROOM
Our experience designing and remodeling hundreds of luxury bathrooms for Northwest homeowners in communities like Seattle, Portland, Eugene, and beyond has led to inspiring and functional spaces of all types. This means we approach every custom bathroom remodeling project by first asking our clients essential questions about their current bathrooms. This provides us with useful information about what may or may not be working while discovering a bath design that checks every box. 
Need bathroom ideas? Answering the following questions will help you discover how to design your new bath to ensure it meets every need. 
– What kind of bathroom do you have right now?
– How many people use this bathroom regularly?
– Does it have a shower-tub combo or only a shower?
– Is one sink sufficient?
– Do you feel like your current bathroom is too small?
– Is there adequate counter space, enough room to keep all your products, and space for trash or recycling?
– Are there enough outlets and sufficient lighting?
– Are there any enclosed spaces?
Answering these questions will tell us whether your current bathroom serves your needs and will direct us in the right direction for updating your new custom space.
BATHROOMS THAT FIT YOUR LIFESTYLE
Custom kitchens and bathrooms are some of the most functional and highly used spaces in a home. After going over details about our clients' existing baths, we usually pivot to questions about their lifestyle. This is particularly essential when we're designing universal and accessible bathrooms in the Northwest. We start by assessing the dynamics and routines of a household, which helps us determine the type of bathroom that fits your lifestyle. We typically start by asking the following questions: 
– Will more than one person use it at a time?
– Who will use your bathroom?
– Are there specific activities, tasks, or routines we should be aware of?
– Do you need a shower, bathtub, or both?
– Do you need dual shower heads, safety features, or other special fixtures?
– Do you need multiple sinks or toilets?
– Would you prefer that the toilet is closed off from the rest of the bathroom?
– Do you need closets or other storage space?
– Do you need an accessible bathroom design or need grab bars?
– Is there a specific bathroom design or style you appreciate?
By answering these questions about your schedule, preferences, and day-to-day needs, we can help you figure out what type of bathroom is most suitable.
TYPES OF BATHROOMS
Generally speaking, custom bathroom builds and remodels fall into one of three categories: full, half, or en suite. So, what kind of bathroom are you? Though you're probably familiar with these bath types, it doesn't hurt to review your options to learn more.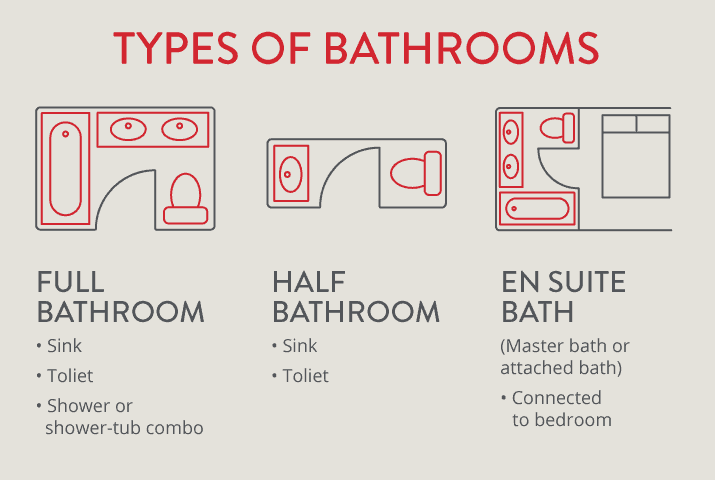 Full Bathroom
A full bathroom has a sink, a toilet, and either a shower or a shower-tub combo. Full baths offer the most functionality. And while virtually all homes have at least one full bath, adding another is an excellent way to boost your property value.
Half Bath
Half baths are secondary to full baths, as they feature only a toilet and a sink. While you can't bathe in a half bath, it can be useful to have space for visitors to wash up and use the bathroom. A half bath can also be beneficial on the first floor of multi-level homes in which the full bath is upstairs. Some half baths double as laundry rooms.
En Suite Bathrooms
En suite bathrooms (sometimes called master baths or attached baths) are connected to a bedroom. Some homes have one master suite, but many new homes include multiple attached baths. Most en suite bathrooms are full baths, and it's common to have two sinks, one or two enclosed toilets, and connected closets.
Since 1947, Neil Kelly has been enhancing homes in Portland, Eugene, Bend, Seattle, and many other areas across the Pacific Northwest. We specialize in bathroom remodels, kitchen renovations, professional handyman services, additions, basement conversions, and many other home custom home projects.
Our dedicated team of award-winning designers, project managers, and craftspeople can help you conceptualize the perfect bath for you and your family. Through meticulous engineering and seamless integration, we'll make sure your vision comes to fruition and meets your needs.
Learn more about Design/build remodeling at Neil Kelly.